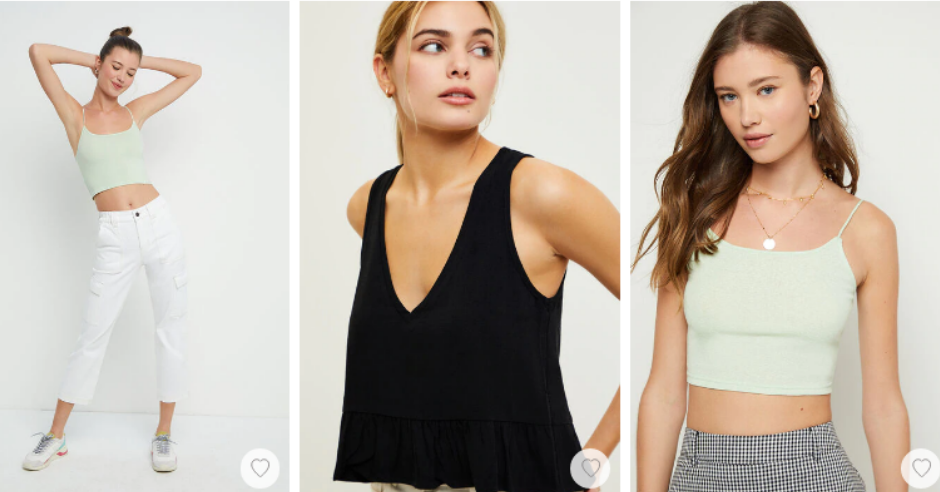 When it comes to comfort wear, the best option comes into mind is tank tops. Both men and women love to wear it in the casual moments like morning or evening walk, home and even at the workout centres. The tank tops are available in many shapes, colors and designs. There are also custom printed tank tops available these days. Sometimes, it is also used to wear for fashion and stylish look by combining it with jackets and blazers. Below is the list that includes the types of tank tops available in the summers of 2020:
1. Loose Tank Tops with Flag Print
Easy-breezy tops with an imprint of the national flag are popular to get a funky look. They are casual tank tops that both men and women love to rock with a pair of rugged jeans. Women can also rock it with a pair of shorts and miniskirts. Sneakers would look good with it giving your look a finishing touch.
2. Tank Tops with Lace Backless
Chic casual tank tops with lace backless design are classic pieces. A chic laced back tank top looks utterly feminine. As the tank top comes with backless design, women need to wear a modern sports bra to feel comfortable. You can wear it for a date night or casual parties.
3. Sequined Tank Top Dress
Tank tops with sequined work all over are the flattering staples. They are meant to be worn at casual parties and discotheques. A long tank top with sequins all over works like a dress for women. Any woman can slip into it and get an uber-cool look in minutes! As it's long enough, you need not wear any specific bottom wear, however, tights could be the best selection. Finish off your look with killer heels.
4. Tank Tops with Tassel Fringe 
A simple transformation in tank top design can elevate its style. The same is true with fringe tassel tank tops. Fringe tassels surrounding the hem give any girl a flattering appearance. Wear it with a pair of hot pants to get a summer-ready super cool look or rock it with a skirt. Fringe tassel tank tops are great beachwear!
5. Cage Tank Tops 
If you want a seductive look, go for a strappy or cage tank top. The traps, given at the back, look like a cage. Pick a fresh color to look trendy. Your back peeping through the strap will make you look like a hot diva.
6. Crochet Tank Tops
Crochet tank tops are ideal for women of all ages. They look fantastic for a comfy casual appearance. The hem with crochet fringes gives it a designer flair. People will appreciate your dressing sense if you club a crochet tank top with mini shorts and skirts. Gladiator sandals are great to rock with it.
7. Animal Printed Tank Tops
Animal prints never go out of style. Besides being seductive in look, animal prints are a wardrobe staple for women. From leopard prints to cool tiger prints, there are many variations that you find in your tank top. Even, tank tops with zebra or snake prints are a great addition to your collection!
8. Flared Tank Tops
Flared tank tops are in trend. They serve as the best casual pieces that you can wear to the office and to the parties. Rock a solid blue flared tank top over a pair of white trousers for a semi-formal look. Opt for a printed one atop a skirt or shorts for casual night-outs.
The double layers of such tops give you a comfy look and add volume to your slender figure.
9. Camisole Tank Tops
They are all-time favorites. The one in the cotton fabrics is great for the summer season. You can carry a camisole tank top with shorts or denim.
10. USA Tag Men's Tank Tops 
Tank tops with thick straps and USA tags are popular among men. The printed tag makes such tank tops ideal for morning walks or joggings.
11. Block-Colored Tank Tops
A tank top with block print is a hot ensemble for men. Those who want to get a flirty look on a beach vacation should definitely wear it. Pair it with shorts to get a comfortable look.
12. Mesh Tank Tops
Those who don't know how to make tank tops that would showcase their chiseled frame need not worry. Men, you can get to any online store and order one. As far as mesh tank tops are concerned, they are great additions to your wardrobe. As they have loose weaves, they feature holes all over it. They give the wearer a semi-nude look.
13. Men's Printed Tank Tops
Need custom design tank tops? Go for the printed ones. Bikers can rock these tank tops. These staples come with printed images of animals, flags or random faces. For a rough and sporty look, there is nothing better than printed ones.
14. Men's Skinny Tank Tops 
Skinny tank tops are made especially from materials that are elastic in nature. A unique stitch is what it takes to cover a man's physique. If you're going for a gym workout, pick a high-neck tank top. While white color is a great selection, there are solid colors for consideration as well.
15. Custom Printed Tank Tops 
Those who want to customize tank tops with their own design should go for custom ones. You can put a funny text or a quote to personalize it or add a creative design. Pair it with your casual joggers or shorts for a chic look.
16. Sheer Tank Tops For Men 
Men who have six-pack abs or a chiseled brawny frame look great in a sheer tank top. As the name suggests, the top comes with see-through fabric. Bodybuilders often prefer this staple to flaunt their muscles.
17.  Men's Gym Tank Tops
These tank tops are available in a variety of designs. From looks to a skinny fit, they come in various designs. However, they have wide-cut sleeves that make it easy for you to move your body during a workout.
18. Tank Tops with Cartoon Print
Men flaunting a cartoon tank top may seem childish but it isn't. Many teenage boys love to wear their favorite cartoon character. Even, grown-up men take pride in flaunting a top like that!
Conclusion
Tank tops for men and women are the tops without sleeves. The main purpose here is to stay comfortable while going outdoors or working out. If you haven't got one yet, it's time to get it!