Believe it or not, the food you eat has a huge influence on your mental health. It can influence the way you feel and the way your brain works. That is why knowing exactly what foods have what type of influence and determining what you need to eat to improve your mental health is crucial if you want to create your own perfect diet plan.
The Science Behind Food and Mood
So, where does this connection between food and mental health come from? The correlation actually has to do with the very close relationship between the human brain and a gastrointestinal tract that is often referred to as the "second brain".
This is how it works: Your body's gastrointestinal tract is a home of about a few billions of bacteria that affect the production of neurotransmitters, chemical substances that are responsible for constantly carrying messages from your gut to your brain. Two common examples of these neurotransmitters are dopamine and serotonin.
Eating healthy food promotes the growth of the so-called "good bacteria". This type of bacteria has a positive impact on neurotransmitter production. On the other hand, eating junk food causes inflammation that slows down and hampers that production. That means that when your neurotransmitter production is going well, your brain receives positive messages that change your overall mood for the better. However, when this production is unstable, it has a negative impact on your mood as well.
For instance, sugar can have some pretty negative impacts on your mental health. Not only does it cause inflammation but it also feeds "bad bacteria" in your gastrointestinal tract. It is ironic; however, that sugar can also cause the temporary "feel good" neurotransmitters such as dopamine. However, experts say that this type of dopamine is not that healthy for you. As a result of sugar, your brain experiences a fleeting sugar rush that is followed by a crash shortly after that. The crash that follows is terrible for your mood and your general mental health.
Eating healthy and sticking to that healthy diet means that you are setting your body up for fewer mood fluctuations, improved ability to focus, and an overall happier outlook on life. Healthy diets are even proven to be helping with symptoms of anxiety and depression, while unhealthy diets have a very strong correlation with increased risk of dementia or stroke.
Foods That Help You Be Healthy

The next couple of questions you might have are:
What foods are good for my mental health?
How will these foods have a positive impact on my mental health?
Well, here is a quick overview of what foods you should be looking for in your local grocery store.
Whole Foods
Several different studies have proven that food additives such as food coloring and others may be a cause of hyperactivity and depression. That is why it's important to consume real food or at least the food that is minimally processed and contains a few healthy ingredients. For instance, fresh fruits and veggies are always a great option. The best part is you can never go wrong with any combination of fruits or veggies you want to go for and you can prepare them in many different ways.
Fiber
There are many benefits of fibre for both your physical and mental health for many different reasons. For instance, fiber is great because it helps your body absorb glucose or food sugars more slowly and it also helps you avoided the dreaded sugar rushes and crashes. Foods that are rich in fiber are usually plant-based foods. Some of the best options you can go for are fruits, veggies, and nutrient-filled carbs such as whole grains and beans.
Antioxidants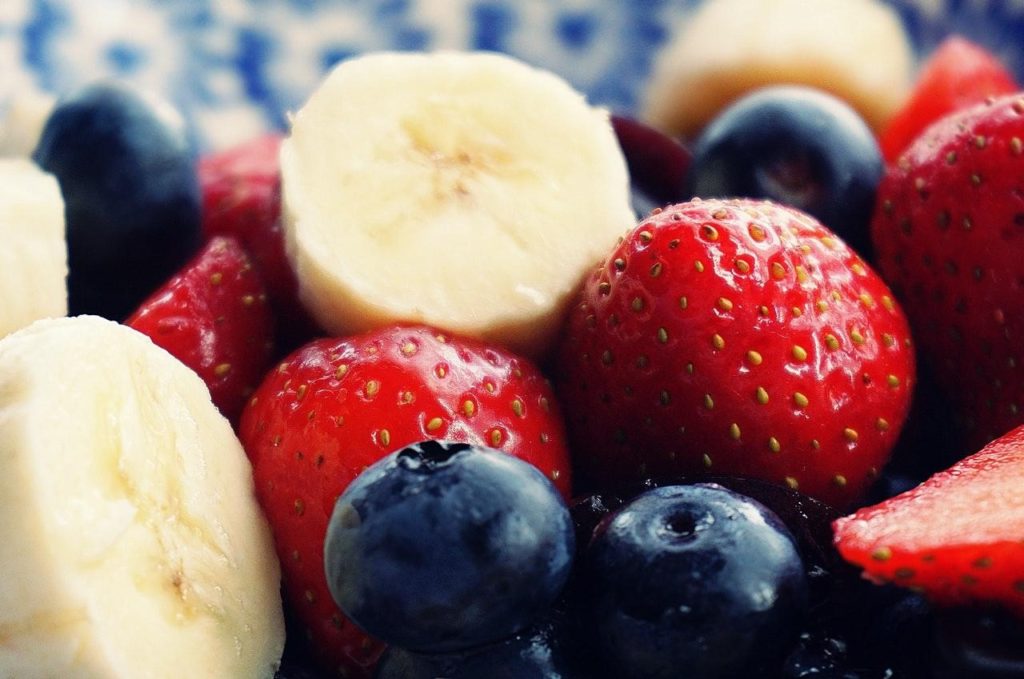 Antioxidants bring a lot to the table as well. They are very strong inflammation fighters that will benefit your mental health in many ways. They can be found in berries, leafy green veggies, spice turmeric, and foods that contain omega-3 fatty acids such as salmon and black chia seeds. Also, dark chocolate contains antioxidants. However, it contains sugar too, so be careful about how much of it you eat.
Folate
Folate is a type of B vitamin that helps with dopamine production, except it doesn't force it to surge the way that sugar does. You can find folate in many leafy greens, cantaloupes, and lentils.
Vitamin D
One of the best vitamins for mental health is vitamin D. This vitamin, in particular, can help with the production of serotonin. We typically tend to get it from sunlight exposure. However, some of the much better sources of vitamin D are mushrooms, especially reishi, cordycep, and maitake. Supplements are also good options and it is usually something that doctors recommend to those who are deficient in vitamin D.
Magnesium
Magnesium is an essential mineral that is beneficial for many different things- from nerve and muscle function to keeping your heartbeat steady. Not only that, but magnesium is also crucial to the food-mental health connection. Mineral deficiency is known to have a negative impact on the bacteria in the gut. It is also a potential cause of depression and anxiety symptoms. That is why it's important that you consume enough natural sources of magnesium such as dark chocolate, cacao nibs, almonds and cashews, spinach, and other dark leafy greens, bananas and beans.
Fermented Foods
Fermented foods contain a lot of probiotics and those are certain live bacteria that have many benefits for your digestive tract. Some examples are sauerkraut, kimchi, miso, tempeh, and the fermented drink kombucha. These foods are also rich in sodium. That is why you need to consume them in moderation, especially if you have high blood pressure.
Protein
Lastly, protein should be a crucial part of your diet for many different reasons. It is one of the three major macronutrients that the human body requires in order to function properly and maintain its good health. Used for making enzymes, hormones, and other body chemicals, protein is also needed to build and repair tissue. In addition to that, our immune systems need the antibodies to protect us from illness and those antibodies are typically made up of proteins.
Protein comes from numerous different sources. It can be found in meat, fish, soy, milk, eggs, beans, nuts, and legumes. Amino acids are left behind once proteins get broken down and digested. It is amino acids that are used to make a protein that can perform essential body functions. A whole protein (also referred to as a complete protein) is a specific source of protein that consists of an adequate proportion of all of those amino acids that your body needs to stay healthy.
There are 8 essential amino acids in total. These are essential components of the proteins that are a crucial part of any healthy diet: Valine, Lysine, Threonine, Leucine, Isoleucine, Tryptophan, Phenylalanine, and Methionine.
The body itself is not capable of storing essential amino acids. If you don't take all the eight essential amino acids in the same meal, your body will simply break them down to get energy instead of building proteins that will help your body repair and grow. If you want to get all eight amino acids together, consider eating animal meat, fish, and other animal products such as eggs, milk, and cheese. Another great way to include more protein into your diet is by drinking protein shakes. All you need to do is mix your favorite fruits or veggies, milk, and whey protein. But before making your first protein shake, make sure to research about the best whey protein there is, either in health food stores or online.
How Much Protein Do We Need?
You do need to be careful with the amount of protein you take, though. Many experts rely on carefully calculated formulas when it comes to protein intake. For instance, Martha Lindsay, CNE, MS, and a certified GAPS practitioner uses this formula to calculate the amount of complete protein you require every day:
You first need to divide your body weight in pounds by 2.2.
Then, you multiply the number that you got by 0.8.
The number you get as a result will give you the exact number of grams of protein you need to take every day for proper body health maintenance and overall brain optimization.
Protein for Brain Health
You may be wondering how all of this helps your mental health. Well, proteins have the ability to optimize brain function in several different ways. They are essential for getting nutrients to your brain cells so that your body can maintain a healthy heart and brain balance as well as brain regulation. If you find a way to properly include proteins in your healthy diet, you can increase healing, combat illness, and disease, fight fatigue, improve your overall mental clarity, boost your memory, and reduce inflammation and so much more great things. All you need to do is nourish your body and boost your brain with the required amount of whole protein in order to feel your best and optimize your health as much as you can.
Dehydration Anxiety
The food itself may be a great factor in your overall health, but what you drink also matters. Hydration and nutrition always go hand in hand. However, most of the information being served online can be very overwhelming and can cause feelings of anxiety. For some people, these feelings tend to be severe. Dehydration anxiety refers to the fear some people have and it's a fear that you are not drinking enough water daily.
Some people are even anxious if they leave their house without their water bottle. This anxiety can lead to such high consumption of water- the higher amount of what your body needs. This can lead to illness. This fear usually comes from not giving your body sufficient hydration to perform at its best. This is actually a chronic form of anxiety that is commonly linked to obsessive-compulsive disorder and orthorexia.
Some of the signs of dehydration anxiety include:
-monitoring your daily intake to every litre you take
-feeling a sense of dread when you don't have your water bottle with you
-constantly worrying about where to get water from (e.g. when shopping or traveling)
-having panic attacks when water isn't easily and immediately available
Nutritional Therapy and Hydration
A general guideline usually says that the recommended amount of water to drink is about six to eight glasses of water a day. That is about 2 litres of water. However, you do need to consider your individual dietary plan and needs. The specific amount of required water varies from person to person. It is important for you to tune into your whole lifestyle when you're considering the amount of water that presents sufficient hydration for you. It's not just about the water you drink. It is also about your diet, gender, age, exercise, and lifestyle. These are some contributing factors as well.
What Now?
Now that we have covered all aspects, it's time to ask "What now?" Well, firstly, start by paying attention to how you feel depending on what foods you eat. Don't just pay attention to how these foods feel as the hit your taste buds. Pay attention to how they make you feel a few hours after eating them. Try to experiment with a healthy diet for about 3 or 4 weeks. Consider cutting out processes and sugar-laden foods and drinks and replace them with some healthy alternatives. Then, pay attention to how you feel. If you feel great, this might mean something. In case you feel more alert like you are in a better mood and have a lot more energy, then this definitely means something. After a while, start introducing foods back into your diet and once again see how you feel. This will most definitely be the moment of realization for you.
Conclusion
In conclusion, not only the food you eat influence your physical health, but it also has an impact on your mental health as well. That is why it is highly important that you find a perfect diet plan that will benefit your mental health in the best ways possible