Nowadays, it's important for you to backup all critical data on your Windows computers. Why should you back them up? Because there exists many threat on the network or reality.
Virus Attacks could be the common cause to data loss, and it's designed to spread from one computer to another computer, and then many computers could be infected by virus, and the virus may destroy your Windows system files or critical business data.
Accidentally deletion by human-beings. If you permanently deleted an important file by accident, it could be the pain to recover it. You have to take backups for your personal data or business documents, etc. in advance, then you could restore them in time.
Ransomeware will black mail you for decrypt your files with a payment if unfortunate.
Flood, Storm, Earthquake could damage your computer and ruin it to dust, and cannot be recovered.
How to Protect Your Computer from Data Loss?
To protect your computer with more secure environment, there are something you should do:
First of all, please install anti-virus software to against all these threats. These popular antivirus software in 2020 includes:
McAfee AntiVirus
Norton AntiVirus
Kaspersky Anti-Virus
Bitdefender Antivirus
Second, check Windows Firewall blocked and active port configuration.
Input cmd in Windows Search box, and run Command Prompt as Administrator.
Run the following command:
netsh firewall show state
And you should block port 445 to prevent Ransomeware, wannacry, etc.
Third, backup your Windows computer or critical data to external hard drive. To make it safe, a professional yet free Windows backup software – AOMEI Backupper Standrad could be your best choice.
Main Features to Backup Windows Computer
AOMEI Backupper Standard is designed for all Windows PCs, like Windows XP, Vista, 7, 8, 8.1 and 10, and its all editions (32-bit and 64-bit). To protect your Windows computer, it provides flexible backup solutions for you to backup different data: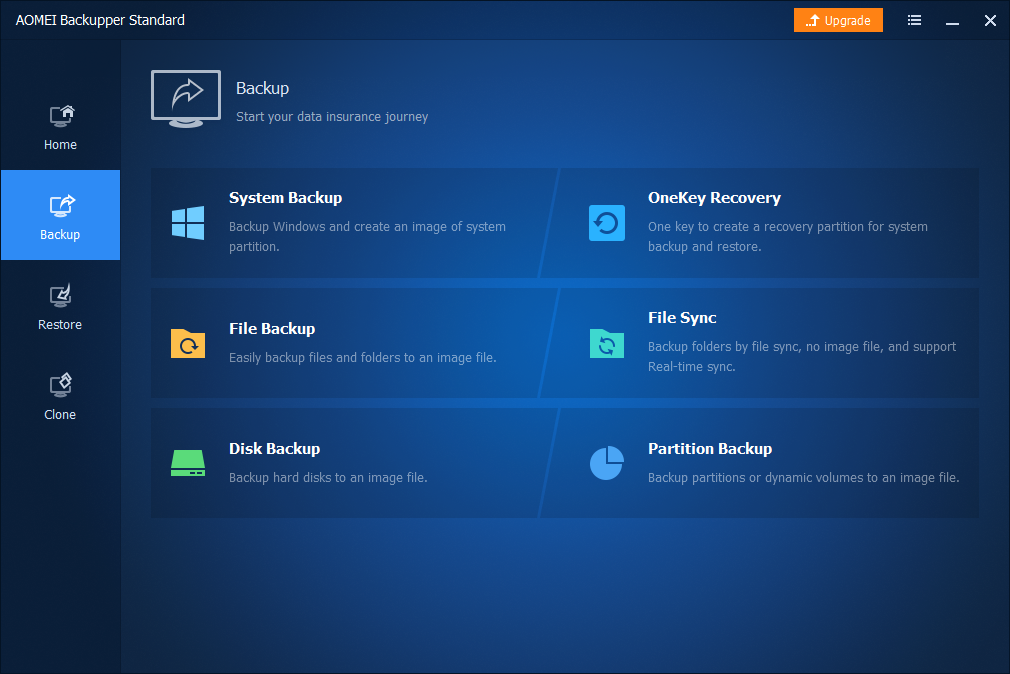 Disk Backup: backup all the data on the hard disk, Windows operating system, installed programs, personal files (videos, musics, work documents, business data, etc.), system settings, etc.
System Backup: Only backup all system partitions (including Windows system files and related boot files), like system drive (C:\), Recovery partition, EFI system partition, and System reserved partition.
Partition Backup: backup individual partition to another location, no matter what it a system partition or data partition.
File Backup/Sync: backup or sync files to the specified path as you wish.
Safely Backup Windows 7/8/10 Computer to External Hard Drive
Here is how to backup Windows 10 computer to external hard drive with detailed steps:
Perform AOMEI Backupper Standard after installing and connect your external hard disk with your computer, select Backup tab on the left side, and then choose Disk Backup.
Click + Add Disk button to choose the Windows 7/8/10 system disk or data disk to backup.
Select the external hard drive as destination path to save Windows 7/8/10 disk backup image.
Press Start Backup >> button to create a disk image for Windows computer.
Besides, you have three options to specify:
You could comment, compress, encrypt, split the backup image file, use VSS, enable email notification with Options.
Automatically run the backup task with Schedule option via daily, weekly, monthly, USB plug in, etc.
Scheme option allows you to delete old backup images automatically while the backups exceed to retain number.
If you would like to create Windows 10 system image to USB flash drive, please try System Backup.
Brief Summary
After all these operations, your computer have been protected. Backing up data on a regular basis is a good manner to keep your data safe.