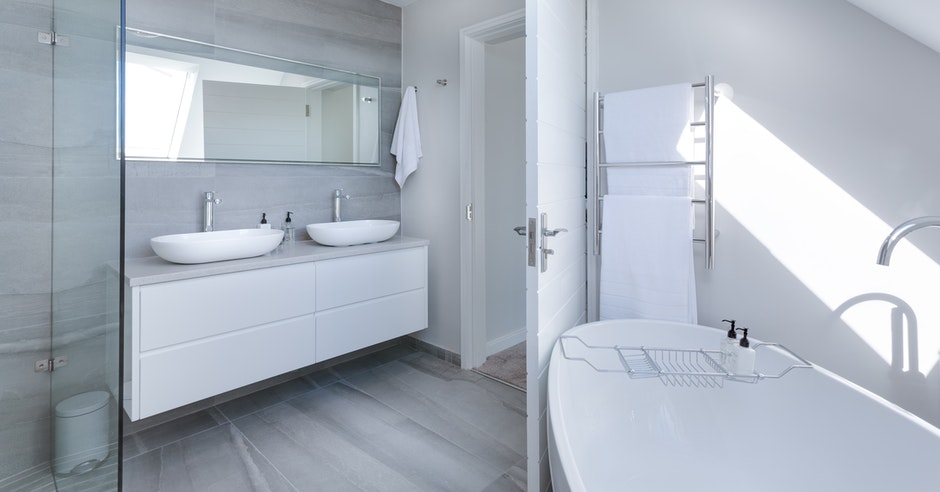 Achieving luxury inside the bathroom is a huge challenge even for experienced interior decorators. The difficulty lies in mastering the balance between functionality and style in such a cramped space, as most modern bathrooms are small.
One possible solution to this interior décor dilemma are floating vanities. They come in all shapes and size but in general, there are 13 ways you can fit them inside your water room. From extra storage space to better lighting, a floating vanity is an ideal solution for your bathroom.
1. Gaining Storage Space
Whether your home is big or small, extra storage space is always welcome. Homeowners turn to the bedroom, garage, or the hallways for extra storage space, disregarding the water room. However, a floating vanity comes with a lot of storage space underneath it, as well on top of it.
You can install doors under floating vanities too add some privacy or you can leave the space exposed to maximize the storage space. Anyway, you will not have to worry about dust, as you would if the floating vanity wasn't there.
2. The Height of Your Choice
Another perk of vanity unit is the possibility to install them at the height of your liking. The standard height is around 80 centimetres but you can adjust this figure to suit the height of the people who are going to use the bathroom.
This comes in handy if you have small children who can bump their head on the counter. As an alternative, you can store a step stool under the vanity for kids who cannot reach the vanity yet.
3. Easier Maintenance
A floating vanity also makes cleaning and general maintenance easier in several aspects. Apart from less dust, you will not have to sweep or mop around the legs of the vanity where muck usually accumulates. Simply run the mop straight under the vanity in a single, flowing swipe.
4. A Feeling of Grandeur
If you opt for various floating vanities, your bathroom will appear bigger. Namely, the open space underneath a floating vanity turns a small bathroom into a big water room by creating an illusion of grandeur and spaciousness. This method is just one of many tips and tricks to create the illusion of space in small apartments.
5. Easier Access to Piping
A leaky or a broken pipe somewhere inside the tiles can flood the bathroom in a matter of hours. Reaching these pipes is difficult because you need to remove tiles and cut through walls, which is costly and messy, costing you both time and money you need not waste.
Installing a floating vanity not only means that pipes inside walls are easily accessed but it eases the mopping process if a mishap does occur. Mopping up the water is made convenient, as you reduce the risk of damaging the pipes after they have been repaired. A standard vanity unit might soak in the water because it is made from wood, usually placed at the bottom of the vanity, touching the floor.
6. Calculating the Final Cost
Although floating vanities come with practical and design upsides, their price can dissuade homeowners from installing them. They cost a bit more than traditional counterparts, as the average price of a bathroom vanity cabinet is 1,400 dollars.
This number might seem high, but it is only a couple of hundreds of dollars more than a traditional vanity. Only people on a tight home renovation budget cannot afford to install floating vanities. Also, keep in mind that reposition plumbing is an extra cost you might want to calculate in the final figure of revamping your bathroom.
7. What is Your Family's Bathroom Routine?
Choosing a floating vanity means that you need to be honest about your and your family's bathroom habits. For instance, if kids are going to sit on the counter when they brush their teeth or if you're going to stand on the counter to ceiling (to change a light bulb or paint it), then a floating vanity might not be the best choice. Floating vanities are not fragile, don't get us wrong, but they do come with a maximum load-bearing capacity that is smaller than for conventional bathroom vanities.
8. Installing a Floating Vanity
When it comes to installing bathroom vanity units in the proper fashion, there are a couple of things you need to know. Firstly, installing a floating vanity is somewhat more difficult than installing a traditional one. The installation project is still a DIY job but only if you schedule a weekend off and have sufficient experience under the belt.
Since the vanity gets mounted onto a wall, it is important you provide adequate support. If mounted improperly, light force, such as a child leaning against the vanity, could pluck it off the wall. Therefore, the initial step of installing a floating vanity is to reinforce up the wall supporting it.
9. Creating an Opening in the Wall
Tear and open the wall followed by notching the studs, and then installing a horizontal support beam across it to support the full weight of the vanity. Since this masonry work is extensive, it is best done while renovating the entire bathroom, so you do not have to tear down the same wall twice.
After you are done installing the vanity, patch the drywall, closing it for good and impregnating it. Finally, hang the floating vanity according to the manufacturer's instructions, using the right set of tools.
10. Countertop Installation
Next up, install the countertop using the one you purchased alongside the vanity. Floating vanities are made with solid-surface countertops since they add structural integrity and extra rigidity to the whole structure. The worst step at this stage of installation is to use a different counter and compromise safety. In the end, drill all the holes for the drain, water supply lines, and the faucet.
11. Possible Plumbing Issues
Before reaching the final decision to go for a floating vanity unit, you should consider your plumbing. Water supply lines enter the bathroom through your floor, which will not work in the case of the floating vanity.
Moving plumbing is necessary because pipes should come out of your wall to connect the floating vanity properly. This can be tricky, so there is no shame in calling a professional plumber because the final product needs to be both stylish and watertight.
12. Possible Flooring Issues
Address potential flooring issues is also important. Like we have stated earlier, if the flooring inside the bathroom was done after the installation of the vanity, then the flooring under the old bathroom vanity will not match the rest of the water room, destroying its desired opulent look.
Furthermore, if you have tiled your bathroom floor recently and now have tile leftovers, then you should be able to scrape through by adding new tiles under the floating vanity. Otherwise, you will be forced to redo the entire floor area.
13. Ideal for Radiant Heating
Speaking of bathroom floors, countless bathroom feature floor heating. This type of heating has numerous advantages, such as being able to walk barefoot across the bathroom. Additionally, radiant floor hating matches a floating vanity perfectly as the vanity leaning over the floor "traps" heat, sending it right back at your feet as you stand in front of the vanity mirror. For this reason, most contractors insist you use floating vanities if they are going to install floor heating in your home.
There are many more ways floating vanities introduce functionality and style in your bathroom. You are bound to discover them all if you opt to update your bathroom with various modern and stylish floating vanity units.