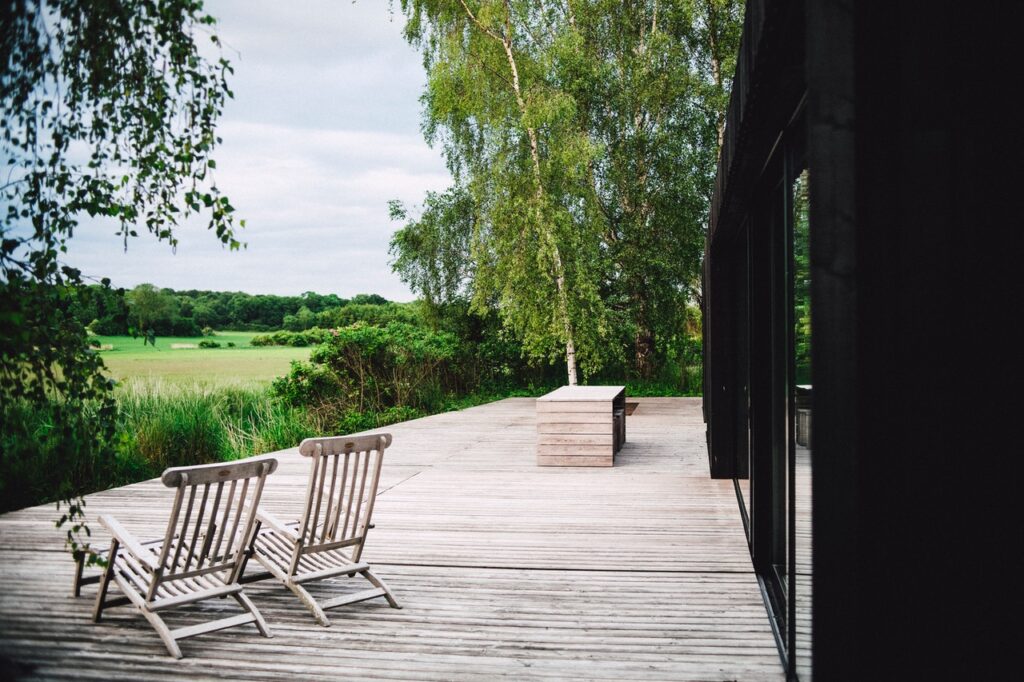 It's easy to get bored with the way your home looks like, especially if you've lived in it for ages. Sometimes we need to spruce up the indoors but sometimes it's the exterior that needs a little bit of TLC. If you are looking for ways to improve your front porch on a budget, look no further. Listed below are some great suggestions to consider to boost the curb appeal of your home.
Paint your front door
Everyone wants a front door that will leave a stunning first impression and make their home inviting. However, not everyone can afford brand new doors. With that in mind, you can turn to the budget-friendly alternative – painting your doors. After a bit of sanding and priming, your doors will be ready to be painted. The great thing here is that your choices of colour are truly countless. You can choose whatever goes best with your overall aesthetic. A door can fit in with the façade or stand out if you pick a bold hue of green or yellow.
Reupholster your furniture
If your front porch is spacious, you might like spending time there with your family members and neighbours. In that case, you probably have furniture that you use on a regular basis. If these pieces are getting worn out, you can do some reupholstering and breathe new life into them instead of purchasing a completely new set. For example, you can repaint the pieces if they're made of metal or wood. If you are looking for a bigger change, you can make a swing for the porch and create a little nook where you can drink your morning coffee. A simpler approach would be replacing the cushions and adding some pillows and blankets.
Change the flooring
Perhaps you have an issue with the flooring. In case it's made of stone or bricks, it might be cracked or missing a few tiles. If you can't find the same design to replace the missing ones but can't afford to replace the flooring altogether, you can consider the easy fix of putting some sort of rug over it. This is a cheap, short-term approach that will work if you have a roof over the porch. On the other hand, if you have a wooden porch that has some issues, you can look into quality composite decking that is stain, mould, and termite resistant. It is a bigger project but you can rest assured that your porch flooring will last for a really long time.
Replace the lights
To make the ambience pleasant and ensure your front door is easily seen, you want to focus on the porch lights. You surely already have some fixtures but they might be too plain for your taste. An easy and affordable way to get new lights for your porch is visiting various garage sales, flea markets, and antique shops. You can find unique items at very approachable prices here; plus, if you're good at haggling, they can be even cheaper. Think about the purpose of these lights when installing them and keep symmetry in mind.
Update your house numbers
A simple update that could do a lot for the overall look of your home is new house numbers. Fortunately, there are several paths you can go down. For example, you can have them painted on your façade. If you're creative, you can do it on your own. Something else you can consider is crafting them out of a large chunk of wood and displaying them on your porch. Finally, you can go down to the local hardware shop and pick a new style for the numbers and hang them next to your front door.
These five are just some simple updates you can consider for your porch. From adding some flowers to installing shutters on the windows, there are so many other options – you just need some imagination and craftiness.