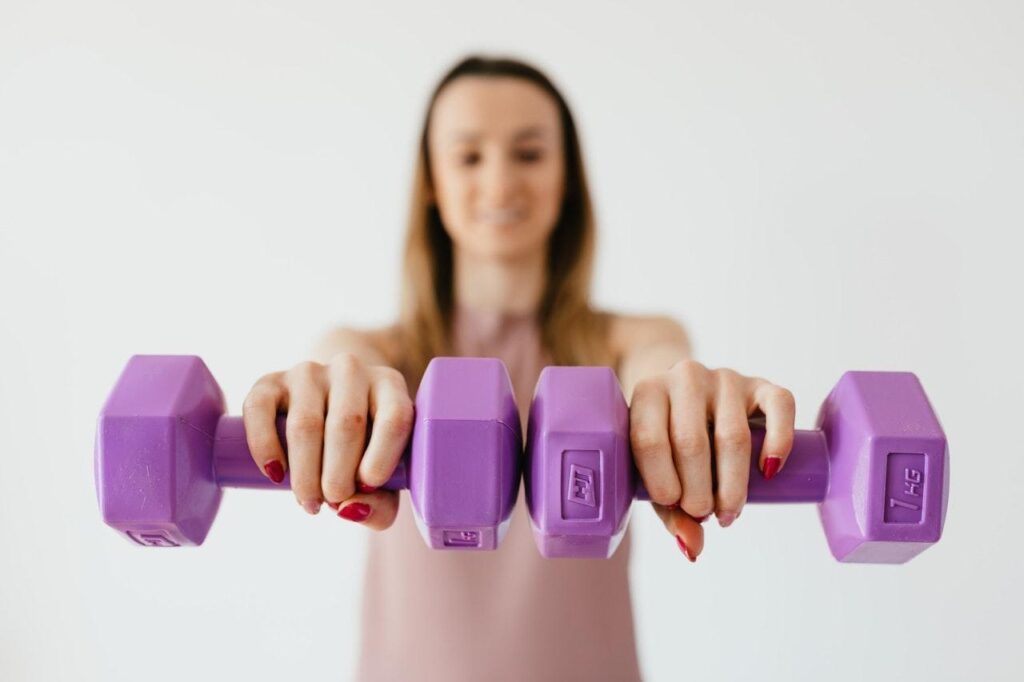 Source: https://www.pexels.com/photo/purple-dumbbells-in-hands-of-positive-sportswoman-4498294/
This pandemic has had a huge impact on our lives, and it seems that everyone's affected. While introverts have rejoiced that they get to work from home and avoid crowds, extroverts lamented over the fact that they should self-isolate and not socialize for a very long time.
Staying healthy during this difficult and stressful time is not easy, especially if you're used to spending a lot of time outside the house before the pandemic. We've taken it upon ourselves to prepare a list of easy lifestyle tips that will keep you healthy.
1. Start working out at home
Those of us who are not frontline workers are probably spending almost all of our time at home. Still, it doesn't mean that you can't stay active and work out as you did before. Luckily, you don't need to use too much space for these workout sessions – a few square feet will do the trick.
The easiest way to find the best workout for you is to look online, as there are many home workout plans (even personalized ones) that you will be able to fit into your schedule and your place. It might be tricky at first as you can feel like you're going to knock something over any minute, but give yourself time to adjust. Within weeks, you'll get comfortable working out at home.
Source: https://unsplash.com/photos/yWG-ndhxvqY
2. Prepare your own healthy meals
No matter what they say in different ads, there are no miracle foods or supplements that can boost your immune system and prevent you from getting sick. That being said, when you make an effort to eat a well-balanced diet that includes fresh ingredients and plenty of fruits and vegetables, you will ensure that your body is getting everything it needs to stay in good health.
While it might not be possible to wander your favourite farmer's market in search of the best meats, fruits, and veggies, you can always order meat delivery to your house instead. Another thing to keep in mind is that we are not spending nearly as much energy as we used to, so you might want to adjust your energy balance too.
3. Sleep enough and sleep well
The last thing we need at this time is a bad immune system, and the sad truth is that a lack of good night's sleep will give us just that. In addition to getting sick more easily, sleep-deprived people struggle with both their physical and mental health. We are not the same, and we don't all need the same amount of sleep every day.
On average, adults need at least 7 hours of sleep every night, and with all the stress from the virus and the lockdown, it's not surprising that our sleep cycles are 'damaged'. Try going to bed and getting up at the same time, even on weekends, and try to keep your room quiet and dark.
Source: https://www.pexels.com/photo/woman-drinking-water-1458671/
4. Make sure you drink enough water
One of the most important things for your overall health is staying hydrated. Optimal water intake depends on how old you are, how active you are during the day, your height, weight, and sex too, not to mention the weather. Drinking about eight glasses of water per day will ensure that you stay hydrated, it will keep your skin from becoming flaky, it will help with headaches, and will help boost your metabolism.
Remember that drinking soda is not the same as drinking water, and if you find plain water to be too, well, plain, you might want to prepare your own flavoured water instead. A few cucumber and orange slices in your glass will do wonders for the flavour, and you'll enjoy it much more.
With social distancing being the absolute top priority all across the globe, we have to find other ways to keep up with our pre-pandemic routine. Even though we are spending the majority of our days at home, we shouldn't be lulled into a sedentary routine. With a few easy lifestyle changes, we can ensure that we are healthy and active, thus giving our immune systems a boost, and improving our mood too.