As long as we know the history of yoga, we mostly know the yoga teacher as male gurus. But few of us probably know the female yoga teachers who practiced yoga for their whole life. These female gurus opened a new door for the next generation in India. In the early 20th century, it was the time where yoga practices were known by a little number of people. But, the revolution led by these 3 female yoga teachers has spread yoga all around the world. These were the resolute and assertive women who broke barriers like females practicing and teaching yoga. Before this period of time, yoga had no presence in the mind of western countries like America. Since then yoga gradually started to get awareness not only in India but also all over the world.
Let's have a look upon the journey of these 3 female yoga teachers who worked as enlightening yoga in several hearts. This is a little tribute to these 3 female yoga teachers.
Indra Devi (1899-2002)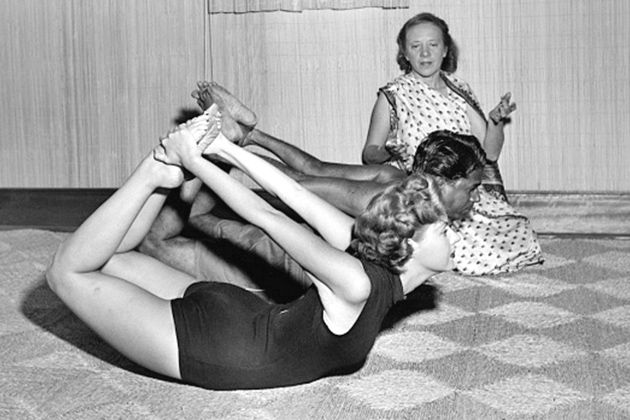 Indra Devi is one of the famous yoga teachers, well known as "First Lady of Yoga". Indra Devi was not her original name, it was Eugenie Peterson born in Riga, Latvia. She was one of the among several disciples of the great Yoga Guru Tirumalai Krishnamacharya (also known as "Father of the modern yoga"). She became so inspired after reading a philosophy book by Rabindranath Tagore. Before becoming a yoga teacher, she was an actor. Meanwhile, she visited India and had a great desire for learning yoga asana, somehow she managed to learn yoga practices from the guru Tirumalai Krishnamacharya. Indra Devi learned yoga asana along with the other disciples like B.K.S. Iyenger and K. Pattabhi Jois.
She was so enthralled with yoga. As a result, she did not stop here, she also learned three of the eight limbs of yoga. After completing her yoga practices, Indra Devi opened her first yoga school in Shangai, China. Due to many reasons in her life, she traveled so much. Finally, she opened a yoga studio in 1948, first in Los Angeles, America. She is also known by her followers as "mother of western yoga".
Indra wrote her first book -" Yoga, The Art of Reaching Health and Happiness", considered as the first yoga book written by a western and even published in India. After this, yoga began to get awareness in the mind of western people. Indra even went to the Soviet Union to legalize yoga in Russia, she said that yoga doesn't belong to a religion and should be practiced there. Therefore, the government agreed to legalize yoga in Russia. She died at the age of 103 and her ashes were scattered over Rio de la Plata. To know or experience more about yoga and its benefits you can join Yoga Teacher Training in Rishikesh.
Geeta Iyenger (1944- 1916)
Geeta Iyenger was the eldest daughter of the founder of the modern Iyengar Yoga technique, Yoga Guru B.K.S. Iyenger. She had seen her father practicing yoga since her childhood, so she always connected with the most fascinating yoga asanas. She started to learn yoga asanas from an early age by her father. Often, when her father went on international tours, she started to teach in his father's ashram as a substitute. She was known for "Yoga for Women". She adopted her father's technique of yoga for some unique requirements of women.
Geeta ji taught particularly pranayama, asana and different sequence of yoga asana that benefited especially women in their different stages such as postpartum, menstruation, menopause, and pregnancy.
She described like her father how yoga asanas help us to unify body and mind strengthen the muscles, circulatory system, nervous system, respiratory system, and mind. Geeta ji often travelled worldwide to carry further Iyenger Yoga ancestry like Australia, Europe, North America, and South Africa. She was very passionate and dedicated to teaching people the different asana of yoga. Geeta ji was not only a great teacher but also an author. "Yoga- A Gem For Women" was one of the best books written by Geeta ji. She died at the age of 74, just after two days of her father's centenary.
V. Nanammal   
V. Nanammal is the oldest name among the list of female yoga teachers. She taught so many students in her whole life around one million students over 45 years. Students taught by her around one hundred became yoga instructors worldwide. Nanammal was honored for her intense lifetime work with National Nari Shakti Puraskar in 2016 of India, Yog Ratna Award in 2017 and Padma Shri in 2018- the country fourth civilian award. She was born in Coimbatore, Tamilnadu. She started practising yoga when she was only 8 years old.
Nanammal laid the foundation of her first yoga school named as "Ozone Yoga Center" in Coimbatore since 1972. Her yoga centre was followed by the traditional style of yoga and mainly focused on pranayama (breath control technique). Her life's main objective was to make awareness about yoga and its philosophy in people, especially in girl students.
Nanammal with a great heart died recently on 26 October 2019 in Coimbatore. Many students were taught by her became a yoga instructor including her family members across the world, is a record. If you are so passionate about learning yoga, you can do the same from 300-hour yoga teacher training in Rishikesh.