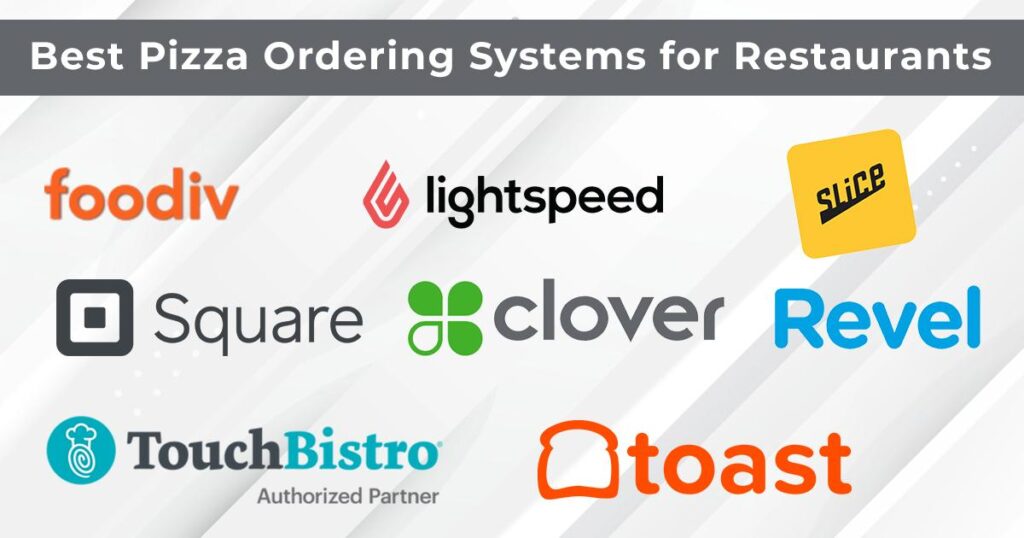 Introduction
Pizza is one of the most popular foods in the world and the most preferred food for online ordering too. We have already witnessed the massive success of pizza giants like Domino, Papa Johns, and others. And looking at their huge success, many pizzerias also want to switch to online delivery.
So, with the rise of online ordering, restaurants have been looking for the best pizza ordering systems to streamline their ordering process and boost sales.
If you too are in the lookout of a top pizza ordering system for starting your pizza shop that will suit the specific needs of your pizza restaurant, this blog is a must-read for you.
Top Pizza Ordering Systems for Pizza Restaurants 2023
Foodiv
Foodiv is at the top of our list of the best pizza ordering systems for 2023. The online Pizza POS offers end-to-end features to streamline the order and delivery operations.
The pizza ordering software enables pizza restaurant owners to quickly receive and manage orders. The simple and user-friendly interface of the POS software helps restaurant owners easily manage orders and deliveries.
Another key benefit of Foodiv is its robust inventory management system, which allows restaurants to track their inventory in real time. It generates alerts when stock levels are running low.
The platform also enables restaurant owners to create and modify the menu anytime. The recipe costing and menu engineering features help restaurants optimise their menus for maximum profitability.
Overall, Foodiv is a powerful Pizza ordering platform that offers a wide range of features designed to help pizza restaurants of all sizes streamline their operations and grow their business.
The on-demand pizza ordering system offers reports giving an insight into the profits and losses of the business. Also, it helps pizzeria owners track sales and monitor order volume and customer feedback.
With its user-friendly interface, powerful analytics & reporting tools, and affordable costs, Foodiv is a great choice for any restaurant looking to improve its bottom line and provide a better customer experience.
Toast POS
Toast POS is second on our list of popular pizza ordering systems for pizza restaurants. The platform offers a wide range of features designed to help pizzerias streamline their operations and improve their revenue and sales. Toast POS allows restaurants to take orders online or in-person, manage inventory, track sales, and more.
The online pizza ordering software is user-friendly, making navigating through different features easy. Also, the software offers powerful reporting and analytics tools allowing restaurants to track sales and monitor key metrics like order volume and customer feedback.
The platform can integrate with third-party applications, including accounting software, payroll systems, and delivery services like DoorDash and Uber Eats.
Slice Register
Slice Register is online Pizza ordering software designed specifically for pizzerias. With Slice Register, pizzerias can streamline their restaurant operations by managing orders, inventory, and sales in one place.
One of the key features of Slice Register is its user-friendly interface, which is easy to navigate and can be customised to meet the specific needs of each pizzeria. The platform includes delivery management, which allows pizzerias to track and manage their deliveries in real-time.
In addition, Slice Register is backed by a team of dedicated support professionals available to help pizzerias with any questions or issues they may have.
LightSpeed
The next on our list of top of the top Pizza ordering systems is Lightspeed. The Lightspeed Restaurant POS is popular for its modern feature set.
The POS is cloud-based and thus is updated timely, enabling the pizza restaurant owners to use the powerful features of the POS. The online pizza ordering system offers an easy-to-use interface that makes managing operations seamless.
Lightspeed Pizza POS subscription comes at $69 per month, with the option to get more add-ons.
Revel
Another popular online pizza-ordering software is Revel. The pizza POS is known for its rich features and pizzeria-supporting tools. The pizza POS offers all the essential features to manage a pizzeria seamlessly.
Pizza restaurant owners can manage their orders and deliveries without any hassle. Also, they can keep track of the inventory to be always available with the stock for custom pizza orders.
Overall, Revel is powerful and provides insights into the business with analytics and reports. The software price starts at $99 per terminal monthly, and a required installation fee of $674.
TouchBistro
The TouchBistro Pizza ordering system is the perfect option for pizza restaurants looking for a flexible solution. The POS uses cutting-edge technology and adapts to the Apple iPad for day-to-day operations.
Another advantage of the on-demand Pizza ordering software is its simple and user-friendly interface. The Pizza POS also offers a simple and customizable menu allowing pizza restaurant owners to create and edit the menu. The price for TouchBistro POS starts at less than $70 a month.
Clover
Clover is widely popular as one of the best online Pizza ordering systems offering various hardware options. The POS is versatile and allows pizza restaurant owners to streamline their operations seamlessly.
Clover accepts payments and manages customers, employees, and inventory. Besides, It generates real-time reports giving insights about the sales status, profits, and losses.
Clover integrates with over 300 software applications enabling customizations specific to your business.
Square
Square is one of the top online Pizza ordering systems for 2023. The Pizza POS is cloud-based, offering a quick and easy setup. Besides, the pricing structure for the POS is also flexible, enabling pizza restaurant owners to invest as per their budget.
The on-demand pizza ordering software can be scaled easily based on the growing business needs. It is possible to scale the POS using add-on modules, allowing business owners to integrate more features and functionalities. For instance, modules like marketing and loyalty programs to promote the business can be integrated into the POS.
Conclusion
Choosing the right pizza POS for your pizza restaurant can be confusing and tough for pizzerias. Pizzerias are different from restaurants in terms of operation and delivery, and thus, they have specific needs.
Pizza restaurants, thus, look for an online ordering system designed specifically for pizza restaurants. So, being a pizzeria owner in search of the right pizza ordering system, you must be first aware of your business needs.
A Pizzeria offering delivery and takeaway service has different needs. While if your pizzeria doesn't offer takeaway or delivery services, the needs might differ.
So, there are key considerations when choosing an online pizza ordering system. For instance, loyalty schemes, integration with third-party apps, menu customization, etc.
If a pizza POS offers all the features that satisfy the essential needs of your pizzeria and help you achieve your business objectives, it is a good investment. So, invest in your online pizza ordering system wisely for the desired return on investment.