Perhaps you are looking for the cheapest way to send your car because you are moving states, or maybe you bought a car from another state. Whatever the reason, we have the information that will help you find an affordable way to ship your vehicle.
The information we will give you here will make more sense if you know what ultimately affects the shipping cost of your car.
This article also gives you information about choosing the safe and cost-effective car delivery company.
Now let us look at how you can find the safest and cheapest way to deliver a car!
Photo by Martin Katler
Get Multiple Quotes
Shopping is the name of the game. Whether you work with an auto broker or call carriers directly, you should get at least 2-3 quotes.
Getting several quotes should help you get an idea of a fair market price to ship your car and help you find the cheapest way to ship your car.
Choose An Open Transport Carrier
Most carriers today have open trailers. However, licensed road transport brokers can find a closed carrier if you need one.
However, you will pay about twice as much as an open trailer if you drive with a closed trailer, so keep that in mind. If you are sending the car on a tight budget, rather drive with an open trailer.
Have Flexible Pick Up And Delivery Locations
If reception and delivery points are in remote locations, away from major cities or international borders, you will pay a premium for the delivery of your car.
The cheapest way to send a car in this scenario is to be flexible and be ready to take the car to a more convenient place to meet the driver. If you are 30 minutes away from a major interstate or large city, then you can usually save money by driving the car 30 minutes away to meet the driver instead of making him come to you.
Ship During The Off-Season
The busiest period in the road transport industry is June-August. The slowest months are December and February. If you need the cheapest way to deliver your car, do so in the slowest months of the year.
Be Your Own Broker
It is not the most convenient option, but it can save you money if you have the time and energy to do so. Being your own broker means getting rid of an intermediary, a broker, and you contact the transport company yourself to get multiple quotes.
However, you will have to do more than just get the quotes. You will also have to research them to ensure that they have proper licensing and insurance and are reputable.
And because you are a broker, it will be your responsibility to coordinate the collection and delivery of your car. Often, the minimum cost savings of removing a traditional broker is not worth the time and headache of checking the carriers out of themselves, but it will save you money if you are ready for it.
Bonus Tips: When you call the carriers directly, you will want to confirm that you are dealing with a carrier, not a broker.
First question: "Are you a broker or a carrier?" You'd be surprised how many trucking companies are brokers. There is nothing wrong with working with a broker, but just know that if you do it, you are not cutting out the middleman.
Be Flexible In Timing
If you have a busy delivery schedule, you will almost always pay a premium. The cheapest way to send a car is to have time on hand.
If you are ready to wait as long as it takes to get the car to your desired destination, then you can save a lot of money. Most people do not want to wait that long, but if you have at least some flexibility in receiving and delivering, you can still save money.
Hire A Tow Trucking Company
This option usually only works if you deliver the car within 300-500 miles, as most towing companies will not go further, but it can save you a lot of money.
It can be a convenient option too if you are in a situation where you need to have the car delivered both ways (i.e., you deliver the car to the dealer to trade, and then you need a new car that you buy sent directly back to you).
DIY Transport
This option is not for everyone and will rarely save you money, but for some people, it may be the cheapest way to send a car.
Transporting your own car will require you to rent a car trailer and have access to a vehicle that can tow a car such as a heavy-duty pickup truck, or a moving truck.
You will have to consider the cost of renting a vehicle with a trailer and possibly a truck, too, if you do not have one. You will have to pay for gas and probably accommodation and meals, depending on the distance of your transportation route.
Drive The Car Yourself
You just made a sweet deal on a car a few states away, but what's the cheapest way to send a car to you now? Delivery may not even be the most affordable option. If the stars line up, getting a one-way plane ticket where the car is and driving home can be the cheapest way to send the car.
I say, "if the stars line up" because many things have to line up precisely to save money. The cost of flying, the time that you may have to leave work to make the trip, accommodation, gas, food, etc. can negate any savings.
And don't forget to consider the wear and tear on your car. However, as I said, if the "stars line up," you can save a lot of money, bypassing the delivery in general, and drive the car yourself.
Before the trip, make sure that your car can cope with a long drive.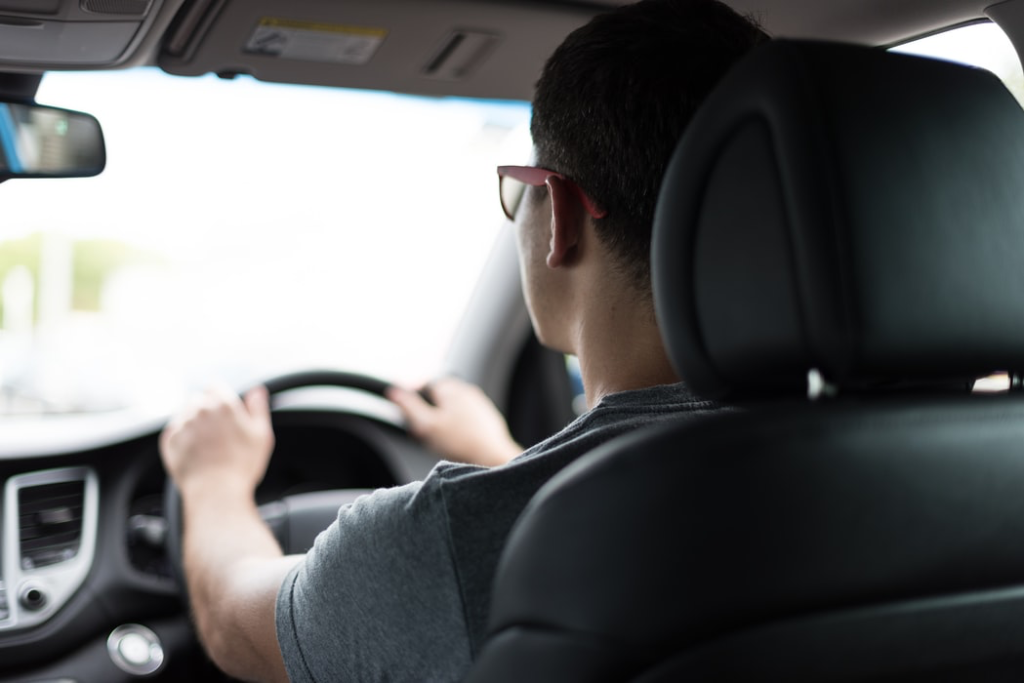 Photo by Art Markiv
Consider A Close Friend Or Family Member Drive The Car
Like the option I just mentioned above, if you have a reliable friend or family member who can drive a car, you can save money. Of course, you will have to pay for their return flight home, and you will also have gasoline costs as well as car wear and tear, but it can be a cheap way to deliver the car.
Bonus tip: If driving the car to your destination by you, a family member, or a friend is not an option, there is another possibility.
There are professional drivers that you can hire to drive your car, and there are markets that connect vehicle owners to people who want to drive their vehicles to their destination.
Look For Terminal-To-Terminal Carriers
Some carriers have terminal sites throughout the country where cars can be shipped and even temporarily stored. These terminals are usually located outside of major interstate borders or near major cities.
Since these carriers do not need to send their vehicles directly to you, and they can simply ship them to their conveniently located terminal areas, they usually charge less than door-to-door transport.
There are fewer terminals to carrier terminals. However, the search process can take longer. Their terminal sites may also be close to you, so you may have to drive your car to or from the terminal site.
There may also be a daily storage charge if you need to leave your vehicle at the terminal before it is being picked up or delivered. You will want to consider these things when trying to determine if it is the cheapest way to send the car.
Hire A Broker
Auto transport brokers usually have access to hundreds of carriers across the country, so they can team up with them to get you the best possible price. Dealing with a broker can be the cheapest way to send a car. However, you should beware if the quote is too good to be true.
To get your business, some brokers can quote you a lot but then may struggle to find a carrier to send your car at the price that they quote you. In this situation, they will come back to you for big money, or it may take several weeks before a carrier is found to send your car at this price. And even if a carrier is found for such a low price, you may find yourself in a situation where you end up working with a less reliable transport company.
Like everything in life, you get what you pay for. The road transport industry is no different. A lower price usually means slower delivery.
The Cheapest Way To Ship A Car
The type of truck needed for your vehicle type will determine the cheapest delivery method.
An enclosed vehicle is likely to be the best option for delivering a luxury vehicle. Although closed transport is more expensive than open transport, it does, however, protect your expensive car from the elements.
The cheapest way to transport your car is by using open transport. It is due to the increasing amount of open transport on the road, and they can transport any vehicle. Open transport is the better option if you are transporting a car that you drive every day.
Whether you are moving or buying a new car from another state, there are different ways to bring your vehicle to your preferred destination. There are many factors related to delivery using the cheapest option, such as season, pickup, and drop-off locations.
Consider the questions below when looking for an affordable way to transport your vehicle:
Do you prefer an open carrier or a closed truck?
How soon will you need a car on arrival?
Do you have time to get a delivery estimate from many shipping companies to get quotes immediately?
Photo by Alexander Pütter
Door-To-Door
The usual delivery method in the automotive industry today is door-to-door delivery on an open trailer. It could also be a convenient way to transport the vehicle at a reasonable price.
This option is recommended for those who want to deliver their vehicle, which they drive every day. It is also for those who want their vehicle to be delivered safely to their doorstep.
Shipping companies are properly insured with at least $750,000 in federal government requirements, most of which increase it to a million dollars on their truck. The cheapest way to deliver a vehicle safely and reliably is through an open transport system, and this has often been proven.
Terminal-To-Terminal Car Shipping
Transporting your car from terminal-to-terminal remains the cheapest way, no matter how you view them. Although not recommended, it is probably the best option for you if you have a low budget.
This option is slower and more stressful than the door-to-door delivery option. However, most cities today have terminals, which makes it safe for truck shippers.
Regardless of this, your car can be in great danger because you will have to leave it at the terminal. Your car will be out of sight for a good number of days or weeks.
This option can also take longer than door-to-door delivery since most carriers do not want to stop at the terminals. It can often lead to delays in getting to the terminals.
To Sum It Up
Trusting your car to a shipping company to transport the car means that they are reliable and professional in providing services.
We have discussed most of what you need to know about choosing the best car delivery company to transport your car as well as finding safe and cost-effective solutions for car shipping.