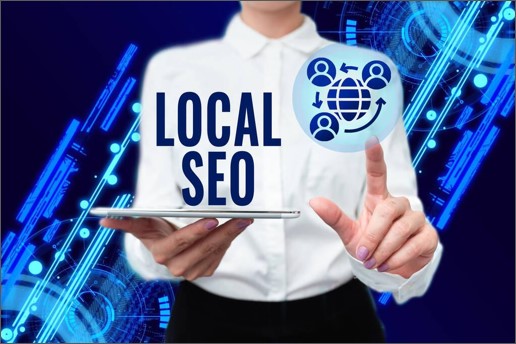 If you own a small business and are looking for effective ways to improve online visibility, you need a strong local SEO strategy. Local SEO is an effective way to boost your online presence and increase traffic. Search engines like Google, Bing, and Yahoo are all focused on serving relevant local results. A solid local SEO strategy can help you get your business in front of potential customers searching for your products or services in the right location.
While working on a local SEO strategy to improve local rankings, ensuring your business information is accurate across all relevant online directories and citation sources is vital. These can include search engines like Google, Bing, and Apple, as well as local listings on social media sites. This involves scanning these resources for misspellings, address and phone number discrepancies, duplicate listings, and other errors that could harm your search engine ranking.
What is local SEO?
Local SEO is the process of optimizing a website to improve its visibility within a particular area. It helps your business appear on top of search engine results pages (SERPs) when a potential customer in that area searches for a product or service you provide.
It is one of the most effective ways to promote a business, especially if it is a small and/or new company. It can help you reach a wider audience and increase your sales. If you are a business looking to promote yourself locally, it's advisable to start with some of the affordable local SEO services and then upgrade your game gradually as you start seeing results.
The most important part of Local SEO is finding relevant customers looking for the products or services you offer. If your local SEO campaign is done properly, it will put you in front of these customers and thereby convert them into your paying clients.
Your power guide to local SEO for small businesses:
Optimize Your Business Website
Local SEO can improve your website's visibility in search engine results pages (SERPs), drive more traffic to your site, and increase your conversion rates. Moreover, it can help your small business attract new customers and grow its bottom line. The best way to optimize your website for local SEO is by using various tools. These tools can help you conduct keyword research, identify geo-specific keywords, and assess the search volume for these terms.
Once you've determined the keywords to target, it's time to optimize your website for those terms. This can include creating content that focuses on your location and industry, optimizing your business's Google My Business page, and building local citations. Getting the best-suited Local SEO services for your business is always advisable if you want to target a local audience for your business.
Optimize Your Google My Business Page
Your Google My Business page, or GMB, is important to your local SEO strategy. The best optimization tactics include making your listing as comprehensive and up-to-date as possible and ensuring that all necessary information is verified and correct. Updating your GMB regularly is one of the best Local SEO Tips for small businesses. It's also a great way to get more customers, build your brand loyalty, make more sales, and generate more revenue.
Adding new posts to your GMB can help you keep it fresh and give searchers another reason to visit your business. You should also add relevant media and information to your GMB profile as often as possible. This can include photos, videos, blog posts, and more. This can increase your ranking in local search results and boost your conversions.
Use Local Keywords
Local keywords are important for boosting your visibility in the search engine results pages (SERPs) for certain geographic areas. This can help drive traffic to your website and get more new customers. When researching local keywords, you need to take a consumer's point of view and imagine how people might search for your business. This will allow you to identify possible keyword phrases that might be relevant to your business.
Using local keywords strategically is of the great ways to improve online visibility. For example, if you are a pet grooming business, consider what kind of services you offer and how they might be relevant to your target audience. Next, run these keywords through a keyword research tool to determine the search volume and keyword difficulty. Get the best results by hiring a leading SEO agency now!
Optimize Your Local Listings
Local listings can significantly help you improve local rankings of your business website. They provide additional details about your business that can help searchers find you online. A good local listing will include your name, address, phone number, and website. It will also mention any specific rules or regulations you follow, the industry in which you work, and more. You can use this information to build links to your website, boosting your rankings for local searches.
You can get your business listed on several quality local directories, including Google My Business (GMB) and Bing Maps. You should also make sure that your citations are consistent on different directories. This is important because citations help raise your local ranking signals, such as domain authority, and are often seen as an indicator of trust by search engines.
Optimize Your Social Media Profiles
Social media is integral to local SEO and can help businesses rank well in Google's local search results. A Facebook page is not only a reputable source for your business's contact information and hours of operation. It also allows users to leave reviews that appear right within a Google search. One of the best Local SEO Tips is to keep your social media profiles up-to-date. Make sure to include your NAP information in your profile and update it regularly.
Share content relevant to your local community on your social media accounts. This will attract customers who live nearby and signal to search engines that your business is locally focused. Promote your best content on social media and make sure to respond to comments in a timely manner. It will help you increase your overall organic social media engagement.
Track Your Results
There are a few key metrics you can track to see how effective your local SEO strategy is. These include your site traffic, Google My Business page rankings, and citations. Using a tool like Google Analytics or another tracking platform can help you keep track of these metrics and ensure your strategy is working. You can also set up a Google My Business account and track your results. If you are unsure how to track your local SEO results, contact a well-experienced SEO agency now!
Whether you are running a brick-and-mortar business or serving customers across the country, there are many ways to optimize your local SEO for small businesses. With some work and the best Local SEO Tips from market professionals, you can use the best practices to find your business and gain new customers online.
Benefits Of Local SEO For Small Business
Whether you're running a small business or a large company, search engine optimization is an essential part of any marketing strategy. Boosting your search rankings is the key to driving traffic and conversions. There are several benefits of local SEO for small businesses, such as it helps you increase traffic to your website, increase conversions, make more sales, improve customer satisfaction, and help you boost your brand awareness among your potential audiences.
Local SEO helps you reach your target customers by ensuring your business shows up in the local search results when someone searches for products or services related to your business. Below discussed are some of the key benefits of Local SEO for small business:
1. Increased Traffic
One of the greatest benefits of local SEO for small business is increased traffic. This includes both online traffic and offline traffic. Whether you are in a competitive market or just starting, local SEO can help you tap into the growing number of consumers who are looking to buy products and services from nearby businesses. In addition to this, local SEO can also help increase your conversion rates.
2. Increased Conversions
A high conversion rate is essential for small businesses. Local SEO is a powerful marketing tool helping small businesses generate leads and convert them into sales. More customers mean more revenue for the company. And what business wouldn't want to see its customer base grow? If you are looking for ways to improve online visibility and increase conversions, contact a leading SEO agency now!
3. Increased Sales
When you optimize your business for local SEO, you put your products and services in front of people looking to purchase them now. This is a great way to build brand awareness and increase sales.
Reviews about your business can significantly influence the decision-making process of your potential audience. Positive reviews and personal recommendations can be a big deal for your business.
4. Increased Customer Satisfaction
Local SEO helps you reach out to people within your target market and boost their awareness of your business. You can also improve your customer service with this marketing strategy. Another advantage of local SEO is that it helps you quickly win repeat customers. Studies have shown that returning customers are likelier to convert into sales deals than first-timers.
5. Increased Brand Awareness
A strong local presence on search engines helps businesses get people's attention in their geographic area. This is because local searches are typically triggered by searchers who intend to visit a business within a specific proximity. This is a great way to increase brand awareness for your small business and get more people interested in your products and services.
Conclusion
If your local SEO campaign is carried out correctly, it will make you stand out from your competitors. Hence, it will lead to more sales and profits for your company. Local SEO is one of your most important marketing strategies if you're a small business owner. It can help you increase your leads and clients and boost your bottom line. It's also a way to build credibility in your community. Get in touch with a leading SEO agency to get the best-in-class and affordable local SEO services for your business.