There isn't an entrepreneur on the planet who doesn't want to increase his/her enterprise's productivity level. Apart from technical innovations and smart business deals, employee productivity is key for boosting overall production rates.
Needless to say, productivity is measured differently across different industries. Productivity-boosting methods work in a manufacturing office might be ineffective in the creative industries, and vice versa. That is why the 17 tips we offer below are versatile in nature yet highly effective.
The correlation between junk food and productivity
You probably knew that junk food isn't a friend of your overall health. However, junk food can also have a detrimental effect on the overall energy level. Just consider the difference between eating fruit and a chocolate bar with "a 10% fruit flavor."
The former is among top weight management foods which include nuts, eggs, leafy greens, lean meat, etc. As the employer, you can tock up the fridge and the kitchen cabinets with such healthy snacks. So employees won't reach for junk food when they feel peckish.
Ordering in hot meals
The office kitchen is a nice thing to have and a huge perk that can help you attract top talent. However, a small kitchen is not suitable for cooking meals, as they don't feature an oven but only a microwave. Since dieting right is essential for productivity, make the effort to order in at least one hot meal a day. Apart from overall health, this move will increase the respect workers have for you which will result in higher motivation.
On a constant move
Whether it's sitting in front of a computer monitor hours on end or standing upright near a conveyor belt, the fact is that modern workers don't move much. Add the aforementioned junk food to the equation and you get an obese workforce that can hardly be called productive.
As a solution, workers should focus on exercising more. However, this doesn't involve hitting the gym or becoming a professional athlete, as all they need at first is to start moving more. Encourage employees to use their breaks for getting up and walking to the water cooler if nothing else, as that is 10 times better than sitting down and browsing the Internet.
When people are physically active, more blood gets to the brain, making think clearer and eventually influencing their productivity levels. Furthermore, a healthy workforce translates into fewer sick leaves and more time spent working in the office but working productively.
Saying "no" for better mental health
Productivity is intrinsically linked to motivation, i.e. mental health. One of the biggest factors in a person's mental health is stress. Stress often occurs when people are unable to state what they want. In the corporate world, this often includes the inability to refuse a task. After the employees are forced to stay silent enough times, their stress levels soar.
For this reason, you should encourage the employees to freely express their opinion and this should make its way into the official company policy. Simply being able to say "no" without consequences will be a huge burden off an employee's shoulders.
Less multitasking, more focusing
Women are better at multitasking than men but for both sexes, multitasking too often brings productivity levels down. Instead of doing several tasks simultaneously, workers ought to focus on one task at a time.
Don't get us wrong, multitasking is not bad in itself but a lot of people find it hard which results in decreased productivity per task. Doing 3 or 4 things simultaneously results in average performance, while consecutive problem-solving yields excellent results.
Improved delegating
Speaking of tasks ahead, both managers and workers need to learn how to delegate tasks efficiently. Namely, if you have too much on the daily itinerary, you are likely to sacrifice productivity to complete everything on time.
That's why the recent decades have seen a rise in task management software that helps companies use resources wisely and timely. These group working apps help allocate labor better and complete tedious tasks quicker.
Noise cancellation
A typical workplace can get quite hectic at times. One of the biggest issues for employees is noise, whether it's produced by machines or their coworkers chatting (for business and leisure purposes alike). For a programmer, for example, this can lower productivity, as they lose their "flow" because they are unable to concentrate on lines of code.
That is why you see many workers wearing headphones in the office. Although listening to music is a good strategy, often the main purpose of headphones is simply to cancel out the noise around them. As an employer, you can install noise-proof windows that will take care of the noises coming from the street, like sirens and people yelling.
A fruitful discussion over a cup of coffee
We've mentioned earlier how workers should get up from their chairs and go for a walk during their breaks. Moreover, breaks are ideal opportunities for socializing. A great place where workers can mingle is around the coffee machine.
Conscientious employers install such machines as Lavazza office coffee machines to help people relax over a hot cup of coffee. This helps workers unwind better, so they are fully energized when they return to their respective desks.
Finally, conversations near the coffee machine are not all empty talk. Since the atmosphere is relaxed, people often use this opportunity to discuss work-related issues and perhaps solve problems since the pressure is off. This is especially important in creative industries that thrive on originality works put in.
Video games in the office?
An integral part of every successful office space is the addition of a leisure room. Every employer determines what exactly goes in the leisure room in coordination with his/her employees (usually through conducting a poll).
One of the most common requests workers have are gaining consoles. While the request is justified, there are employers out there who are reluctant to purchase an Xbox or a PlayStation. However, playing games transports people into another world, effectively taking their minds completely off work. After they are done playing, they will feel invigorated and ready to tackle work tasks.
Do away with unnecessary meetings
We have all found ourselves in a boring business meeting at one point during our careers and let's admit it: it happened more than once. Not only are futile business meetings boring but they are a complete waste of time. An employee's leaving the conference room after a tedious meeting cannot possibly motivate themselves to put in the best performance until the end of the day.
Cutting down on the total number of meetings is no way to keep employees motivated. When a meeting is absolutely necessary, then try to make it brief and to the point. If a business meeting fulfills these standards, it will have a secondary role as a motivator, instead of being a drag as usual.
Leaving the office
Even prisoners have an hour of free time outside per day so you shouldn't force the employees to stay indoors 8 hours or more. Getting out of the office for a short walk around the block or running an errand can help the worker focus better when they come back.
Furthermore, employees should have the ability to work from home if possible. Instead of calling in sick, they can often stay home and work at a leisurely pace. Of course, both short walk and working home should be negotiated between the management and the management so you don't end up with workers going AWOL in the middle of a workday.
The importance of decluttering the office space
Have you ever wondered how some people can get anything done when surrounded by a creative mess (a euphemism for clutter)? The thing is, they probably aren't productive at all but refuse to admit it. For this reason, the office space should be decluttered even if some employees swear by the mess their work area is in.
The best way to get rid of clutter once and for all is to have enough storage space for everything inside the office, from paper clips to bulky folders. Once everything gets a proper place in the room, it will be easier to instruct employees where to store everything so you will finally be able to create clutter-free office space.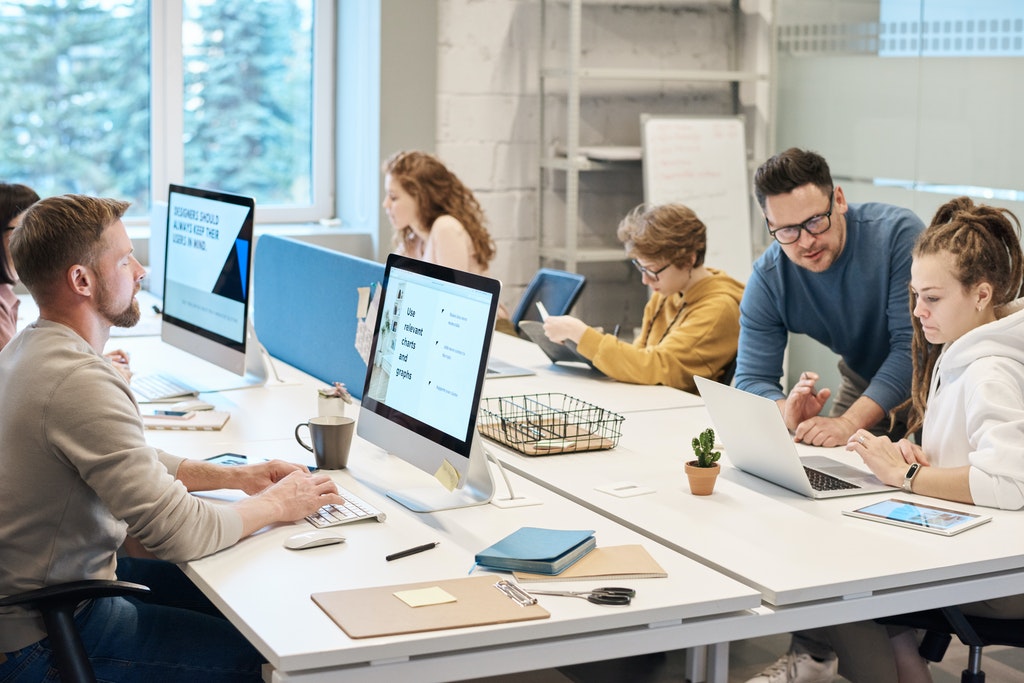 The early bird catches the worm
Have you ever felt the energy surge after waking up early and having your first coffee in the morning? If you have, then you know that the morning is the most productive period of the day. What you can do is get up early and arrive at the office around 7 AM or 8 AM and start working as soon as possible.
This is the main reason why employers enable their workers to arrive at work within a time frame of several hours in the morning. Different people truly wake up at different times so finding that sweet spot when they are most productive in the morning should be the aim of every good HR policy.
The silence of the phones
Regardless of the exact work needed to be done, communication plays a role in every industry. Phone calls, e-mails, social media messengers are all unavoidable tasks that take away from productivity. In order for the employees to be able to focus on work, there should exist a period of "radio silence" during a typical workday.
For instance, airline pilots adhere to the sterile cockpit rule stating that no private conversations are allowed until the plane reaches its cruising altitude. A similar principle should apply in other industries as well since focus is essential in any line of work.
Less ambitious goals
When companies create their business plans, short-term and long-term goals are an essential part of it. Sometimes the goals state where the company should be in ten years and sometimes short-terms goals regulate day to day production targets.
Apart from these outlining company goals, workers should also have short-term and long-term targets. By setting what they ought to achieve within a week or a month, they are able to better determine their productivity levels and put in extra work if necessary. Of course, these targets should be moderate in difficulty because expecting too much can cause stress, resulting in underperformance.
Nurturing optimism
Speaking of tasks and the anxiety they cause, workers should arrive in the office full of optimism. On an individual level, it is hard to be intrinsically optimistic about business targets each and every day so systematic optimism should be spread by the management. What we mean by "systematic optimism" is the nurturing of a company culture that takes a positive look at business.
When bosses and foremen use phrases like "you must deliver," "the final deadline is," "it has to be on my desk by," this puts stress on employees and makes them pessimistic about the future. Such tension stands opposite to increased productivity so try to nurture a culture of optimism that will cheer employees rather than putting extra pressure on them to perform.
Motivation and incentives
You have concluded by now that the biggest driver of employee productivity is motivation. Motivation is primarily self-induced and it would be great if you could hire ambitious individuals who motivate themselves and others. However, staff motivation should not be left to chance, as there should exist a transparent system of bonuses and incentives at the level of the entire company.
Monetary incentives such as pay rise and bonuses are the most obvious tactic to motivate employees but they are just part of the employer's arsenal. Extra free days, in-house daycare facilities and flexible work hours are among other amenities that come with the promise of motivating staff enough to raise their respective productivity levels.
Raising productivity is not easy in itself but there are countless measures both employers and employees could apply to do more within a single workday. From alternating dietary habits, across throwing in a coffee machine in the office, and all the way to a small pay rise can positively influence overall company productivity. Remember, only a satisfied employee can be productive in the long run.