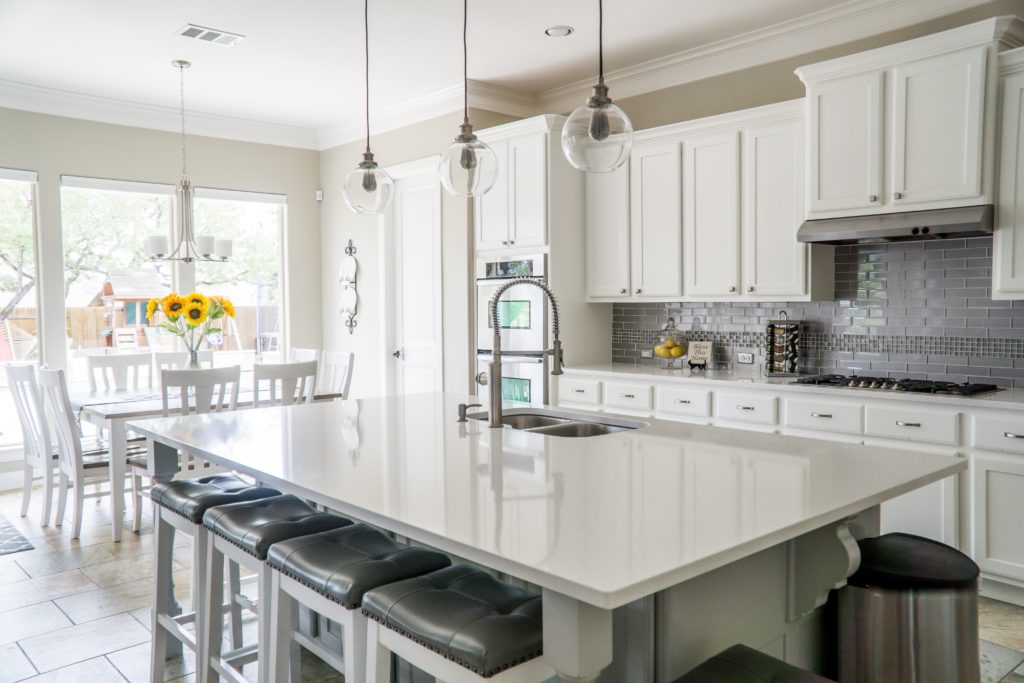 Kitchen remodeling doesn't necessarily have to be an expensive and challenging task. There are many ways to transform a kitchen and still save money in the process. These five tips might give you an idea about how to go about it.
Reface existing cabinets
One of the most effective, yet inexpensive ways to give your kitchen a dramatic makeover is to reface already existing cabinets in your kitchen. You can save up to thousands of dollars if your cabinets are in good shape. All you need to do is just reface them. It can be a challenging project, but once you're done with it, your kitchen will look completely new. In case you are planning on doing this mini project on your own, there are some things you need to keep in mind.
Firstly, make sure that your cabinets can, in fact, be refaced. The only cabinet faces that can be refaced are the ones made from real wood or MDF board. Laminate doors can't be refaced. Once you're sure that your cabinets can be refaced, you can start preparing your cabinet faces for painting by sanding them first with 220-grit sandpaper.
When painting your cabinets, you should choose a darker stain than your existing cabinets. Consider using a gel-stain, latex, or oil-based stain. No matter which one you choose, it's important that you invest in high-quality paint. That is what will make the biggest difference in your kitchen. It will also make sure that the cabinet faces last longer. For instance, gel-based stains are very good because they produce a robust colour. That means that the gel sits on top of the wood, unlike other types of stains that permeate into the wood and lose some of the deep, rich colours over time. On the other hand, oil-based paint will give a glossier and more polished look to the cabinets.
You can also go for a spray gun. It is inexpensive and very easy to use. And most importantly, you can find it at any hardware store. What you need to do, once you start painting, is to remove all the doors and spray or paint them with a brush for flawless results. Once you're done painting, leave it to dry and apply a clear coat for a polished finishing look.
Add new trim
Trimming your cabinets can make a huge difference in your kitchen and it can be quite inexpensive. Even if you decide to hire someone for this project, you will still save a lot of money in the long run because you will be using your existing cabinets. This small change can give your kitchen a completely new look. For instance, adding crown molding trim or under-trim will completely transform the box cabinets in your kitchen by giving them the look of custom built-ins. Also, if your cabinets have a lot of space at the top, you can add crown trim to draw the eye upward. What this will do is make your kitchen appear a lot bigger than it actually is. You can even get creative by mixing wood trim colour. It's become a very popular trend for the kitchen.
Do a general check-up
Use this opportunity, while you are removing all the cabinets, countertops, and what not, to check for any potential problems that can be caused by water leaks. For this part, it's best to consult and hire someone who can detect these potential problems. Calling upon professional plumbing services Canberra can save you a lot of money. This way you will be able to detect some issues in the kitchen before they become bigger problems that require a lot of effort and money to be solved. Overall, make sure to regularly check for any potential water leak problems is recommended and can help you save money in the long run.
Add a backsplash
Another very simple and easily manageable project that can make a big aesthetic impact is adding a kitchen backsplash. The good news is, you can do this on your own and save a lot of money. There are many different DIY ideas for this project. You can choose "lick-and-stick" backlashes that don't require a lot of cutting. Or you could choose some of the custom looks with real tile. In that case, you will need a trowel and a tile cutter. You can also choose to go for a beadboard backsplash. It is one of the easiest and fastest, yet very affordable options for your kitchen remodeling.  
Conclusion
As can be seen from above-discussed ideas, there are many effective, yet affordable ways to transform a kitchen and give it a completely new look. Some of these projects require professional help, but many of them can also be done as a DIY project. So, be creative and by following these five easy tips, you'll have your kitchen looking completely fresh and new.