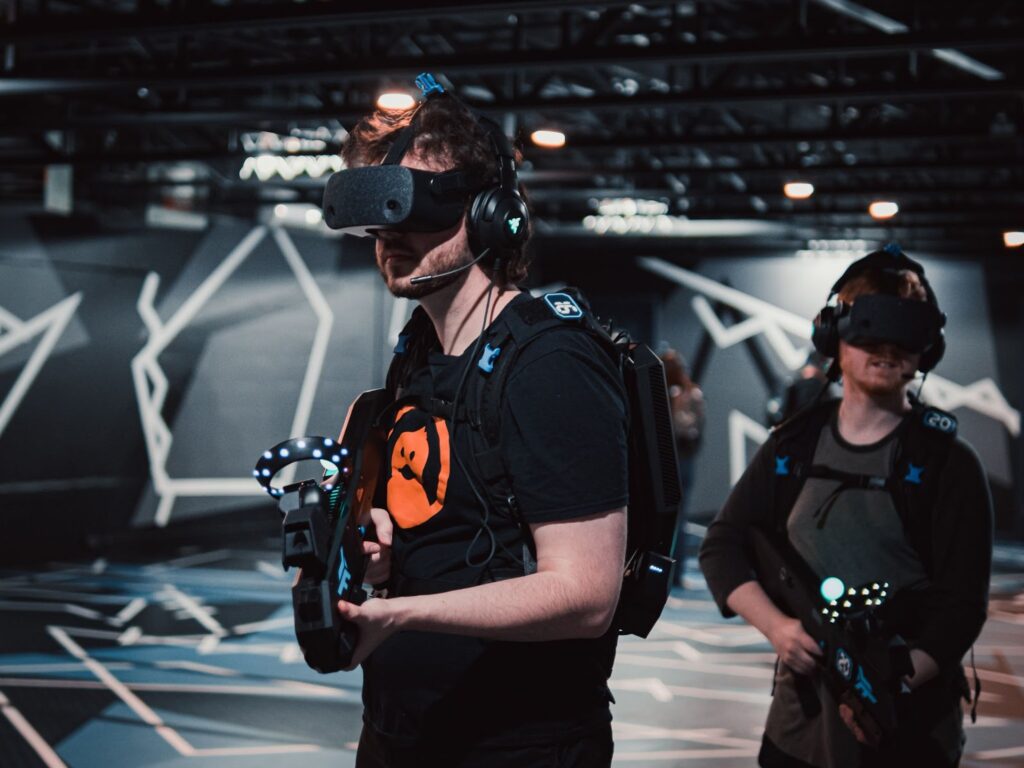 Photo by Maxime Doré on Unsplash
Have you ever found yourself marvelling at the mesmerising world of Augmented Reality (AR)? It's easy to get captivated by its charm. But it's not merely the realm of whimsical game graphics or vibrant filters; it's a landscape far richer. Nestled within this is mobile game development, where AR is truly making its mark, pushing boundaries beyond traditional gaming. It's where digital phantoms dance with reality in an intricate ballet. Yet, let's pivot our focus slightly: beyond games, how is AR influencing those everyday apps we so nonchalantly flick open?
Let's splash some cold, hard facts on you. Brace yourself. A 2023 survey indicated a whopping 70% surge in AR app integration in just a year. Yup, you read right! And hold onto your hats, because another research tidbit from Business Insider claims the AR tech market could balloon to a mind-boggling $215 billion by 2024. That's not just games and fun filters, my friends. We're talking daily apps, tools, and solutions, merging our real and virtual worlds. Intrigued much? Dive in with us.
Understanding Augmented Reality
Ever played with a social media filter, adding bunny ears to your selfie? That's a slice of Augmented Reality (AR) for you! But guess what? AR is more than just fun filters or video game enhancements.
Blending Realities: AR doesn't replace our reality but enhances it by adding digital components to it, making mundane tasks engaging.
Evolving Applications: While games introduced us to AR, its potential is vast. It's transforming how we shop, learn, and even work.
Not Just For Tech Geeks: With most smartphones now AR-ready, this isn't niche technology. AR is steadily becoming an essential component of our everyday digital experiences.
Ready for a deep dive? Continuing from here, we will delve into the ways AR is reshaping the E-commerce and Retail sectors. How about trying on a dress without stepping into a store? Exciting, isn't it? Stick around to unravel the magic AR brings to our fingertips!
AR in E-commerce & Retail
Picture this: Browsing an online store, you spot a stylish watch. But instead of merely staring at a 2D image, you virtually "try it on" your wrist. Welcome to the realm of AR in E-commerce and Retail, where shopping undergoes a profound transformation.
Virtual Trial Rooms: Gone are the days of uncertainty around online apparel shopping. AR lets you visualize outfits on your physique, ensuring you love what you get.
Decor Decisions Simplified: Thinking of a new rug? Place it virtually in your room and decide if it vibes with your décor.
Empowered In-Store Experiences: Physical store? No worries. AR guides offer product details, reviews, or even how-to-use guides with just a scan.
Case Study Highlight: A top-tier fashion house noted a slump in online customer engagement. Their game-changer? An AR-powered app. Users could now virtually step into clothes, easing purchase decisions. The aftermath? A resounding uptick in sales and revived customer enthusiasm.
As we journey on, be prepared to be enthralled by how AR is reshaping the educational landscape. Ever wondered about studying the human body with organs popping out of your book? That's coming up! Stay intrigued and read on.
AR in Education and Learning
Remember the age-old saying, "Seeing is believing"? AR in education is bringing this to life. Traditional textbooks are good, but what if you could make them come alive?
Engaging Visuals: Instead of static images, think of a rotating planet or a 3D shape you can view from all angles. It aids in better understanding and retention.
Interactive Learning: Why just read when you can interact? AR makes learning a two-way street, enhancing students' engagement.
Customized Pacing: Every learner is unique. With AR, students can explore topics at their pace, ensuring no one's left behind.
Case Study Highlight: A groundbreaking educational app ventured beyond traditional teaching methods. Instead of 2D diagrams of the human body, the app showcased organs in 3D, allowing students to dissect and explore virtually. The result? A spike in student engagement and understanding. Anatomy lessons were never this captivating!
As we delve further, we'll see how AR is making strides in healthcare, offering innovative solutions. Imagine getting a sneak peek into your body without invasive procedures. Sounds fascinating? Stay with us to explore more!
AR in Healthcare
When you think of healthcare, do cold, clinical settings come to mind? Well, AR is warming things up and adding a sprinkle of innovation!
Visualized Procedures: Surgeons can now overlay digital images on the actual site, ensuring precision during complex operations.
Patient Education: Instead of dense medical jargon, doctors use AR to visually explain diagnoses or treatment plans to patients.
Rehabilitation: For patients needing physical therapy, AR games and exercises make the process more engaging and measurable.
Case Study Highlight: In a renowned hospital, AR glasses became a game-changer. During intricate surgeries, surgeons wore these glasses to see a fusion of real-time imaging, like MRI scans, overlaid on the patient's body. This allowed for real-time adjustments and an increased success rate in surgeries. Patients, on the other hand, experienced reduced anxiety as they could see a visual representation of their health conditions, making complex medical terms simpler to grasp.
Subsequently, we will venture into the domains of real estate and interior design. Ever wanted to see how a house looks before it's built? Or visualize different wallpapers in your room? AR is about to make those dreams a reality. Stay tuned!
AR in Real Estate & Interior Design
Ever glanced at a space and thought, "How would my favorite couch look here?" AR is making those visualizations a snap in real estate and interior design.
Virtual Property Tours: No need to physically visit every listing. AR offers immersive property tours, letting you "walk" through spaces without stepping out.
Design Before Purchase: Test out different furniture, wallpapers, or paint colors in real-time, ensuring your decisions feel just right.
On-Site Visualizations: For architects, visualizing constructions on a plot becomes effortless, aiding in planning and client presentations.
In the domain of interior design, AR's impact is undeniable. Buyers are now confident, making design choices that best resonate with their aesthetic. Architects, in turn, find client discussions more productive, as visualizing changes becomes instantaneous.
Up next, every technology comes with its set of challenges. AR is no exception. If you're interested in understanding the challenges encountered and important factors to consider, let's begin our exploration.
Challenges & Considerations
As dazzling as AR might appear, it's not without hurdles. But then, what's innovation without challenges?
Technical Issues: Lagging visuals or incorrect overlays can disrupt user experience, requiring top-notch hardware and software integration.
User Privacy: AR apps accessing cameras raise valid privacy concerns, calling for stringent data protection measures.
Adaptability: Not everyone's tech-savvy. Training users, especially from older generations, is crucial.
Yet, with an understanding of these challenges, developers and businesses can better prep and deliver AR solutions that truly resonate.
Eager to know our wrap-up thoughts on AR? Hang tight; the conclusion is up next!
Conclusion
AR, once a dream, now shapes our daily life. Imagine sipping coffee while your mug flashes news or trying outfits through a virtual mirror. It's more than tech; it's a fusion of dreams and reality. But as we embrace this revolution, using it wisely is paramount. AR isn't just changing views; it's altering experiences profoundly.