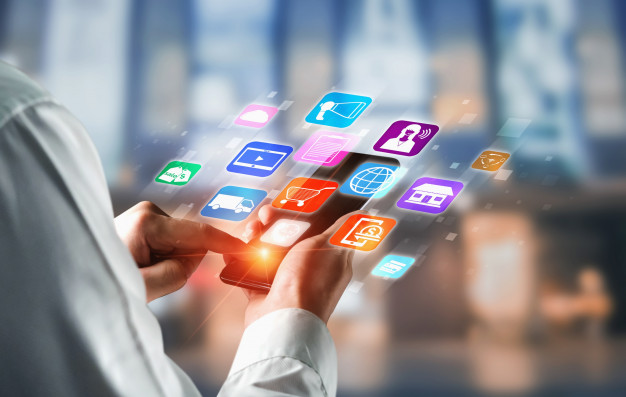 The Mobile App Development industry is huge and growing at a tremendous speed. With this, the need for mobile app developers has boomed and, so does the mobile apps in the market have hit new heights. The progression of app development seems profitable in the upcoming years for continued faster & effective communication.
It is no doubt that the mobile industry will continue to see profitable growth. Hybrid monetization models such as in-app ads and in-app purchases are the key drivers to mobile app development growth.
When you look at the survey, the cost of developing a mobile app range from $5000 to $500,00. App Annie's research on the mobile market has predicted that this will be the market for mobile apps by 2022.
Technologies that will Upgrade Mobile App Development in Future
The rising disruptive technologies like the Artificial Intelligence (AI), Internet of things (IoT), Machine Learning (ML), Blockchain, and the role of Augment Reality (AR) & Virtual Reality (VR) holds the prospects of the mobile app.
Internet of Things
There can a myriad of ways where the cloud and the Internet of Things can transform mobile app development. The Internet of Things spending is estimated to be $1.1 trillion by 2023, which will be on wearable, home appliances, smart cars, and many more.
Because of their capability to handle the redundant data and connecting multiple devices at a time, both cloud and IoT will be among the key holders of the mobile app's future.
Artificial Intelligence
Artificial Intelligence is used in developing gaming applications that require navigation, speech recognition, and natural language processing features.
The worldwide revenue of the AI market is forecasted to reach $125 billion by 2023.
Technologies like predictive analytics and machine learning algorithms. This gives mobile app developers them to deliver personalized experience through application ingrained with AI. These mobile apps will be smarter than the usual apps and help understand user behavior.
Augment Reality and Virtual Reality in Mobile Apps
AR/VR is another disruptive technology that is growing in the gaming industry. However, it has escalated from games to the healthcare industry for treatments. They are continuously enhancing the performance and features at a rapid speed.
In the future, we may see these technologies to improve the way developers build gaming apps, travel apps, and live streaming apps.
Blockchain
As per the Nasscom in 2019, the projects built by Blockchain development companies costs over $20 billion. Blockchain adoption is no less popular than any other revolutionary technology. Whether you want a health app, a retail app, or a fintech application, Blockchain can be integrated with each kind. Blockchain is decentralized, transparent, and immutable, which is capable of changing the way mobile app development is practiced.
5G Technology
A technology that can transfer millions of data packets within a blink of an eye. A survey by HIS Economics shows that 5G technology will witness a revenue-opportunity of about $12.3 trillion globally. Mobile app development can take advantage of this technology in various industries like IoT, AR/VR, Smart Cities, Supply Chain, Transportation.
The benefits of 5G technology can offer your application a greater speed to increase mobile app user retention, fast data transfer, lower latency, and great user experience.
Mobile Spectrum
There has been rapid adoption of mobile apps globally within different categories of apps. Gaming, however, is accountable for generating 85% market revenue in 2015 and is continuing to enhance.
Also in late 2015, Flurry Analytics recorded –
Customized apps such as wallpaper app, launchers, icons, and device customization apps rose by 332% in session usage.
Newspaper and magazine apps came second with 135% growth.
Productivity tools stood to thrid in usage list by a 125% rise.
81% of growth was recorded from the lifestyle and shopping app solutions.
Travel, sports, health and fitness apps, social media, & messenger apps gained growth of 53 to 54%.
Mobile App Development Market Growth
As per the Forrester statistic, there is a difference in thinking of mobile app development as a successor. As per the survey, 18% of the companies take mobile devices as a catalyst that can transform their business, which can be expected to increase by 25% or more in the upcoming years.
Since mobile devices and applications have become extremely essential in our daily lives to commence any activity such as pay bills, listen to music, or even chat. The Internet has also parallelly become the key ingredient to make the applications functional.
The popularity of aggregator apps is also growing. These apps are used as a tool to pull content from multiple online sources and compile them on one easy interface. A simple example of an aggregator app is the Inshorts app, where you will find global news aggregated from different sources and compiled in 60-bit sized words for a quick read.
Aggregator apps are meant for those who lack time to visit different websites or install them to gain the desired knowledge. These days these apps are turning to become users' favorite because they are convenient and enhance the shopping experience.
Lately, Facebook has used the aggregator method in its Messanger app to read their feeds and, on the other hand, book a ride with Uber.
In the Nutshell –
Apple and Google are the largest competitors when it comes to the app store for downloading applications. In 2016, iOS developers were able to generate $5000 monthly revenue, and only 16% of android developers were able to achieve the same.
The monthly revenue report of both the Android and iOS operating system says that iOS earned an average of $4000 per month, while Android OS could generate $1,125 (Forbes).
With different monetization models like freemium apps, subscription, in-purchases, crowdfunding, and sponsorship, almost every business is heading towards mobile app development to scale their business.
Market trends state that mobile app development will continue to grow and generate higher revenue in the future. Only when you strategize and market the app properly will define the popularity and growth of your app.