Whether you want to teach your students online, create tutorial videos for YouTube, or train employees, all of these tasks require a professional screen recorder.
However, purchasing a single new online screen recorder for Windows 10 operating system becomes very laborious and challenging since there are thousands of options to choose from including paid and free.
But if you don't have the budget to make a good purchase, then you will need to download the free onewhich provides almost all the premium features.
While the good news here is that Windows 10 has a free built-in screen recorder called the Xbox Game Bar, but it has a lot of limitations and is only perfect for basic screen recording tasks.
The bad news here is that not all the free screen recorders provide each and every feature that is needed to record high-quality videos on Windows 10.
However, only a few companies are trying to provide maximum free features in their Screen Recorders, one of which is IObit.
IObit launched its 100% free iFun Screen Recorder on March 24, 2021, which has many remarkable features that definitely deserve a try.
Let's learn more about its incredible features and how you can record and edit screens on Windows 10 using iFun Screen Recorder.
iFun Screen Recorder Features & Highlights
iFun Screen Recorder is not only a free tool but also extremely easy to use compared to others and helps to record screens or take screenshots instantly. Below are some of the best iFun Screen Recorder features that make it an excellent choice for all types of users.
100% Free
If you search for a free screen recorder on Google, you will find many options. But once you download them, you see a lot of ugly hidden restrictions, including watermark issues, record time limits, and laggings.
When it comes to iFun Screen Recorder, then you get exactly the same product with all the free features mentioned on their website.
Easy to Use
Usually, most screen recorders provide many redundant options and features that the average person does not need and make it difficult for beginners to use the screen recorder.
While the iFun Screen Recorder has made this quite simple, as it has a pretty simple and clean interface with only the necessary options that a beginner or intermediate user needs.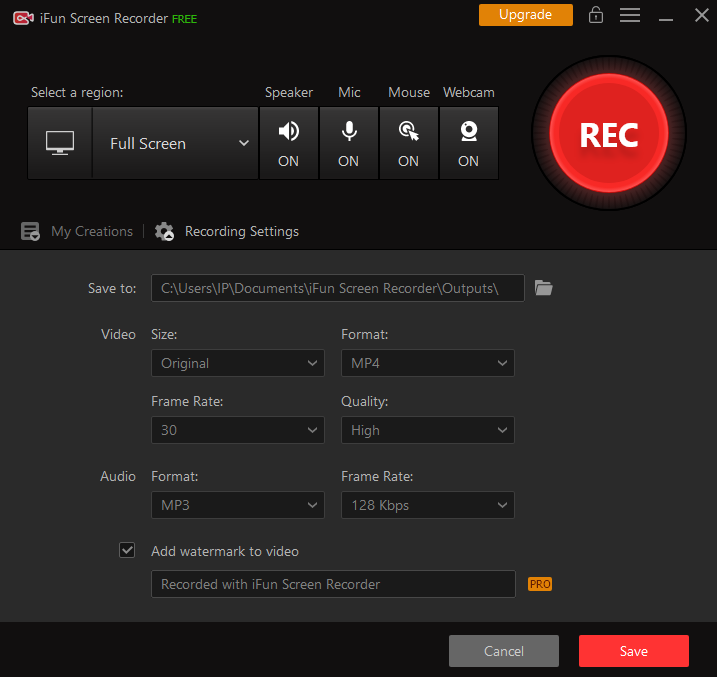 Multiple Output Formats with up to 4k Resolution
There are only a few free screen recorders available in the market that support high-quality screen recording with multiple export formats.
iFun Screen Recorder helps all kinds of users to record Full HD (4096X2160) videos and provides almost every leading export format including MP4, AVI, FLV, MKV, MOV, TS, and GIF, etc.
Quick Sharing to Social Media Platforms
After recording videos, iFun Screen Recorder lets you edit them with its light built-in video editor and instantly share them on some popular social media platforms like YouTube, Facebook, Instagram, and Twitter, etc in just a few clicks.
Audio& Webcam Recording
If you are one of those people who want to record a screen with a mic, system sound, webcam, or all of them at the same time then you should definitely choose iFun Screen Recorder as it offers all these features for free. You can turn any option on or off as needed and also configure the audio setting for the best results.
How to Record the Screen on Windows 10 With iFun
Recording the screen with iFun is 10 times easier than any other and anyone can do it on their own without any instructions. But to make it even easier, here are some steps on how to record the screen on windows 10 with the iFun Screen Recorder.
Step 1:
First, open the iFun Screen Recorder by double-clicking on the Icon.
Step 2:
Change the screen recording settings according to your needs and select the area you want to record.
Step 3:
Click the "REC" button to start recording and stop using the F9 shortcut key or pressing the "Done" button.
Step 4:
If you want to export or convert your recorded video then go to the "My Creations" section.