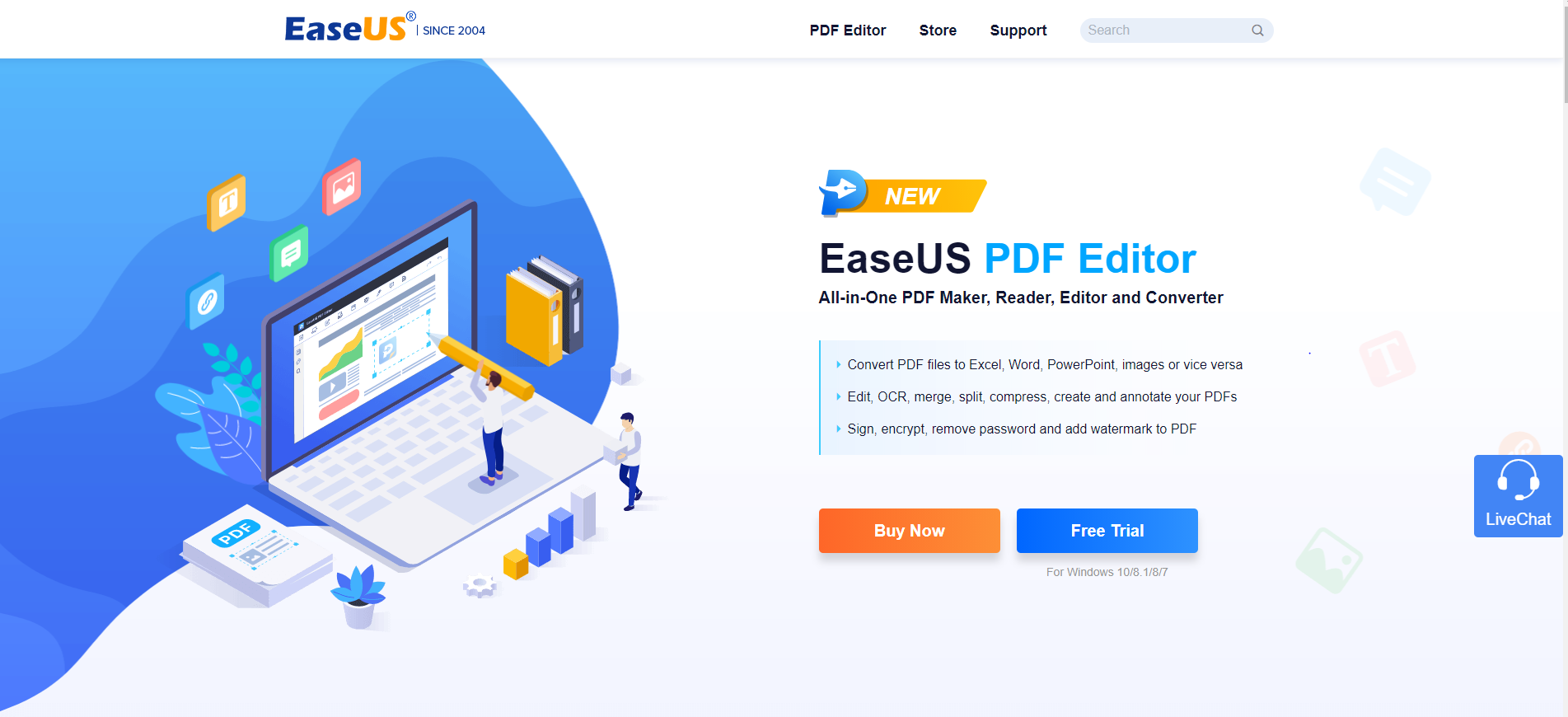 Working from home has become a huge reality for us to bear in 2021. While we've had the time to focus on our personal lives, our professional life has gone haywire. From running important errands on our own to lack of team coordination, there's a lot that we have to put up with. And if we could use something really good right now, it would be an easier & fasting digital experience.
Introducing to you EaseUS PDF editor, your number one source to manage work files, data backup & data recovery. This software aims to help you become more productive at your workplace with its beneficial features like document conversions, editing PDFs, making compressions, splits, merges & more. To know more about it & why you should use its services, keep reading the article
Editing is now a piece of cake
Editing PDFs is generally a tough thing to do. Sometimes it is a long & arduous process. Sometimes, people need to convert a pdf into a word document, make changes & convert word document into a PDF offline in order to actually use it. But with the help of EaseUS PDF Editor, editing has become a piece of cake. The content work becomes super easy & hasslefree. You can sign, encrypt, remove passwords, add watermarks to PDFs, make edits, compress, annotate, convert files & a lot more within just a few clicks. Not just that, you can also insert, delete, extract, reorder, crop & rotate pages just the way you like. Adding headers fitters & page numbers is also a piece of cake. Businesses that have been working for a while should definitely consider getting an Ease US PDF editor as it will make assignments & file work a lot easier.
Saves time & energy
The beneficial features offered by Ease US PDF editor will help you save up a lot of time & energy. It will help you quickly find & replace any specified text in the PDF document, change background colours for your PDF, remove watermark from PDF & set images in your background. Not just that, you can add Bates numbers to many PDFs for identification & retrieval, view your files for reading options like zooming, rotating etc.
Available 24×7
The best thing about EaseUS PDF Editor is that it is available for you 24×7. It will solve all your needs even if it is at midnight. All you will require is an internet connector & computer. Also, it ensures that you will not require an extra tool. Using this PDF editing software should suffice.
Convert in any format you prefer
We all know that PDFs are important when it comes to converting different formats. The PDF converter could quickly convert a PDF file into common formats such as docx, xls, ppt, doc, ppt, bmp, jpeg, jpg and the best part is that you won't have to lose any original fonts, formatting & images.
Scanned files too are easy to edit
The best part about using EaseUS PDF Editor is that you can edit text within a scanned document. Featuring OCR technology, it also converts image based PDF into editable formats. It also detects & converts scanned documents into several languages such as Korean, Japanese, Italian, French & other popular languages. So if you need to make scanned files easy to edit, Ease US PDF should be able to serve the purpose.
Perfect For All Industries
PDFs are beneficial for all industries. From manufacturing to real estate, finance, legal, education & professional services, it has features that should be able to make product instructions done in a smooth & effortless pace. Even creating & filing enrollment applications can be done very easily. Those who need to create contracts, orders & invoices can use Ease us editing software to get the job! If you know an architect, consultant or accountant who needs to convert, create & review services, this should help out as well.
Complete security & privacy
This PDF editor by EaseUS is much more secure & easy to use compared to other softwares. It makes sure you are the only one who has access & can make changes in these files. It also has a password that gives you complete security, prevents any sort of malpractices & suspicious activities, especially the e-signatures.
Makes collaborations a lot easier
PDF editors help & enable you to do productive collaborations within the workplace. With the help of its annotation tools & ease of services, PDF editors also enable managers & supervisors in order to annotate PDF documents. In that way, employees make the best use of their time by working in a digital environment & ensure there are no lulls in the workflow. Also, the PDF editor also helps improve collaborations between employees so that jobs become easier to achieve.
PDF editors are definitely one of the best tools & elements required by reputed companies needed to edit any file. The best part is that there won't be any changes in the file content & one won't have to worry about small details, especially if the Ease US PDF editor is what you are using. Professionals generally tend to do this work & the best device that does the perfect work without any kind of risk. People definitely don't need to worry about the website since it is a more convenient format you can use to edit files easily.
Now that you know the services that we offer, make sure to get hold of EaseUS PDF editing software & its brilliant services. If you are still feeling unsure, no worries. You can always go for its free trial & once you are comfortable, a paid version will be easily available. This will definitely make working from home a lot more easy experience.