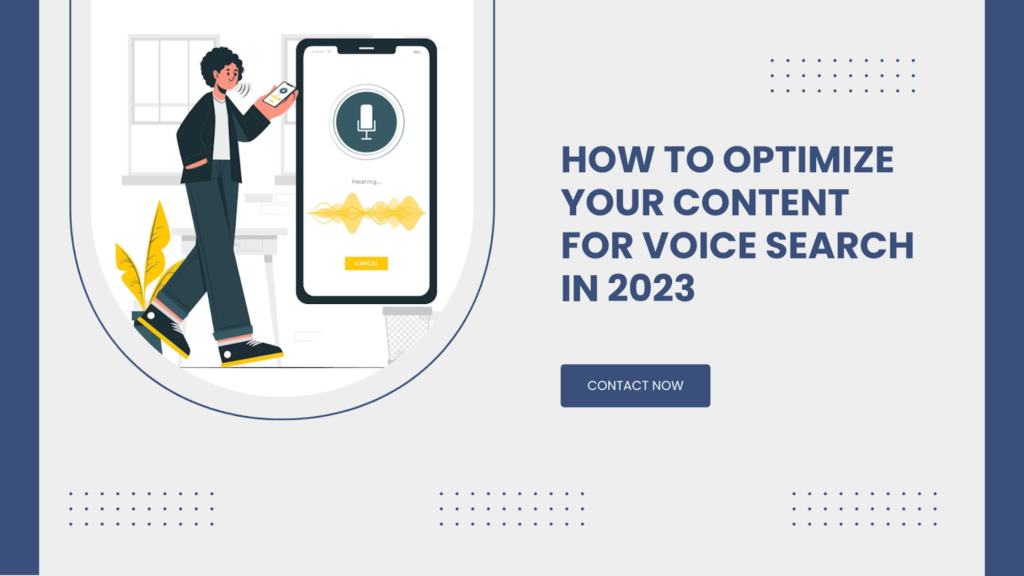 In the digital marketing and search engine optimization (SEO) field, staying ahead is a must. Voice search has reshaped how people engage with technology and seek information online.
Optimizing content for voice search has become an essential strategy for maintaining brand visibility and relevance nowadays. This comprehensive guide provides a unique approach and a series of practical steps to effectively optimize your content for voice search in 2023.
Step 1: Embracing the Evolution of Voice Search
Transition to Natural Queries
According to SEO Toronto Experts, the landscape of online search behaviour has shifted due to voice search.
Users now pose queries in a more natural, conversational manner, departing from fragmented keywords. Where traditional text searches might consist of phrases like "best fitness apps," voice searches tend to resemble complete sentences like "What are some of the best apps for fitness?"
This shift requires a rethinking of content optimization strategies.
Step 2: Understanding the Significance of Voice Search Optimization
The Impact of Smart Devices
People rely on smart devices to swiftly access information, make inquiries, and even make purchases online. Neglecting voice search optimization means missing out on a lot of your probable audience.
Local Searches and Instant Responses
Voice searches often revolve around localized intent. Users frequently turn to voice search to discover nearby businesses, restaurants, or services. Additionally, voice assistants prioritize delivering quick answers.
Optimizing your content to provide concise and informative responses is essential.
Step 3: Strategies for Effective Content Optimization for Voice Search
1. Prioritize Conversational Keywords
Voice searches follow a conversational pattern.
Use only natural language in your content. Strategically incorporate these phrases into your content.
2. Craft FAQ-Style Content
In the realm of voice search, Frequently Asked Questions (FAQs) have regained importance.
Develop content that directly addresses common queries relevant to your niche. Structuring your content as a series of questions and answers enhances its compatibility with voice search algorithms.
3. Master Featured Snippets
Featured snippets concise answers showcased at the top of search results, play a pivotal role in voice search outcomes.
Identify prevalent queries in your field and provide comprehensive yet concise answers. Utilize formatting tools such as bullet points or tables to increase your chances of being selected as a featured snippet.
4. Ensure Mobile-Friendly Design and Swift Loading
Prioritizing mobile-friendliness and fast loading times is crucial for mobile phones.
5. Leverage Local SEO Strategies
For businesses with physical locations, local SEO is a cornerstone of voice search optimization.
These steps heighten your chances of being recommended for local voice searches.
6. Embrace Schema Markup
Schema markup aids search engines in understanding content context, leading to more relevant results for voice searches.
Implement schema markup for vital details such as operating hours, addresses, and events to amplify your content's visibility in voice search results.
Step 4: Exploring the Future of Voice Search
Continued Growth and Innovation
Voice search is far from reaching its peak. As technology evolves, we can anticipate even more advanced voice assistants equipped with better contextual understanding.
Staying ahead of the curve requires adaptable strategies and a willingness to embrace the ongoing transformations in the digital landscape.
Did you know?
50% of the American population uses voice search for a daily purpose.
71% of users search for their queries with their voice instead of typing.
50% of smart speaker owners use it daily.
33% of consumers have no problem with voice ads as it's less disturbing and more appealing.
Case Study: How a Local Bakery in Canada Flourished with Voice Search
Imagine a cozy bakery named "Maple Sweets" nestled in a small Canadian town. This bakery decided to make its online presence stronger by using voice search the way people talk to devices.
They knew that many folks now use talking to find things online, and they wanted to be part of this new way of searching.
The Challenge:
The bakery faced a challenge. They wanted more people to know about their delicious treats, especially using voice search.
They needed to figure out how to make their yummy pastries and cakes show up when people asked their phones or smart speakers about food in their area.
The Plan:
Speaking Like People: The bakery people learned that when people ask for food, they talk like this: "Tell me the best cakes near me."
They added these types of friendly phrases, like "best cakes near me," into their website words so they match what people ask.
Answering Questions: Maple Sweets created a page where they answered common questions.
They explained things like, "What flavours of cake do you have?" or "Do you make gluten-free goodies?" This way, when people ask their devices, they have answers ready.
Local Love: They knew people often look for nearby places to eat. So, they made sure their Google page had the correct hours and where they were.
They also asked customers to leave nice reviews so more folks would find out about them.
Quick Info: The bakery made short and simple answers to common questions.
They used lists with bullet points to help their answers stand out. This made their bakery pop up as the first answer when people used voice search.
The Results:
Maple Sweets saw wonderful results. More people started coming to their bakery, especially those who wanted cakes delivered to them.
People who asked, "Where can I get the best desserts in town?" were often directed to Maple Sweets.
The Takeaway:
This bakery's story shows the value of voice search for a business. Even small shops in Canada can become popular by using voice search tricks.
It's all about making your yummy treats appear when people talk on their devices. Like Maple Sweets, businesses can find sweet success by joining the voice search trend.
Conclusion
Voice search has fundamentally changed how people search for information.
Whether you're a content creator or a business owner, optimizing your content for voice search is no longer a choice but a necessity. By implementing a strategic sequence of actions, you can position yourself for success in the voice-dominated era.
Embrace the above steps, remain vigilant about evolving voice search trends, and secure your brand's enduring visibility in the voice-activated future.