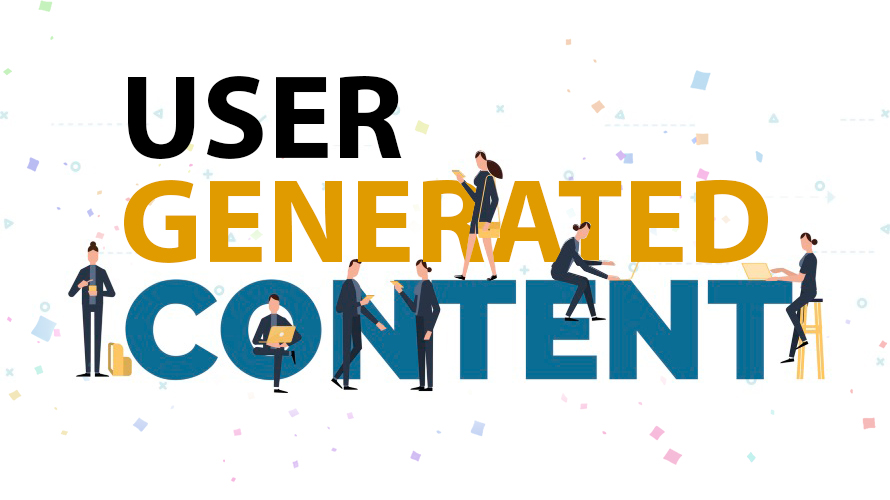 Introduction
Content marketing strategy has become extremely crucial in recent times since the rise of digital media has grown its influence on the users and brands are looking for more valuable marketing strategies.
As content is the primary element of digital media especially social media platforms that billions of users actively look for and explore to satisfy their informational, navigational, and commercial needs.
So, for brands and marketers, it is essential to leverage content that can be more consumer-centric and valuable to the consumers rather than being promotional and this is where the role of user-generated content comes in.
User-Generated Content For Brands
In a branding context, user-generated content is that has been created and shared by the existing and real customers of a brand that talks about its products/services quality, brand value, and much more based on their experiences and reviews.
This makes the content highly valuable, authentic, and reliable which is a perfect choice for content strategy as having such content can prove to be hugely beneficial in driving brand trustworthiness, user engagement, and conversions.
For brands, user-generated content is like marketing and advertising done by the customers voluntarily so that helps in building credibility and brand growth. So, integrating UGC in your marketing strategy can unlock immense possibilities.
Social media and digital platforms like review websites are a hub of user-generated content about the brands and you find valuable UGC on these platforms easily to aggregate and display in your marketing.
So for your benefits, we have listed a few ways through which you can leverage UGC in your brand building and growth efforts.
5 Amazing Ways Use UGC For Brands
1. Embed In Website
Website is the most important channel for any brand or business in this digital age where more and more users are moving towards digital media and online commerce.
Content plays a huge role in driving the performance and returns on your website so user-generated content can be perfectly leveraged on your website.
You can display UGC such as user reviews about your brand or user uploaded photos and videos related to your products & services or highlighting user experiences and more.
This will help you build social proof, boost user engagement, improve dwell time, reduce bounce rate, generate more organic traffic, boost SERP ranking, and drive conversions for your business.
2. Enhance Event Marketing
Although we discussed the digital media influence, event marketing is still extremely important and popular for brands in their promotional campaigns, brand-user communications, and audience engagement.
Now, the digital influence has taken over the event landscape as well where brands use event technologies to achieve their goals and objectives. Therefore, you can leverage a UGC platform as event technology to display UGC social walls at your event.
Displaying UGC social walls across the event through digital displays will help in showcasing what existing customers are saying for the brand or you can leverage social walls to display user experience at the event.
Besides, you can integrate and display hashtags campaigns to highlight the best user-generated content. These efforts will of displaying relevant and valuable UGC through social walls will help the brad.
You can leverage the UGC in the event to build your reach in both online and offline environments i.e. social media & event. Besides, you can also drive user interactions, Q&A sessions, panel discussions, polls, contests, etc. Along with that you can also gather feedback, build brand, trust, and boost your brand returns.
3. Empower Email Campaigns
Email marketing campaigns also have huge importance for the brands and many users also actively look for brand offers and promotions through email campaigns to get beneficial offers.
But the challenge is that email marketing has become more spammy and over promotional so there is a huge need for integrating such content that can be more valuable to the users.
Besides, email marketing is a hugely personalized and humanized approach so adding UGC in your emails like showing user ratings or reviews or adding customer photos as your marketing campaign will make it more trustworthy and engaging for the users.
It will also help in improving the open rate and click-through rate for your email marketing campaigns along with building a more reliable and authentic connection with your audience.
4. Offline & Online Advertising
Advertising is mostly digital these days be it in the offline environment or the online environment like offline there are digital signages, outdoor advertising, and online advertising like social ads.
Advertising has the greatest need for content that is trustworthy, engaging, relatable, attention-grabbing, credible, authentic, etc. as this is an outbound process with huge investments to generate returns.
So, integrating user-generated content like user reviews along with product ads or making your ads' multimedia empowered by customer-generated content will help you improve your click-through rates along with engagement and maximum conversion possibilities.
5. Social Media
Now comes the social media channels which are probably the most important for many brands globally and the best part is that it is mainly driven by the content only.
Social media platforms are all about users and how they use it and what they look for which is majorly content. But the challenge is that charing branded content isn't much help if it isn't engaging & interactive.
Whereas user-generated content can help you boost your brand following and reach on these platforms. Along with that, it will help you improve your user engagement and interaction as UGC is highly relatable, realistic, authentic, and creative.
Many brands globally are using UGC on their social profiles like GoPro, Apple, National Geographic, BMW, Ikea, etc. and some even use it as shoppable UGC content to sell their products successfully.
Conclusion
These were some of the best ways to leverage user-generated content for the brand and businesses be it small or large. We have listed the best channels that you can use to distribute UGC as your brand voice.
User-generated content is an excellent component for your content marketing strategy that will improve the overall user engagement, brand image, authority, and most importantly boost conversions.
You can use a tool like a UGC platform to curate, create, and display UGC marketing campaigns with many greater possibilities across multiple channels.