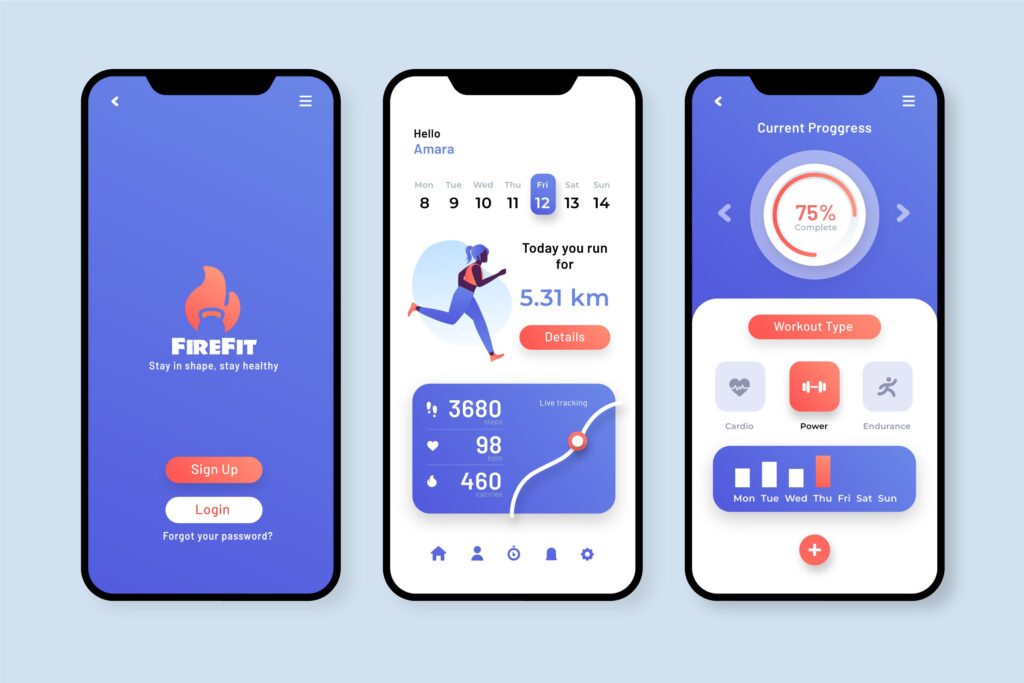 No matter how big or small the company, a mobile application can help you grow your business in this year and beyond. It can help you connect with customers, provide valuable services, and increase your reach.
In this blog, we'll explore the key steps to developing a successful business mobile app and how working with a mobile app development agency in USA can benefit your business.
Step-by-step Guide to Building a Mobile App For Your Business
Learn how to create a successful mobile app for your business with this step-by-step guide covering essential elements such as design, development, launch, marketing, etc.
1. Define Your App's Purpose, and Goals
Think about who will use the application. You need to know the age range, gender, occupation, geographical location, and technical skills of the target group. Because customers have different expectations, you need to identify the pain points that your application can address. Doing so can ensure that your app will be valuable and relevant to them.
Once you clearly understand your target audience, it's time to think about the features and functionality of your app. How will users interact with it? These questions help define the purpose and goals of your app.
With a clear understanding of your audience and the app's purpose, it's time to set measurable goals for your mobile application. What are your end goals? How will you know if you've succeeded?
Setting clear goals will keep you on track and help you measure the app's success.
2. Choosing a Mobile App Development Agency
It's essential to research before choosing a mobile application development agency in the USA. It will ensure that you're working with a company with the experience, skills, and expertise to deliver the mobile application your business needs.
Read reviews and testimonials, and talk to other businesses that have worked with the agency to get a sense of their experience. Also, check their portfolio and the type of apps they have developed before to see if they have relevant experience in your industry.
When evaluating the agency, ask the right questions. What type of apps have they developed? What is their development process? How do they handle changes and revisions? How will they keep you informed?
Additionally, consider the communication and collaboration process with the agency. It's essential to have a clear and open line of communication to ensure that the project works without a hitch and that the result lives up to your expectations.
Another critical factor to consider is the agency's pricing and contract terms. Be sure to understand the costs involved and what is included in the price, such as post-launch support and maintenance.
3. Planning and Designing Your App
A well-planned and well-designed app will be more likely to be successful and attract and retain users. Considering functionality and aesthetics when planning and designing your mobile business app is essential.
Wireframes and mockups: These are an essential part of this process. They visually represent your app's layout, navigation, and overall design. They help you to see how your app will look and function before it's built.
User experience and user interface: A good user experience will make your app easy to use and navigate, while a bad user experience will drive customers away. The user interface should be visually appealing, easy to understand, and intuitive to use.
Designing for different devices and platforms: With so many different devices and platforms, it's essential to consider how your app will look and function on each one. This is known as "cross-platform compatibility," which is critical for a successful mobile app. Discuss this with the agency and ensure they have experience developing apps for multiple platforms such as iOS, Android, and the web.
4. Building and Testing Your App
The process of creating a mobile application is challenging that involves multiple phases, big and small. This will typically involve several rounds of development, testing, and revisions.
Once your app is built, it's crucial to test it thoroughly to ensure it's free from bugs and compatible with different devices and platforms. Consider testing the module during the development phase rather than waiting for the entire app to get developed. This will ensure quick identification and resolution of the bugs and help in getting the app ready for seamless launch and deployment.
5. Launching Your App
Once your app is ready to launch, it's time to make it available to your target audience. This will typically involve submitting your app to the relevant app stores, creating marketing materials, and preparing for the launch of your app.
6. Marketing Your App
With your app launched, it's time to start promoting it. There are a variety of strategies to market your app, including social media, online advertising, email marketing, and more. Choosing the right promotion strategies for your app and target audience is necessary.
You can consider several options: affiliate marketing, social media marketing, PR, email marketing, etc. Once you have decided on the type of campaign, you need to decide on the tools and techniques you will use.
7. Monitoring Application's Performance
After you have launched the application, monitor its performance and make changes when necessary. The best way to monitor the performance of your application is to use key performance indicators (KPIs).
You can use several KPIs to measure your application's performance, including the number of installs, the number of uninstalls, the daily active users, the weekly active users, and so on. Once you have decided on the KPIs, you must choose the right method to track the data. It will help you to make informed decisions and improve the application.
8. Collecting Feedback and Updating The App
After your app is released, collecting feedback from your target audience is important to identify any issues or areas that need improvement. It is also important to continue updating your app to stay relevant and valuable to your target audience. You can use various strategies to maintain the application, including fixing bugs, adding new features, improving the UI, etc.
Final Words
Developing a mobile application for your business can be challenging, but with the right mobile app development agency, it doesn't have to be. By following this step-by-step guide, you can ensure that your business's mobile app is successful.
From idea to launch, the process of creating a mobile application for your business can be a daunting task. Still, with the right guidance and support, you can achieve your goals and develop an app that fits the requirements of your target market and helps your business to grow.