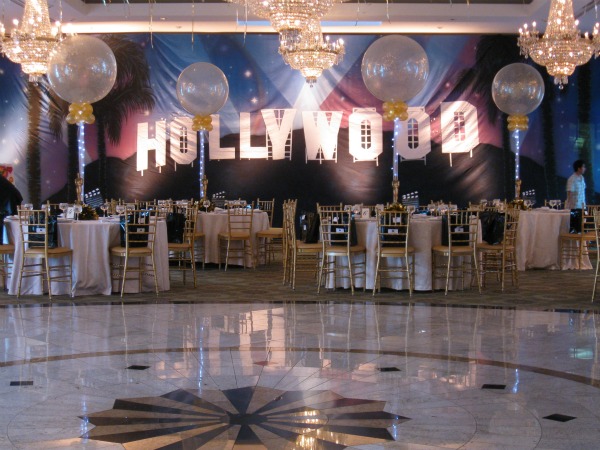 HOLLYWOOD PARTY
A Hollywood Party is a celebration forged from dreams, glitz, and glamour. If you want to throw such a Hollywood theme party at your home or in your favorite location, there are still a lot of things to do and to organize. As usual, we will assist you with ideas, tips, and practical advice from more than 20 years as partygoers and organizers to make your own Hollywood party a complete success.
Be a guest at Heidi Klum's famous Halloween party once in a lifetime and have a relaxed toast at the bar with all the celebrities. Or, after concerts at the backstage events, sweep across the dance floor with the world-famous musicians. These are dreams that will probably never come true for the majority of us.
At least not like this. But how about your own Hollywood party, where all guests are celebrities, and at least part of this dream will come true?
A good party can be spontaneous, but a real Hollywood party needs extensive planning to make it a success. The organization should not be underestimated and should be considered as similar to a very identical Glamour Party.
At the beginning, you should consider which and how many guests should be invited. Then a good decoration, an eye-catching invitation, the right food, and the costumes of the guests are part of it.
The invitation to the big Hollywood party
Every party begins with an invitation, which ideally shows at a glance that it is all about the party theme Hollywood, stars and starlets. There are different ways of implementation for exactly such an invitation.
Invitation Example1:
If you're familiar with Photoshop, you can create a glamorous invitation directly on your PC. Silver or gold tones are particularly suitable. You can also include a photo of a big celebrity or the famous Hollywood lettering.
Invitation Example2:
Another way is to cut out a star from colored clay paper, comparable to a star from Hollywood Boulevard in Los Angeles, and stick it on the invitation. The star can then bear the name of the guest or the star it is to represent.
Invitation Example3:
Since Hollywood is inevitably about movies, the invitation cards can also be designed as movie tickets. The area that actually includes the name of the film, cinema hall, the start of the screening, etc. could then carry the important dates of the party.
No matter which way of the invitation you choose, it is important that it contains all the relevant facts about the party theme and makes you want to celebrate and dress up.
Hollywood party decoration ideas – Creating the right glamour effect
To hire a professional event agency for the decoration is rather unlikely for the typical house party because it is expensive. But with a little creativity, you too can bring the right glamour to your party. We have put together a few decoration ideas here that we have seen at such Hollywood parties or have implemented and used ourselves.
The red carpet with the lightning storm
Absolutely indispensable for a real Hollywood feeling is, of course, the red carpet over which the invited guests walk to the party. If you have chosen this one of man party themes ideas, you will not be able to avoid this carpet. Usually, the photographers are standing at the edge of the carpet and try to take the photo of the celebrities. To simulate this, small strobe lights from the hardware store are suitable. These lights flash at different speeds and simulate the thunderstorm of flashes before the party.
A flashlight thunderstorm will really "flash" your guests. They will immediately realize that this is a Hollywood VIP party where they are special guests.
The VIP parking lot
Furthermore, an exclusive VIP parking space can be arranged, of course not for the guests' vehicles, but for the guest's shoes. This will create an excellent laughing effect if your guests see the special parking lot sign. But please remember to arrange a beautifully decorated room just for shoes.
Decoration ideas for the interior
There are no limits to creativity when it comes to decorating your interior, as long as you make it look like Hollywood. The colors silver and gold should dominate here as well. The room can be decorated with stars on the walls and the floor. An effortless and cheap way to decorate the room in silver and gold are rescue blankets from the first aid kit. The original sheet should, of course, remain in the first aid kit, but DIY stores also offer these blankets.
Particularly popular are film flaps as accessories, film posters, or even large cardboard displays of Hollywood stars like Marylyn Monroe and co. These are not only suitable as decoration, but also as a photo motive. The guests can have their picture taken arm in arm with a big star and have a great memory of this evening. Not only at Hollywood parties, but actually at every party theme ideas for adults, it is good to give the guests a small disposable camera. With this, you can always take great snapshots during the party.
Another highlight can be a beamer and a screen on which photos of stars or film clips are shown. Small spotlights provide the right lighting mood, napkins, and garlands also to support the special look of the location.
As we know, there are specific differences, even with celebrities: the really big stars, the somewhat less important VIPs, and the newcomers. The really big stars, of course, have the privilege to use the VIP lounge for them. So why not set up a small VIP lounge for wannabe Hollywood stars? Simply set up a separate area with a small sofa, a table and a champagne cooler, done! Here the guests can withdraw and talk in peace. Unique and noble-looking party furniture can also be used here.
The food and drinks at the Hollywood Party
The food and drinks of this theme party must live up to the standards of Hollywood. Serving a bowl of soup and a salad does not adequately present the Hollywood party theme. The "Hollywood" buffet can have a variety of dishes, but it depends on how they are presented. It is always advisable to use finger food. As the guests are usually very different in its style, several variations should be offered. But all of them should be very decorative and slightly noble and of high quality.
On the healthy side, for example, there are vegetable sticks with homemade dips. Also, a fruit plate with small sliced fruits provides culinary refreshment for the guests. American snacks are also part of the buffet. Chicken wings, small meatballs, or potato wedges are imaginable. Snacks such as pretzel sticks, chips, and flips are also a must.
The dress code at a Hollywood theme party
When the decoration, the finger food, and the red carpet is rolled out, only one thing is missing: your guests have to attend in an appropriate outfit. This makes the glamour of a real VIP party perfect. Again, there are different ways to make it a little easier for the guests. As already described, you can give the guest dress code advice directly on the invitation. However, you should only do this if you know your guests well.
Hollywood Party Music
At a Hollywood theme party, you can play basically any kind of music to create the right mood. Remember, it should have American roots, and lyrics should be in English. As background music, you can choose film music and soundtracks from well-known films as this help to get everyone into the right mood slowly.