So, sorted out with your new year plans?
Dance, music, and food for the party peeps and Best casual android games for everyone! Yes, no discrimination from the fun games at all. With 2019 coming to an end and 2020 in the sight, I'm sure you all must have geared up with your new year resolutions.
But I'll not talk about the resolutions. I intend talking about something light and easy-breezy. Something that needs no commitments, no hassle, only entertainment! Let's talk about some of the best casual android games.
You all must have played some intense and complex games like an FPS, or survival games, or some other genres that may have required strong concentrations. But as I said, this year is coming to an end and so the old trends are being wrapped up and the fresh ones are making a debut. Some of the fresh concept games are as follows.
Rise up Love
Snake Beats
Rise in Love
Coin Master
Ball Blast
These fresh ones majorly have casual games on the wishlist. These games have gained tremendous love and popularity on every platform they have been and saying that the future is 'theirs', will not be any wrong.
It is because people have a lot to deal with throughout their hectic routines. At the end of the day or in the small breaks they try to snatch a moment in which they can have some fun and 'peace out' with all the grinding their routine requires.
These casual games do clear justice for them by giving them a moment of relaxation. I have personally experienced this moment of bliss and pleasure by playing 3D games and hyper-casual games. This is why I have come up with these thoughts.
Being one of you all, I can relate to what goes on during a day and how important it becomes sometimes to get indulged in something soothing. Hence, below is a list of the best casual android games that you can play anywhere and anytime.
15 Best Casual Android Games Of The Year 2019
Snake Beats
A new age game linking connection with the old concept of snakes. An awesome snake block/beats game to put your adrenaline to rush. If you love to play navigating games then this is the place for you. Also, the game lets you choose a snake of your choice which can then glide on your favorite musical beats.
How to Play
Choose a snakeskin and playing environment.
Tap and move your finger to slither the snake on the musical beats.
Eat the snake balls and avoid the speakers.
Rise in Love
One of those games that are easy to get in and easy to get out! This game is quite popular because of its amazing interface and fun challenges. Moreover, it has a cute storyline to keep you amused for long.
How to Play
Navigate the bubble of Dave through your finger.
Hit and push away the gifts and obstacles the Jetpack boy has given to Daisy.
You'll lose if any of the gifts touch her.
Rise up Love
It is a new addition in the online market but it has gained a lot of popularity in a short time. It is a lighter and easier version of the game 'Rise in Love'. This best casual android game is less challenging and more fun to play.
How to Play
This game follows the same steps as that of 'Rise in Love'. Refer to its steps to know how to play this game.
Ball Blast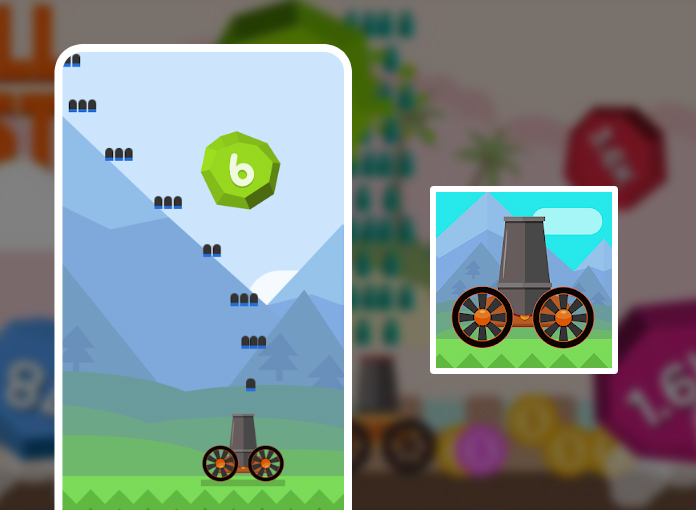 If you want toplay a survival game, then this can be your choice. It is developed by the renowned Voodoo. You are a canon shooter and your aim is to survive and collect a maximum number of coins.
How to Play
Swipe your finger to move the canon
Shoot the balls to make them bigger.
The balls will blast into lots of coins.
Bigger the ball, more the coins.
Stack
One of those games that has nothing to do with complexity. Only simple designs. There is only one action in this game- tap. This is it. You just need to tap to play this game. But the aim here is to create the highest score.
How to Play
Tap anywhere on the screen.
The square boxes will start floating in the air.
Tap again to place them one over the other.
Create the highest stack.
Mr. Gun
If you like simple shooting games then you can download this fun game that lets you satisfy your shooting mania.
How to Play
Choose a gun.
Climb the stair and drag to fix your angle.
Tap to kill the bad guys and collect the coins.
Snake Crash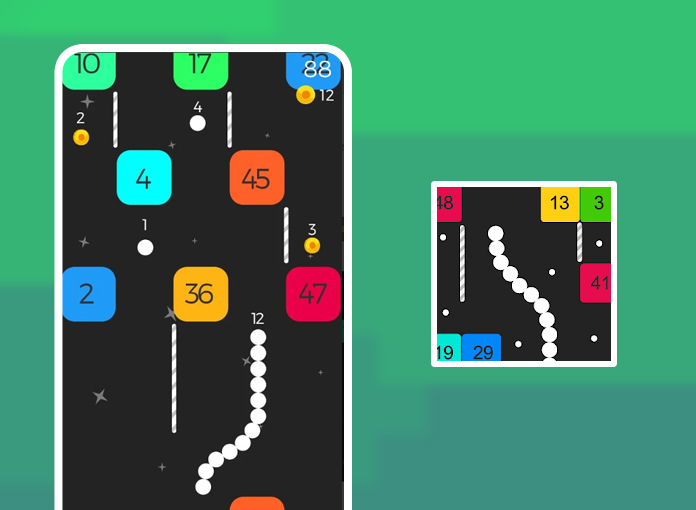 One of the most interesting and awesome snake block game. The aim is to move to the highest score by slithering the snakes between the blocks.
How to Play
Tap and drag the snake to slither it across the block obstacles.
Eat the snake balls and coins but avoid the bricks and blocks.
Blocks and bricks will crash your snake.
Homescapes
If you like to beautify your home or if you ever wanted to be an interior designer, then this game can fulfill all your wishes.
How to Play
Swap and match the pieces to beautify the home with Austin- the butler.
Decide the interior of this home.
Create your virtual space with friends, family, and pets.
Crowd City
If you want to build your own clan then this is the simplest way to do it. This easy game lets you convince people to become one of yours. Your aim is to turn the maximum people of the city to your side. But there are so many obstacles and opponents that you need to surpass.
How to Play
Collect people of the city and lead them.
Crush your opponents and trap them to come into your team.
Overcome the obstacles and become the top ranker.
Stack Fall
The aim in this best casual android game is to take the ball straight to the downward direction by dodging the black stacks. Though the ball can bounce on the colored stacks.
How to Play
Simply tap on the ball to begin.
Tap and hold to bounce the ball on stacks.
Do not touch the ball on the black stack. Hop on the colored stacks to reach downwards.
Snake.io
If you love to eat food then you can experiment here in thisawesome snake game. The aim is to eat more and more food to increase the length of your snake. It is a very addictive game.
How to Play
Tap and drag your finger to eat the food that is placed on the way.
Eat more than your enemies. More food means a long length.
Coin Master
A very interesting and interactive game. It offers multiple assets to lure you and it really makes you go back to it again and again. If you are looking to play a 3D game then this can be your perfect choice. Your aim is to move forward on the map by building your own villages.
How to Play
Earn coins and rewards by spinning the machine.
Build your village.
If needed, raid or destroy the village of your enemies.
Collect cards, coins, and rewards to be on the top leaderboard.
House Paint
Have some fun with your painting skills. Look at how you can paint the houses on your mobile if you cannot do it in reality. It is a simple game with gratifying visual graphics and is full of colors.
How to Play
Take the paintbrush and choose your favorite color.
Start painting the house and do not forget to fill the paint at each white spot!
Slither Snake
The aim is to become the longest player snake. So can you become the longest of them all? Play the awesome snake block game to find it out!
How to Play
Hold and slither through the way.
Eat the food to gain the length and get on the top of the leaderboard.
Line Color 3D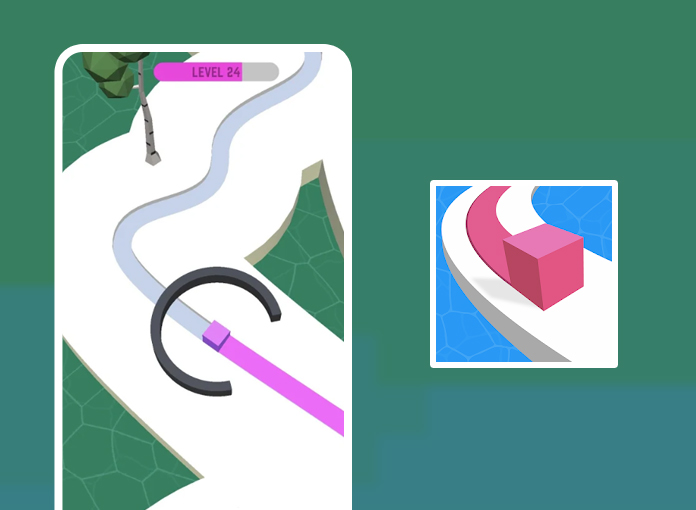 If you are looking to kill some time by not investing your brain at all, then you can come to play this 3D game. It is one of the easiest ones and follows a plain navigating mechanics. Its visual effects are soothing and calm for your eyes and brain.
How to Play
Just tap and hold.
Move on the defined path to paint it all by avoiding obstacles in the way.
Wrapping it up…
These were some of the best casual games that you can play anytime. My absolute favorite is the Snake Beats and the Ball Blast. Most of these are free to play with a few in-app purchases. So don't kill your time ineffectively. Download the Best casual android games and kill your boredom.