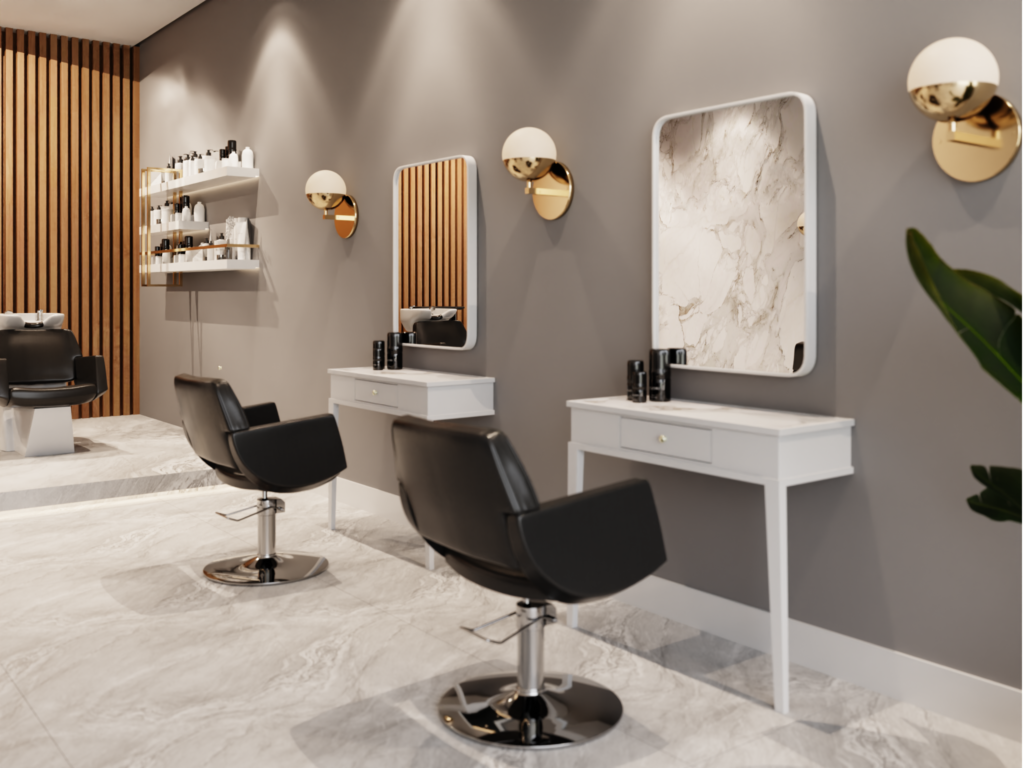 Clients will come to your salon expecting a stunning makeover. So, ensuring the comfort of your clients is a primary responsibility on your side. Since salon furniture has a huge role in promoting comfort and overall customer experience, choose them wisely.
But choosing the right furniture for your salon can be a difficult task with all the options available in front of you. Therefore, we have compiled some handy tips to help you pick the best furniture for your salon. Let's get started without any more delays.
Think About Your Customers
Before you purchase salon furniture, you need to figure out what kind of clients you are trying to impress. Suppose you are planning to open a family-friendly salon and spa. So this fact should be reflected in your furniture and equipment.
You also need to convey messages about the price of your services through the furniture. For instance, high-budget clients will be looking for sleek furniture pieces. Meanwhile, everyday clients will seek a cosy and rustic atmosphere.
Maintain a Theme
Before you buy a salon chair online, pick a theme for your salon. A specific theme will add more personality to your business. A memorable theme will help attract new customers as well as retain old ones.
Avoiding a mix and match of themes will work in your favour. For instance, you shouldn't settle for antique furniture if your salon has a modern appearance. Get creative and find ways to make the furniture look like they belong to your salon.
Understand the Necessities of Your Salon
Some services offered at your salon will demand special equipment. For example, you will need salon styling stations for giving haircuts. But salon styling stations come in different varieties.
You will often come across styling stations that come with shelving or storage space. They are appropriate when you need to make maximum use of your limited salon space.
On the other hand, drying chairs, sinks, and salon chairs are common furniture pieces that you will need. But maybe you want to replace the ordinary salon chair with a barber's chair. So you should possess a clear idea about your requirements before going furniture shopping.
Additionally, you might also be in need of equipment like pedicure chairs and manicure tables. Even if those services are rarely demanded by clients, you should keep the equipment handy just in case.
Go for Trustworthy Manufacturers
While purchasing salon equipment and furniture, you wouldn't like to be scammed by cheap and inferior products in your wildest dream. Purchasing high-quality furniture will mean that they remain in good shape for the long haul.
But don't be fooled by high prices as an indication of superior quality. You will also be able to purchase top-notch furniture at reasonable rates. On the other hand, high-priced furniture might also be of poor quality.
It's true that a high-quality salon chair will be priced higher than a low-quality chair. However, think about the money you will save in the long run when the chair lasts for years.
Reviews will give you detailed insights into the quality of furniture pieces. However, you should always be meticulous while reading reviews because some can be fake and misleading.
Look at the Maintenance Requirements
You should always look for salon furniture that is easy to clean. Opt for dark colours, preferably because they are able to conceal dust and dirt. Can your salon furniture be cleaned by simply wiping it off with a damp cloth? If yes, it's good for you.
Moreover, you should also find out if you need any special cleaning supplies to take care of your salon furniture. Try using specific products to ensure that they last for a long time. Maintenance-friendly salon chairs and equipment will look like new for years and improve customer experience.
Check the Warranty
You should always settle for a manufacturer that offers a guarantee or warranty. The warranty of a company is often an indication of the quality of its salon furniture. The best salon chairs come with a warranty of up to 5 years. The ones of the highest quality also come with a warranty of up to 10 years.
Apart from the warranty, you also need to check whether the company is offering you effective customer service. The best company will send agents to look after your furniture and equipment when they malfunction during the warranty period. In some cases, they might also have refund policies in place when manufacturing defects occur.
Don't Forget to Create a Welcoming Reception Area
On a crowded day, some customers might have to wait for a long time before their turn comes to seek your services. Therefore, having a reception area in your salon is mandatory to ensure that they can wait comfortably. The area will also be useful for the family members or friends who accompany your clients.
While purchasing beauty salon reception furniture, you should get sofas as well as chairs. The couches will be apt for people who come together, and the chairs will be for those who come alone. Placing a drink station in the reception area is also a great idea.
You should also think about placing a magazine rack with fashion and styling guides. Apart from that, you can also shelve some products that you intend to sell. Keeping them in the reception area will ensure that they catch your customer's eyes.
Wrapping up
Hopefully, the tips above will help you find the right furniture for your salon. But are you struggling to find a place that sells high-quality furniture at affordable rates? If yes, you should check out Living It Up right now.
Our online store is packed with a wide variety of salon furniture. You will be able to pick something that fits the style of your salon. Moreover, you can also get inspiration regarding how to revamp your salon from our website.
What are you waiting for? Check out our collection and place your order today!