The NFT market has increased in size over the last few years from a few million dollars per year to a $22 billion industry. In fact, it is expected that during the next five years, NFTs would increase at a 40% annual pace. It goes without saying that NFTs are now quite important. This is a fantastic chance for artists to expose the world to their work.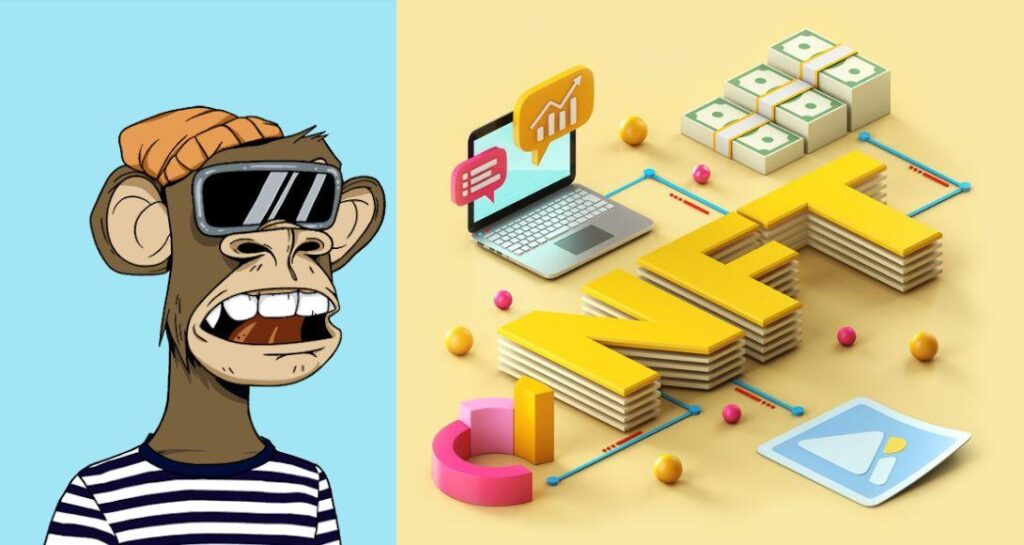 Learn how to mint an NFT if you want to spread the word about your effort more widely. An NFT is created from the blockchain through a process known as minting. The minter will pay the so-called mint fee to produce the NFT. An NFT can be created by the person who created the project or by someone who wants to buy the NFT from the inventor.
Minting Your First NFT
What precisely is an NFT then? Non-Fungible Token is what it's called. This is a digital asset made using a blockchain like Ethereum or Solana. Almost any form of material, including audiovisual works like music, movies, and animated works, can be an NFT. NFTs have a special attraction since they offer evidence of the creator's authorship.
The NFT guarantees that you obtain credit as the author, so you can profit from things like putting up a royalty to collect a cut of each sale. The royalty rate for when the NFT is sold on the secondary market can be set on a public ledger where all transactions are likewise recorded.
You will need to use an NFT marketplace for NFT Minting Website. Although OpenSea is now the most well-known NFT marketplace, you can examine others to see if they offer a better pricing for you. As a result, this article will first demonstrate how to mint an NFT on OpenSea before briefly demonstrating how to do it on Solana.
Connect Your Wallet
Opening a cryptocurrency wallet is the first action you must perform. You'll be able to connect to an NFT market this way. Either the wallet icon or the Create button are available on OpenSea. You will be asked to connect your wallet if you have a chance to be in another marketplace.
Metamask, the most popular cryptocurrency wallet, enables communication with the Ethereum network. In essence, you are learning how to mint an NFT with Metamask when you learn how to mint an NFT with OpenSea. That's because the Ethereum blockchain is the target platform for both OpenSea and the Metamask wallet.
You must complete your profile after you have connected your wallet. You should let your profile as a creator define who you are as an artist and what kinds of NFTs you have accessible.
Create Your First Item
\It's time to start minting now that you've connected your cryptocurrency wallet and made a profile! Select "Create" from the menu. You'll be asked to upload your file to the marketplace at this point. This might be any digital media that you want to provide as an NFT, including your music or art files.
You have the choice to give a description of your work in addition to uploading your file as an NFT. The description can inform a possible customer about the NFT, the project as a whole, and specifically about the NFT's special qualities.
Links to the webpage for your project are another option. By doing this, potential customers will be able to learn more about your NFT project. Last but not least, you can specify which blockchain your NFT uses (Ethereum, Solana, etc.). Due to the high cost of transactions, many prospective purchasers choose to concentrate on buying NFTs on particular blockchains.
Last but not least, you need to decide on the royalty rate for your NFT. Each time your NFT is sold, you will receive this amount. You can choose to set the royalties rate at 5% or 10%, for instance. Click complete when you have finished filling out all the fields. Your NFT has been made.
Be sure you have money in your wallet
You must sell your NFT to the market once it has been minted. As a result, you'll need to add money to your wallet. You must buy Ethereum because we will be utilising OpenSea and the Metamask wallet as an example. Ethereum may be bought from a variety of different cryptocurrency exchanges, including Coinbase and Gemini. With OpenSea, you may also buy Ethereum straight from the market and pay with a credit card. The "gas fee" for selling your NFT on the marketplace will be paid with Ethereum.
once you've bought the cryptocurrency and added it to your cryptocurrency wallet. You must add the cryptocurrency to your NFT Marketplace account.
Advertise Your NFT for Sale
You are prepared to put your NFT for sale now that you have successfully minted your NFT and financed your account.
You can sell your NFT in one of two different ways:
Fixed pricing – The "buy it now" price at which someone can immediately acquire your NFT is known as a fixed price.
Timed auction – In a timed auction, a deadline is set, and the NFT is bought by the bidder with the highest price.
You must pick your preferred cryptocurrency whether you use a timed auction or a fixed price. If you're selling on OpenSea, Ethereum will be your preferred coin. Remember that NFT marketplaces charge a fee on the sale price as well. 2.5% of the selling price is the fee on OpenSea.
The gas charge will be determined after you have finished the listing. Depending on how much network activity there is on the blockchain, the gas fee will change. It's important to know that Ethereum has rather hefty gas expenses. There are, however, less expensive options, which will be covered later.
Control your NFT advertising
You should advertise your work now that your NFT has been created and is available for purchase. While the internal search engine of NFT markets might help people find your work, you will still need to conduct some marketing. The majority of popular NFT artists will use social media sites like Twitter and Discord. Don't forget to engage with customers directly on the NFT marketplace.
An NFT being minted for Solana
Gas fees on the Ethereum blockchain can be quite costly, as was previously indicated. You should mint your NFT using Solana if you have a tight budget. Solanart, Magic Eden, and Solsea are some of the best Solana NFT marketplaces. You can use the Phantom wallet and buy SOL (the Solana cryptocurrency) on a cryptocurrency exchange instead of utilising a Metamask wallet. After purchasing SOL, you can proceed with the same procedures outlined above by visiting a Solana NFT marketplace.
Few Points To Remember
Plug in your wallet.
Make your first creation.
Invest in your wallet.
Add your NFT to the market.
advertise your NFT company.
Think of minting an NFT on Solana as a more affordable option.
The Last Wise Words
You should participate in the NFT environment whether you are a seasoned developer or are just getting started. Given how recent this technology is, you'll want to understand more about how various blockchains operate, the best cryptocurrency wallet to use, and where to sell your NFTs.