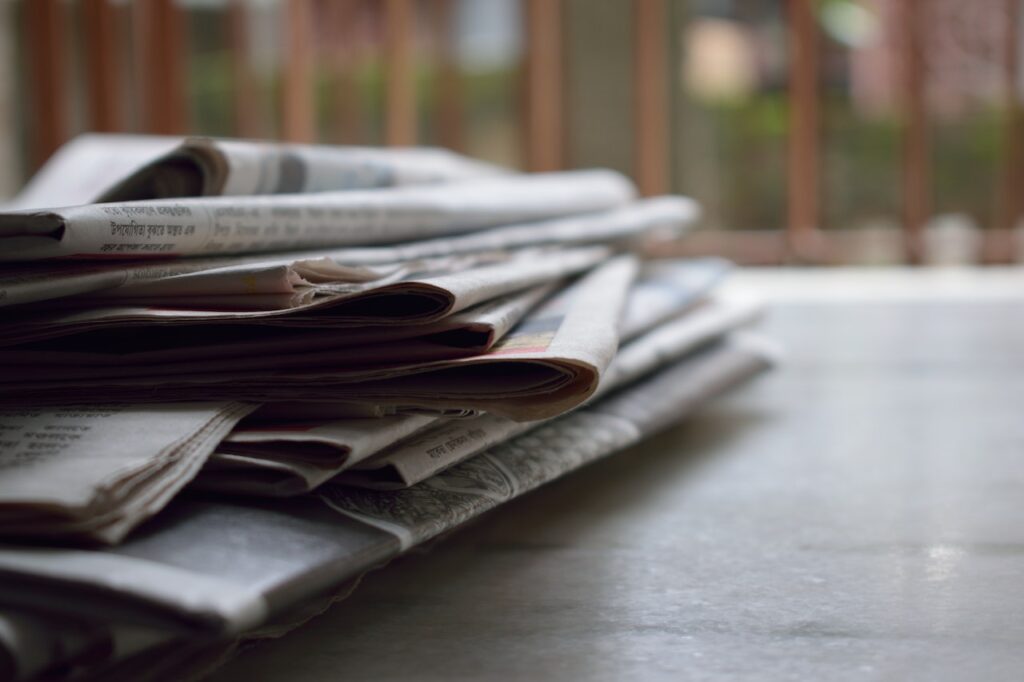 In the digital world, it can be easy to ask yourself, is print marketing dead? Oftentimes it seems like we spend more time on the internet and social media than engaging with magazines and newspapers.
A study by Comparitech states that "worldwide, the average person spends a total of 6 hours and 57 minutes looking at a screen each day." When looking to advertise your company, you may be thinking if newspaper advertising is still effective in the digital landscape?
Indeed it is! Print advertising is still a thriving business and can help you promote your business and outsource the competition. Let's take a closer look at the current state of newspaper advertising, its pros and cons, and its potential future in the digital age.
The Shift From Print to Digital
The newspaper industry has undergone a significant transformation in recent years, with the shift from print to digital becoming increasingly pronounced. According to data from the Pew Research Center, in 2021, daily newspaper circulation fell by 10% and Sunday circulation by 12%.
One of the main reasons for this decline is the rise of digital news sources and the increasing popularity of online news consumption. The widespread adoption of the internet and smartphones has made it easier for people to access news and information online. Additionally, advancements in technology have made it possible for newspapers to create and distribute digital content more easily and cost-effectively.
However, it's important to note that while newspaper readership has fallen, it is not entirely gone. According to the same survey, 20% of American adults still get their news from print newspapers, and some newspapers have found ways to adapt and remain relevant in the digital age. For example, some newspapers have shifted their focus to digital subscriptions and online advertising, while others have focused on niche audiences, such as local news or investigative reporting.
The Pros and Cons of Newspaper Advertising
Newspaper advertising can be a valuable tool for businesses looking to reach a specific audience and build trust and credibility. However, as the newspaper industry and the way people consume news has changed, it's important to consider the pros and cons before deciding if newspaper advertising is the right choice for your business.
Pros
1. Localized Targeting
Newspaper marketing campaigns make it possible for businesses to hyper-target their audience. Before strategizing any advertising plan, it's essential to know your company's unique target audience. Your target audience is the group of people you make up your ideal buyer, and they can be identified based on a number of characteristics such as age, income, location, etc. Once you know this unique group, you can begin looking into advertising in newspapers that reach similar audiences. It's a great way to reach potential clients and expand your reach.
2. Better Recall
An article by Forbes highlights how print media is "easier to process mentally and tested better for brand recall" compared to digital media sources. Therefore, when readers read a print advertisement, they are more likely to engage and remember the ad versus the digital equivalent. Newspaper ads are no different! They're a great way to promote your company and increase brand notability in the long run.
3. The Experience
When comparing print to digital ads, an obvious difference is the tangible nature of print advertisements. Because readers can physically hold a newspaper, print media has the ability to create an experience around a company. Newspapers can curate an emotion or feeling to an audience with a certain degree of professionalism that digital advertisements can lack.
Cons
1. Measurability
One of the disadvantages of newspaper advertising is the lack of measurability. With any sort of print marketing, once your advertisement is printed and sent out, it's impossible to track data regarding your campaign. With digital marketing, you can seamlessly collect data about your advertisement, make changes in real-time, and optimize your campaign. These analytics are often helpful when reviewing your digital marketing plan and looking toward creating your next ad.
2. Timeline
Another downside to newspaper advertising is its lengthy timeline. With any sort of print advertising, your company has to abide by strict deadlines that can be months before your ad's actual launch date. As a result, everything has to be ready to go, months before your advertisement is printed and mailed out. With digital, you can modify your ad in real-time and don't have to follow such tedious timelines.
3. Staticness
With newspaper advertising, readers see a two-dimensional advertisement. Although it can evoke certain emotions and feelings, it can get lost amongst all the other ads. Digital marketing allows you to make your advertisements interactive, which print lacks. With so much media traffic, sometimes these added bells and whistles can make all the difference when looking to set yourself apart from the competition.
Examples of Successful Newspaper Advertising Campaigns
"The Guardian – The Whole Picture" campaign
The Guardian launched an advertising campaign in 2018 that focused on the newspaper's commitment to providing a "whole picture" of the news. The campaign, which featured the tagline "The Whole Picture," was successful in highlighting the newspaper's commitment to in-depth, investigative journalism and its role in holding those in power accountable. The campaign was widely praised for its message and its ability to connect with readers in a powerful way.
"The Wall Street Journal – The Future of Everything" campaign
The Wall Street Journal launched an advertising campaign in 2019 that focused on the newspaper's commitment to covering the most important stories of the future. The campaign, which featured the tagline "The Future of Everything," was successful in highlighting the newspaper's coverage of technology, business, and innovation and its role in shaping the future.
Newspaper Advertising 2.0 – The Future of Print Advertising
The future of newspaper advertising is bright, despite the challenges that the industry has faced in recent years. The rise of digital news sources and the increasing popularity of online news consumption has led many to question the viability of print newspapers. However, there are several reasons to be optimistic about the future of newspaper advertising.
One potential opportunity for newspapers is the continued demand for local news and information. Many people still value the in-depth coverage and local focus that newspapers can provide. As a result, newspapers that focus on local news and investigative reporting may be able to attract a dedicated audience and maintain readership.
Another potential opportunity is the growing awareness of the importance of credible and trustworthy journalism. In today's fast-paced, digital world, it's more important than ever for people to be able to rely on credible news sources. Newspapers that are able to establish themselves as trusted sources of news and information may be better positioned to thrive in the future.
Additionally, newspapers are constantly experimenting with new forms of advertising such as podcasts, videos, and other multimedia, to reach new audiences and stay ahead of the curve. These new forms of content can provide an added value to readers and advertisers alike, as they can be more engaging and interactive.
Newspaper advertising 2.0 is about finding new and innovative ways to reach audiences and generate revenue, while still providing valuable and credible news and information to the community.