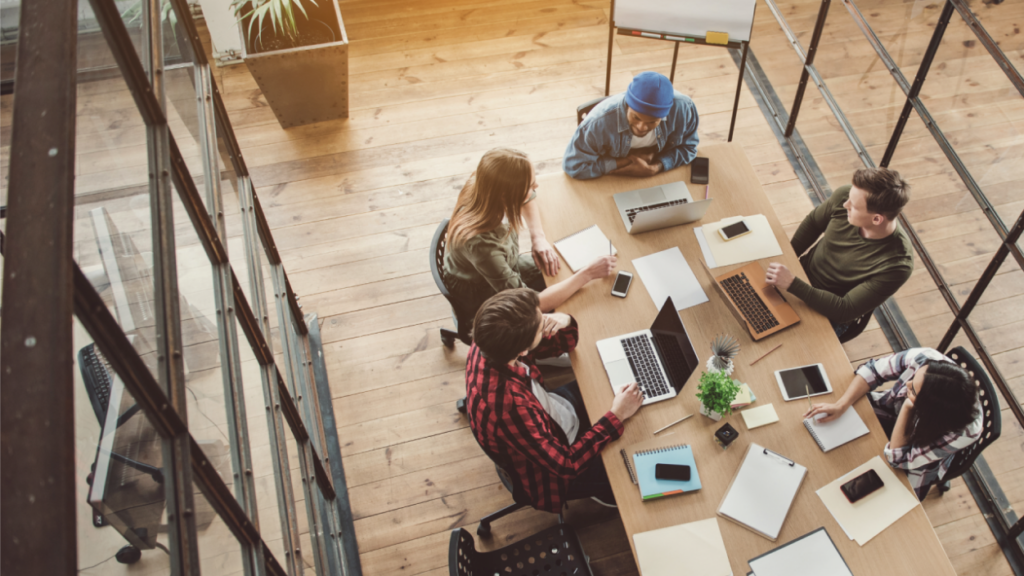 Whether you have new employees or want to keep your existing workforce productive, you need to provide employee training.
As Henry Ford said: "The only thing worse than training your employees and having them leave is not training them and having them stay."
You don't want an unskilled and unmotivated staff that doesn't help you achieve your goals and objectives. To gain a competitive edge and run a profitable business, you need to make room for regular learning and development. That's where employee training software comes in.
With the right tool, you can boost employee engagement, knowledge retention, productivity, and job satisfaction. You can build a strong workforce that goes above and beyond their call of duty to springboard your company to success.
After careful consideration, we handpicked five top-rated online training software solutions that any business could benefit from. Let's see why they are so popular.
ProProfs LMS is a cloud-based employee training software solution designed for all experience levels. It has use cases across all industries. By helping you create and deliver practical online training courses, it turns corporate training into a breeze.
If you want to save time on course creation, there's a premium library of 100+ customizable courses and templates you can use. If you prefer to create your content from scratch, you can leverage the built-in authoring tool and import any existing training material.
There's virtual classroom support to centralize training and 100+ settings and configurations to customize everything and improve user experience.
You can launch quizzes and surveys to assess your trainees and gather instant feedback on your training effectiveness.
The software's real-time AI-powered reports and analytics give you an insight into your learners' engagement, progress, performance, and more.
ProProfs LMS comes with many useful tools, including an online learner portal, a Q&A forum, and an internal knowledge base.
Other notable features include automated grading, multimedia support, learning paths, course bundles, self-enrollment, and 50+ integrations.
2. Docebo
Docebo is an all-in-one cloud-based employee training software that does all the heavy lifting for you. It's a powerful online training software that offers an AI-based learning suite of five intuitive tools for training and managing the workforce.
They include:
Learn LMS for effective learning and development
Shape for creating engaging training content
Content for accessing off-the-shelf learning content
Learning Impact for measuring and improving training effectiveness
Learning Analytics for gaining actionable insights and making data-driven business decisions
You can get any of these products separately. For instance, if you already use another LMS, you can integrate it with any of Docebo's solutions. Docebo supports 35+ third-party integrations.
The tool lets you offer personalized learning paths, gamify training, and facilitate social learning. Your trainees can even monitor their progress on personal analytics pages.
You can customize every element, including the ready-made courses from the tool's library. If you go down the DIY road, the drag-and-drop interface will help you create courses with ease.
3. SAP Litmos
SAP Litmos is one of the most sophisticated employee training software solutions out there. Designed for modern businesses, it's ideal for training a remote workforce.
It offers two solutions:
SAP Litmos Training
SAP Litmos Training Content
You can get them separately, but we suggest checking out both. The content solution gives you access to an extensive library of video-based training courses, updated every month. They even feature infographics, workbooks, handouts, fact sheets, and other supplemental materials.
If you wish to create courses from scratch, you can use the built-in content authoring tool in the training solution.
SAP Litmos comes with embedded AI and gamification features for driving maximum engagement and knowledge retention.
Add multimedia, create personalized learning paths, use quizzes and video assessments, and enable social learning. You can enjoy in-depth reporting and analytics for real-time progress and performance tracking.
SAP Litmos supports 50+ integrations, global scalability, and both virtual and instructor-led training.
4. SkyPrep
SkyPrep is an intuitive online training software solution designed for employee onboarding, development, and compliance training. It's fantastic for unlocking your team's potential through ongoing, role-specific, or development training.
It supports instructor-led training and live webinars and features an interactive virtual classroom with integrated web-conferencing tools, such as videos, whiteboards, screen-sharing, and more.
You can upload existing content, reuse it for future classes, and link courses to create learning paths. You can leverage gamification features, automated grading, advanced reporting and analytics, and many third-party integrations.
To assess your trainees, you can use tests, surveys, and knowledge checks that pop up during a course. This can help you maximize knowledge retention and get instant feedback.
SkyPrep has a customizable UI for branding your LMS, switching to another language, personalizing course certificates, and more. There's even a custom CSS editor for changing the entire look and feel of the LMS, which can come in handy if you know your way around CSS coding.
5. Tovuti LMS
Tovuti LMS is one of the most feature-rich employee training software products, offering everything you'll ever need to onboard or upskill your employees.
There are built-in course authoring tools for creating interactive, gamified, and social learning courses from scratch.
There's an integrated library of thousands of pre-built content assets, including micro-learning content, such as bite-sized videos, presentations, and other eLearning assets.
You can also upload any existing training materials you may have and reuse them in your future course designs. You can create custom learning paths, quizzes, interactive videos and presentations, and more.
Tovuti LMS offers a virtual classroom, personalized learner portals, and lesson gating for ensuring a linear learning experience.
You can generate custom reports and gain insights from in-depth analytics showing your learners' progress, engagement, and performance.
Choose the Best Employee Training Software!
These tools may sound similar, but each has unique functionalities that make it stand out from the rest. To see if any of them tick your boxes, go ahead and check out their free trial options. Playing around with their features will give you a better idea of how they can help you with employee training.