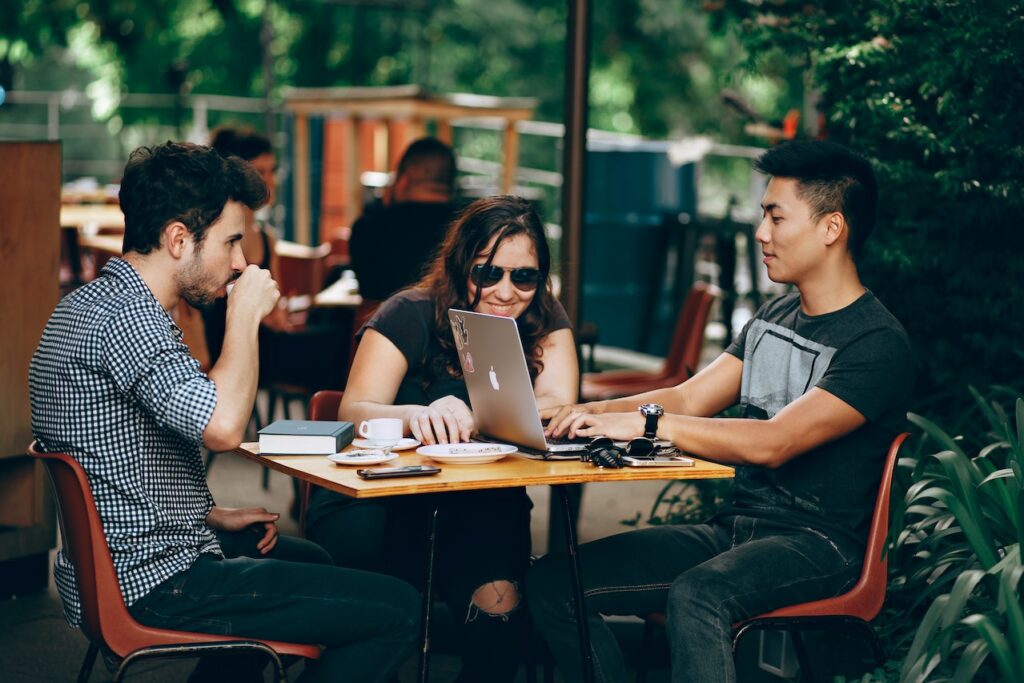 In today's highly competitive and interconnected business landscape, successful companies understand the power of effective collaboration. A great team working together seamlessly can achieve remarkable things. However, it is crucial to give workers the appropriate team collaboration tools in light of the growth of remote work, hybrid cultures, and distant teams. Make sure the collaboration tool you choose has a wide range of features that will meet the demands of your team.
With more and more companies turning to a hybrid culture and hiring freelancers, collaboration software tools are becoming indispensable for teamwork. You need effective communication if your team works remotely or in the same office. Thankfully, business collaboration tools can keep your team on the same page. These team collaboration applications play a vital role in enhancing teamwork and communication, bridging the gap between physical distances and time zones.
What Is Online Collaboration Tools?
Online collaboration tools enable teams to work remotely together from across the world. These software applications often combine several capabilities into a single platform; some apps specialize in accomplishing specific tasks; for instance, video conferencing software, conference room scheduling software, cloud file-sharing platforms, and meeting room management softwares are examples of online collaboration tools. Businesses employ various online collaboration tools depending on the needs of their organization.
A great benefit of collaboration tools is that they provide a secure environment for sharing confidential data and documents and keep secure communication in digital business. This can be an essential feature for many industries, such as law firms and medical offices. These platforms enable people to work together, regardless of their physical location and time zone, by promoting teamwork through features that facilitate real-time interaction, document sharing, project management, and more.
In this article, we will explore the top 5 Best Business Collaboration Tools for 2023:
1. MyRendezvous
Keeping tabs on desks, meeting rooms, and other shared resources in an increasingly flexible workplace is a big challenge. But a great workspace booking system can eliminate the hassle of trying to find an available space while also providing valuable data for future real estate configuration and acquisition.
NFS Technology's agile workplace booking solution, MyRendezvous, is a leading conference room scheduling software that enables teams to easily book desk space and room via an app or web portal.
MyRendezvous provides a highly visual collaborative solution to offer an accurate, real-time view of availability and usage analytics. This intuitive system makes it easy for staff to book the right type of desk and to ensure video collaboration equipment is ready when required. This lowers the risk of no-shows and other meeting failures, reducing the cost of unnecessary travel. Try this amazing collaboration app and get to know yourself!
2. Zoho Projects
Zoho Projects is an all-in-one collaboration tool that offers a simple interface and integrations with other software tools. It also includes built-in time tracking and reporting capabilities, which make it easy to manage projects. Zoho Projects offers a free tier for small teams and a premium option ideal for larger businesses. Both versions come with a variety of features and support options. Among these, the platform's built-in chat feature allows teams to communicate using group or individual discussions.
Zoho projects also support document sharing and create pages for internal information repositories. Its activity stream and feeds allow team members to share updates chronologically. This eliminates the need for extra communication apps and saves time by avoiding lengthy meetings or phone calls. Additionally, it provides tools for tracking work and managing projects, including timesheets, earned value management, budget forecasting, and planned versus actual cost analysis.
3. Slack
Slack is a great way to communicate with your team members, whether nearby or on the other side of the world. It is an instant messaging solution that connects to various productivity programs to facilitate collaboration. Additionally, it offers a search option that makes it simple to access documents, discussions, and information. With its built-in progress reports, it may even assist you in keeping track of projects and milestones' progress. Its channels allow you to organize discussions by project or topic.
Private messages are a good way to communicate with specific people, and you can pin important conversations for quick reference. There are also useful tools for video and screen-sharing. Overall, Slack is great for sharing updates, encouraging transparency, and building a virtual culture. Its simple, user-friendly interface is ideal for teams of all sizes. But it's not a replacement for standard business collaboration platforms like MyRendezvous, Trello, or ZOHO.
4. Trello
Trello is one of the most intuitive and easy-to-use collaboration tools for businesses that uses boards, lists, and cards to organize to-do tasks. It features flexible workflow automation, a mobile app, and integrations with other apps. It also offers a free plan that allows users to collaborate with colleagues and clients on projects. The software allows users to customize their boards and lists and add attachments, notes, and due dates to each card.
The Trello software does have certain limits, despite its great capabilities. Although it has a simple user interface, several competitors offer more advanced capabilities for collaboration and data visualization. The program is also web-based and has limited offline capabilities, which may be a problem for distant teams. It remains one of the best tools for professional cooperation, nonetheless.
5. Jira
Jira is a project management application that equips teams with the knowledge they need to make better decisions. It provides a single source of truth for collaboration and helps align work with enterprise objectives. It also allows team members to track time spent on tasks and manage dependencies. If you need additional tools beyond Jira's default time-tracking capabilities, many third-party applications are available on the Atlassian Marketplace.
With Jira, you can create issues and move them through different stages of progress. Each phase is referred to as a workflow and represents a particular organizational procedure. Jira's default workflows are simple to use, but you can modify them to fit your particular needs. Jira also connects with Confluence, making it simple to attach issues and projects to Confluence pages, which can aid in developing more thorough project documentation.
Benefits of using collaboration tools for the business environment:
Enhanced Communication
Team collaboration tools act as virtual meeting places, enabling employees to communicate and collaborate in real-time, regardless of their physical location. Through instant messaging, video conferencing, and voice calls, team members can connect instantly, fostering better understanding, quicker decision-making, and smoother coordination.
Seamless File Sharing and Document Collaboration
Traditional email attachments can be cumbersome and inefficient for collaborative projects. Collaboration tools provide centralized platforms where team members can easily share files, documents, and other resources. With real-time editing capabilities, multiple team members can work simultaneously on a document, making real-time updates and revisions.
Improved Project and Task Management
Collaboration tools often include project and task management features that enable teams to organize and track their work more effectively. With shared calendars, to-do lists, and progress trackers, employees can stay aligned and informed about project timelines, milestones, and individual responsibilities.
Streamlined Workflow and Productivity
Collaboration tools for business facilitate a streamlined workflow by centralizing all project-related information and communication in one place. This eliminates the need to search through endless email threads or chat histories, saving valuable time and increasing productivity. Additionally, these tools often integrate with other productivity applications, enhancing efficiency and reducing manual work.
Cultivating Innovation and Creativity
Collaboration tools foster an environment that encourages innovation and creativity. By breaking down physical barriers and enabling cross-functional collaboration, teams can share diverse perspectives, ideas, and expertise. Features like virtual brainstorming sessions, discussion forums, and idea boards provide platforms for team members to collaborate creatively.
Key Takeaways
Collaboration software tools are essential in a modern workplace because they help businesses streamline communications and increase productivity. They achieve this by offering team members a central destination for files, documents, and other resources accessible from any place or device. They can now work on the same projects side by side without having to send emails or keep track of different file versions. Additionally, collaboration tools often have version control mechanisms that allow team members to track and revert changes. To get the utmost benefits of collaboration tools, contact a leading workspace management software provider for your business now. Collaborate Progressively!