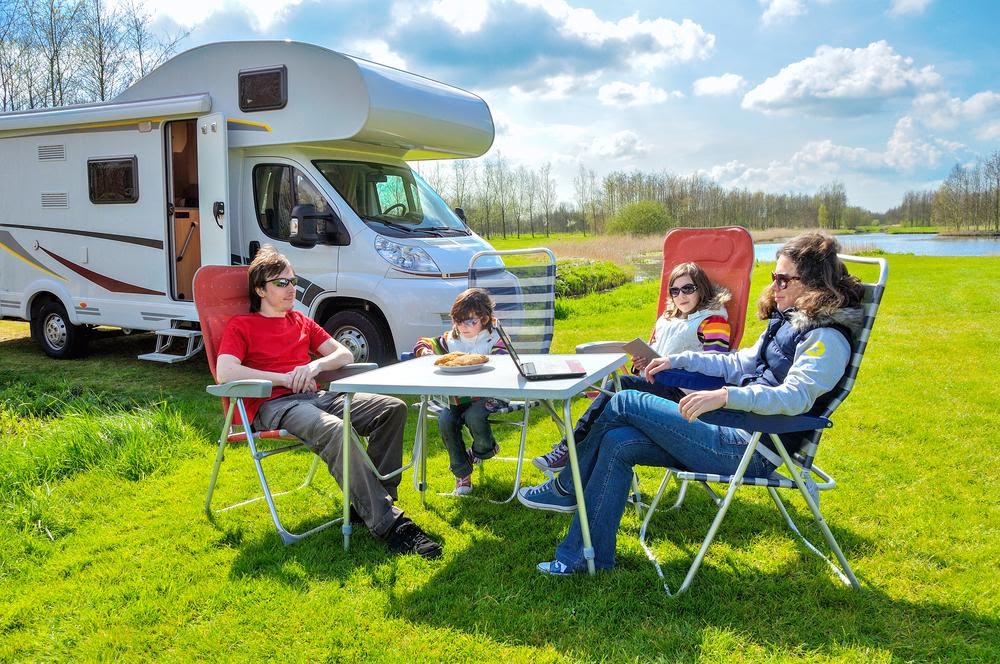 Caravan holidays offer the family an opportunity to have fun, be happy, and relax. However, as a parent, you agree that you can only be pleased if your kids are glad as well. You, therefore, have the responsibility to ensure your caravan trip is as comfortable as possible. Further, you want to plan the locations and activities to keep your family as occupied as possible during the journey. There is no denying that cramming up your family into a tiny movable space may not be the most suitable condition for a relaxed environment. Here are a few tips you can consider to ensure your caravan trip runs smooth;
Pack Efficiently
Packing is an essential step in planning for your trip. You want to take an organizational approach with every aspect of packing, be it kitchen supplies, clothes, among others. Most caravans have a hob, an oven, a fridge, and a sink. You may need to equip the van with kitchen essentials such as cutlery, kitchen towels, hand soap, bin bags, and any other tools you deem necessary. You need to pack reading books, laptops, cameras, chargers, Torches, first-aid kits, beach gear, camping chairs, blankets, folding chairs, a fire pit, and matches.
Keep all your gear in separate bags to ensure a system is in place. Living in a tiny space with young kids can have you experiencing claustrophobia within three days of your trip. It is key to have a toy bag, a food bag, a kitchen bag, a laundry bag, etc. Try to maximize the use of the available storage.
Squeeze in as many towels as possible into spare spaces in the caravan and the car. If the weather isn't great to dry towels, you will be grateful you carried a little extra. Also, consider using one towel as a bathroom floor mat as the floor gets wet.
Get your Caravan some upgrades
Today, there are numerous static caravans for sale all over. Once you travel with kids, you notice you need a little more extra space. Kids can be noisy, the space may be too small to fit enough beds, and the toddler may require a cot. Any trip's success relies on the children being comfortable and relaxed, which may require a few upgrades or customization. You need to give your caravan a family-friendly touch. Of course, you can consider purchasing a caravan that suits your family best, but most caravans have the option to upgrade caravan size. Consider including extra bedrooms, heating systems, balconies, and carpeted areas (especially if you have a crawler).
Maps and Journey Documentation
Before you pack up your family for the trip, have a plan of places you will visit and how long the drives will be. Good planning ensures you experience minimal hurdles during the holiday. You are there to have fun, too, right? Consider downloading offline google maps of the areas you intend to visit. This is a necessary precaution as your devices may not have service in certain areas.
During the trip, document your journey. Prepare a spreadsheet of dates, locations, distances, routes, campsites, prices, and website links. You will be traveling over such long periods and making many stopovers now and then. Proper documentation will enable you to follow the process and track the finances. Further, keep the family aware of what's next. Your family will also appreciate how far you have traveled and how much additionally they have to go.
Save on Expenses
During your caravan trip, you want to save as much money as possible as you do not want an emergency finding you high and dry. One cost-effective way to ensure your money is always right during the trip is cooking and freezing meal-sized options. After a long tiring day, cooking is probably the last thing you want to do. Plus, you're not at the comfort of your big kitchen back at home, making it tempting to buy dinner. However, this adds up very fast and could be your most significant expense during the trip. Frozen meal-sized options are the perfect way to mitigate such costs. Take every opportunity you get to prepare cook-ups and store them in your freezer.
Additionally, save up the $1 coins as you need these for the laundromat. You may have a mini washing machine or hand-washing set up, but dirty laundry piles up fast, especially when you have kids around. Also, it is a vacation; you do not want to tire anyone out with laundry.
Coping in a caravan
Coping within confined spaces is not easy. No matter how well you plan the trip, it is inevitable to experience things you had not anticipated. Before embarking on any journey, all shelves need packing away, emptying grey waste, hitching the van, unplugging electrics, among many other tasks, which take time and may come as a surprise as to just how much you need to see to. Further, you need to set all these up at your next destination. Ensure you consider this in your travel time. Try allocating duties to family members to make the process faster and more fun.
The kids may also drive you crazy at times! You have to be resourceful and resilient. You may even come to notice that the hard times are probably the best memories.
Try to create harmony by having an outside tent where the family can sit and hang out. Children can be noisy, and this will help with the sleeping arrangements.
Loosen up a little
Create a fun environment for your family by loosening the rules during the trip. Allow the kids to stay up a little late than usual and let the older kids join their peers. Let them go dancing and playing, cautiously, of course. Try not to rule out the things your family want to do completely. A caravan trip is more fun when everyone feels free to express their desires.
Beware the weather
Ensure you are on the lookout for adverse conditions and dress your kids appropriately—pack sunscreen and waterproofs to cater to this. Further, plan to ensure the weather does not dull your trip. For instance, ensure you have enough books and indoor travel games to keep your family busy during rainy days.
Conclusion.
With these tips, your family is set to have a fantastic trip. It will come as no surprise if they push to have annual caravan holidays after this.