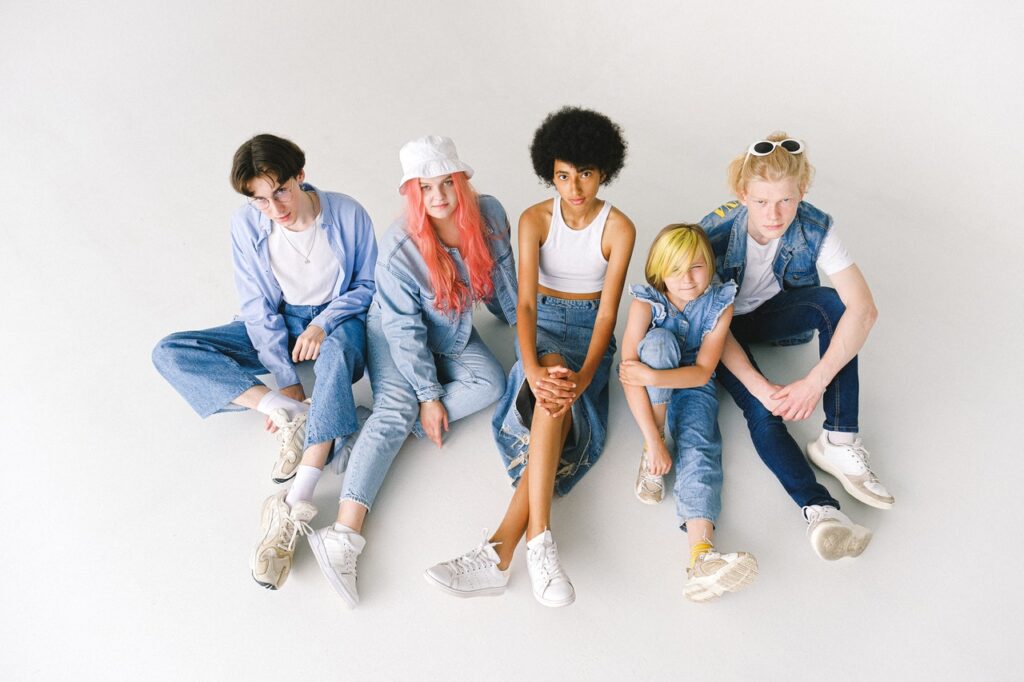 The past year has been quite a whirlwind, to say the least. Sure, most of us had to stay cooped up in our homes, thanks to Miss. Rona, but things are looking up and moving towards the better. While most things around us came to a standstill, the world of fashion continued to put out some banging trends. While some hit the spot, others missed it by a mile. This year's fashion trends were no different.
We have compiled a list of the top ten 2021 fashion trends that dominated the runways and that you must try out before the year draws to a close. Let us take a closer look.
1. Oversized Boyfriend Jackets
Oversized clothing is all the rage nowadays, and we are not complaining. Who doesn't like comfy clothing, after all? Oversized boyfriend jackets were a particular hit this year. Their long-line silhouette and 80's inspired outlook look good on anyone and everyone. Most oversized jackets feature shoulder pads that add structure to your outfit and gives the illusion of a slimmer torso and more elongated legs. Style your oversized boyfriend jackets with a pair of fuss-free straight trousers, shorts, a midi skirt, or over a knee-length dress for a sleek and chic look. Dress them up with your favorite accessories, and you are all set to head out.
2. Funky Face Masks
Masks are now a necessity because safety always comes first. There is no rule in the book that says masks have to be boring, so why not fashion? In this past year, we have had some very creative renditions of face masks. A particularly hot trend this year has been sleek back masks. Black is the most versatile color in the books, and it pairs beautifully well with just about any outfit you wear. Aside from solid colors, you can find some very funky picks, including printed numbers, embroidered pieces, and fancy ones with embellishments and more. Play with different fabrics, colors, and patterns, and make your mask an accessory.
3. Head Scarves
Headscarves were a runway hit this year. Throwback to glorious 50s and 60s, headscarves have made a much-needed comeback. This sophisticated and elegant accessory is excellent for hair protection and adds the perfect finishing touch to your outfit without overdoing it. You can opt for a timeless silk fabric or a sheer net number. Switch it up with different colors, patterns, and textures and just have fun with it. You can wear your scarf around your head and wrap it around your chin in a knot, or tie it around your neck like a bow tie, or simply let it hang off your shoulders. If you do not feel like carrying it like a scarf, tie it around your waist or bag.
4. Pastel Tones
Pastel tones were the dominant Pantone this year, and we are here for it. How can anyone not like pastel tones? They exude serenity, calm, and beauty unlike anything else. From lilac and mint green to baby blue and powder pink, pastel tones look great on everyone. If you are someone who tends to shy away from trends but is willing to test new waters, playing with colors is just the way to do it. Opt for lilac pantsuits, mint green dresses, and baby pink leather jackets; befriend color and watch your world light up. Elegant, chic, feminine, effortless, and versatile, this trend is here to stay, and we are excited.
5. Yellow Handbags
Yellow bags are the hot new trend this season, and we love them. Yellow is such a happy color; it radiates warmth, joy, and fun. While most people shy away from colors like yellow, it is always a good idea to introduce trends that people would be more comfortable with, like handbags. Make a memorable fashion statement this season with a bright yellow handbag. You may opt for a classic tote bag, a clutch, a bucket bag, or whatever fits your fancy. You can pick from a range of yellow hues to spice up any ensemble and breathe life into it with color.
6. Folk Inspired Pieces
Cottagecore is a soaring trend that is inspired by folklore. The entire trend focuses on timeless cuts, lace, embroidery, and beautiful neutral tones. If you want to make a style statement this year and are a sucker for rustic vintage-inspired pieces, then you are in luck. Get your hands on folk-inspired pieces and incorporate them into your everyday wardrobe. Style your vintage folk pieces with modern pieces to create unique custom looks to pack the greatest punch. The best thing about this trend is that there are no rules; just style your favorite pieces however your heart pleases.
7. White Long Boots
Long boots are the boldest pair of shoes one can own. When you wear a pair of long boots, you know people will be talking about it. While we have all seen long black boots, this year's trend switches things up a bit with long white boots. Long white boots may sound intimidating, but they are a sight to behold. This 60's inspired trend is perfect for anyone looking to jazz up a basic ensemble. Wear them with a basic knit dress and a jacket, or maybe some leggings and a long oversized sweater. Effortless and easy yet very chic and sophisticated, white long boots are truly statement pieces.
8. Bright Blue Accessories
Accessories can make or break your outfit. They are an integral element to any outfit. You cannot possibly leave the house without your shoes, right? Or your bag, for that matter. Accessories are necessary, so this year's trend utilized that necessity and created something great out of it. Bright blue accessories are the hot new trend, and they have made quite an impression on everyone. Blue is a universal favorite; there are so many shades that you can play with. Make the most of this variety and add color to your outfits with blue accessories like a duck egg blue clutch bag, indigo earrings, or a royal blue belt. For the best look, we recommend keeping it simple with the rest of your outfit so your statement blue accessories can get the spotlight they deserve.
2021 did not disappoint with its fashion trends. This is your chance to make the most of it as we transition into the colder months. Mix and match different trends and cater them to your personal preferences.