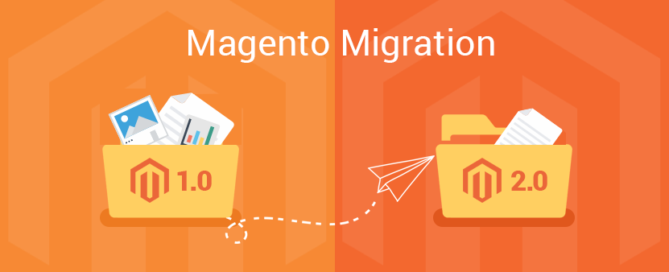 Image source: medium
Magento had announced in June this year that it is ending all support to Magento 1. Now, what does this mean for the eCommerce store owners?
Well, if you didn't Migrate Magento 1 to Magento 2, you are on your own for anything that your site needs because official support for Magento 1 has ended.
But do you understand the process of Custom Magento Development thoroughly? Because even though Magento 2 is superior compared to its predecessor, the process of migration from Magento 1 could be tricky. To avoid such frustration, it's important to keep in mind certain points while considering migrate Magento 1 to Magento 2.
Points to consider while migrating to Magento 2
Design: Process to Migrate Magento 1 to Magento 2 is more like rebuilding the website from scratch, and hence the first step in the migration process is the design of your website. There are a few options available to decide on how you want your website to look like:
Designing a new theme – you can custom design the look of your site using this tool.
Clone Design – In this, you can keep the same design from your Magento 1 site. Though the website design is the same, here it needs a clone designing as both have a different layout
Readymade theme – You can select a design from the already available theme.
Hence depending on the requirements of your web store, you can find out what suits best.
Extensions: After finalizing the design, the next step for Migrate Magento 1 to Magento 2 is the extensions. Apart from the basic functions, the Magento website uses many extensions, and these have to migrate carefully. The extensions need to be classified for Migration, and any Magento Migration Company will help you with this. Some extensions of Magento 1 becomes the default in Magento 2, and some have alternative extensions. But a few extensions are similar to the Magento 1. You don't have to worry about these as a Magneto development company will help you in the smooth migration of extensions.
Custom Functions: Similar to the extensions, Custom Magento Development also has to be chosen for a wise migration. Depending on your business requirements and characteristics the number of extensions to migrate is selected. For example, a company selling food products need updated inventory management functions, etc.
Data Migration: There is a lot of data on a website that has to be migrated when moving to Magento 2. Such data includes products, orders, customers, URLs, images, text, etc. Migrating data is a complex process, and there is always a risk of losing data. But Magento Migration Services providers will ensure that the process is smooth and hassle-free for you. It is thus important for you to decide what has to be migrated to the new website.
Configurations: The last step during the process of Migration is configuring the Magento 2 site. Payment gateways, Marketplace, Shipping method, Languages, Currencies, etc. need to be set up in this step.
Migration Difficulty: Magento 2 has a different design, structure, and architecture altogether. However, the amount of time and effort required to migrate Magento 1 to Magento 2 will depend on the number of extensions already running on the website and the customization involved.
Import of product and customer data: As Magento 2 comes with a data migration tool, it becomes handy to make use of it while transferring data. It functions in migrating configuration settings, main data, and incremental data updates on the admin panel and storefront.
Media files import: Media files such as images must be imported separately from the product data, and this has to be moved manually.
Performance considerations: Despite proper planning and implementation, it can happen that the migration process might not work well. While running into some error messages you need not panic. For a smooth migration process, just reach out to Magento Migration Company.
Bottom Line
It is important to migrate Magento 1 to Magento 2 for your eCommerce business to stay updated with the latest technology. Even though the migration to Magento 2 might seem like extra work and cost for your business, the advantages of Magento 2 outweighs all these cons. Additionally, features in Magento 2 have improved user interface, simple admin panel, faster load time, and great mobile shopping experience.
While the process of shifting can be quite monotonous, but with proper planning and execution, it can be done easily.
You can reach out to our company Bytes Technolab to know more about our Magento Migration Services.