Working at home has become the new normal for many workers in different parts of the world. With the world shifting to a new norm where social distancing and lockdowns have become household terms, most office-based frameworks have become remote working-up for many businesses and organizations.
As this working trend began to grow profoundly because of the new normal the world is facing, many security issues have also started to arise. Cybercriminals and hackers are on the continuous lookout to find vulnerabilities in this kind of new working environment. Because many companies were not quite ready to welcome this new normal working setup, many do not have structured security measures to ensure safety for both the company and employees working at home.
In this article, you'll find ways to enhance cybersecurity while facing this new normal working situation.
Common Cybersecurity Threats While Working At Home
• Unsecured Home Wi-Fi
When you work at an office setting and connect to the internet, you are assured that it is secured as managed by your company's IT department. Your IT managers make sure that the office's relationship is at prime security and does not have any vulnerable points where hackers and cybercriminals can infiltrate.
When you work at home as the new normal working environment, you might have a weaker protocol. Since you are using your internet connection at home for personal purposes, it may have a more vulnerable security setup than those found at the offices. This kind of internet connection setup will allow hackers to access your network and compromise your data quickly.
• Phishing Scams Attack
While working at home, you might receive a legitimate email containing a malicious link. You might not know that these links and attachments contain malware and other viruses until you click on the link or download the attachment. Once this happens, hackers will then have gain access to your device.
• Weak Passwords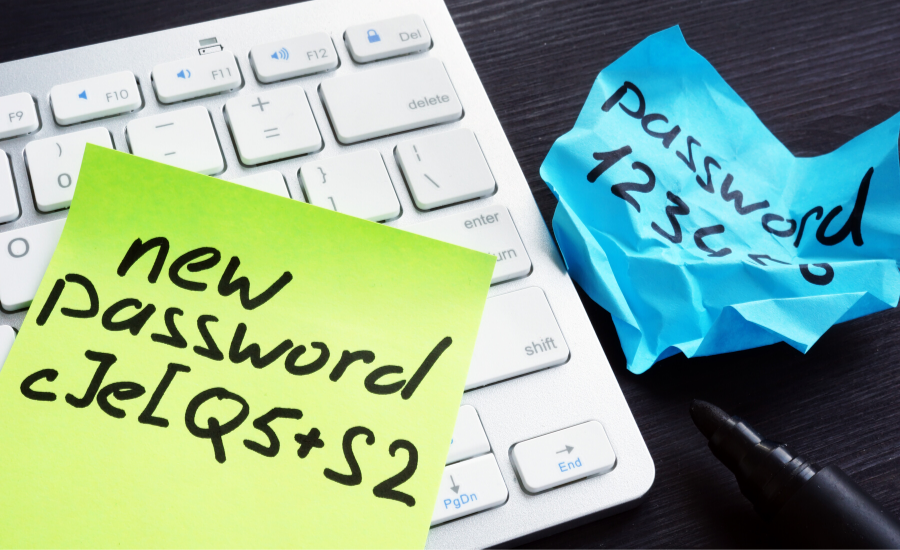 Having passwords are your first line of defense against any attack, yet it can also be a way for cybercriminals to infiltrate your system. When you have a weak password, it will be easy for hackers to crack it and make way to your order. Using the same password in several accounts and platforms can give these cybercriminals access to multiple accounts that further enlarge the damages.
Ways To Enhance Cybersecurity While Working At Home
1. Protect Your Wi-Fi Connection
Since you will be working with your home Wi-Fi as your new normal connection, protect it. Start by encrypting your network to improve your Wi-Fi security. Change the default password of your router. This password is considered a weak link that a cybercriminal can access. Make a robust and complex password using small and big letters, unique characters, and numbers that will make it hard to crack.
2. Use Your Company Provided Device
While you might opt to use your personal computer or your laptop to do your work at home, it would be best to use a company provided instead. A personal computer used by some family members may contain games, torrent software, or other non-essential applications that can serve as a passageway for cybercriminals. Company desktop and laptops already have programs and documents that you need for work yet already optimized for security purposes.
3. Use Unique Passwords
If you are using your pet's name or your birthday as your password, then it is time to ditch it and update your passwords. Your password can act as your guard dog that makes sure you get the first line of defense against hackers.
Use a unique and complex combination that is not easy to guess. Make it at least 16 characters with a different set of characters and avoid using the same passwords for your accounts. Since it would be quite impossible to memorize all of your passwords, get a reputable password manager to help you track and protect your passwords.
4. Enable 2FA
A strong and complex password can help you secure your home network, devices, or email account, yet it can still get infiltrated. To heighten security and strengthen your system, you can activate two-factor authentication or 2FA. 2FA prevents third parties from accessing your accounts if they were able to crack your password.
5. Leverage on VPN
Using a VPN can be a great move in your enhancing your security while working at home. A secure VPN that you can trust. It will help keep your online activity private from any trackers and your Internet service provider.
6. Check Your Background While On Videocon
The video conference will be another new normal as an alternative to regular meetings. Part of working at home is talking virtually, presenting on a videoconference as well as sharing your screen for reports. As you do this, make sure that you do not leave any notes or documents that contain sensitive information in the background or your desktop monitor that a cybercriminal can catch.
7. Limit Access To Sensitive Information
Many organizations are still trying to make to create a framework that would work out each company's protocol. While you may want to make things easier, get rid of the hassle, and give everyone access, it will not be favorable for your company security. It would create unnecessary vulnerabilities that can become accessible to cybercriminals.
To avoid this, limit access, especially sensitive information to your subordinates and colleagues. Giving access to everyone will be a hard time to isolate a case when a security breach happens.
8. Prepare A Backup Solution
You will never know when an attack would happen or when a cybercriminal will decide to access your system. It is crucial always to have a backup of all your information, data, and documents. Prepare at least three copies of the material to ensure that you'll have enough backup copy when things did not turn our well.
9. Avoid Free and Public Wi-Fi
Working at home for a long time can take a toll on you as an employee. While it is tempting to work at cafes and other public places to break the monotony of your new normal working environment, remember that this might not be good for your work's cybersecurity.
These places commonly use public Wi-Fi, which is vulnerable to attacks. If you do not have any choice but to access these kinds of connections, always remember to use a VPN to protect your data and sensitive information.
10. Update Your Software
Whether you are working on a personal laptop or from a work-provided computer, make sure that the software and system are up to date. Check if you are using the latest version and make sure to update and install it if not. Updates usually contain security patches that can be help guard you against any malware infection.
Final Thoughts
Shifting to the new normal of working remotely can be advantageous as you get to work from the comforts of your home. However, several issues like weak passwords, insecure connection, lack of authentication, and even unmindful Videocon background can put you at risk from being attack by cybercriminals and hackers. Prevent this from happening by ensuring you take extra measures to secure your connection and data from any cybercrime.