What makes a luxury hotel? The grand architecture? The fancy amenities? The infinity pool? The amazing staff? The luxury hotel robes? The vintage chaise lounge chair covers? The disability-friendly services?
How about all of these and more?
The list of 20 of the world's most luxurious hotels and resorts we've compiled below offer experiences that are the very definition of opulence and comfort. Get ready to go on a spectacular journey around the world – first through words, and then for real.
Get ready to book your stay at these top 20 luxury hotels today.
1. Six Senses Zil Pasyon, Seychelles
Located along the gorgeous Indian Ocean, Six Senses Zil Pasyon in Seychelles makes for the perfect luxury honeymoon destination. Built into the magnificent granite boulders towering above the Félicité island, it's a magnificent place that offers expansive views of the surrounding waters. There are plenty of wooded trails to go hiking in and for beach lovers, there are many romantic water-side experiences to indulge in.
2. The Brando, Tahiti
This luxury resort – The Brando in Tahiti – is known for being one of the most eco-friendly luxury stays in the world. The luxury hotel quite literally runs on the island, by using solar energy, reusing the island's water for different uses, sourcing local marine life for food, reducing plastic dependency, and more. The villas here may look rustic, but they are the very definition of modernity. Everything from the ambiance to the food to the activities available merges Polynesia, French and Continental sensibilities.
3. The Leela Palace Udaipur, Rajasthan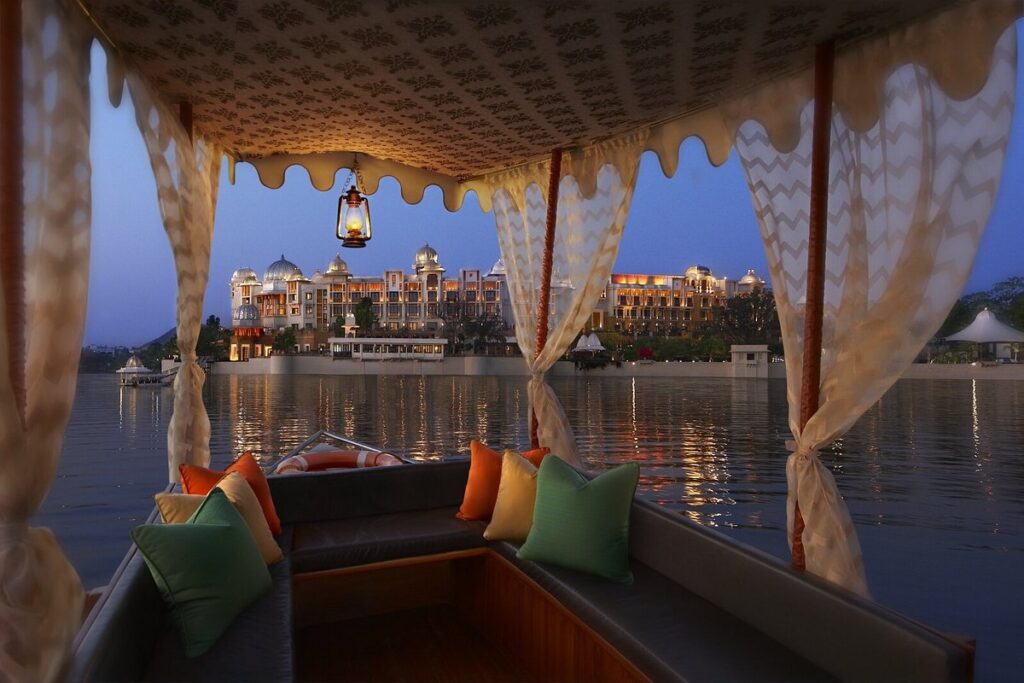 One of India's grandest luxury hotels, The Leela Palace Udaipur, Rajasthan celebrates the heritage of Rajasthan and its haveli culture. The 80 massive rooms are designed in traditional Rajasthani royalty décor, with authentically-designed lounge chair covers, bedding, curtains, and more. But there are enough contemporary appliances and amenities to please the most discerning. The food here is eclectic, celebrating both traditional Udaipur cuisine and boasting a continental spread as well. Guests can book safaris, dune sunset watching, and camel rides, amongst other activities.
4. Emirates Palace, Abu Dhabi
Abu Dhabi is renowned as being the home of some of the most luxurious stays in the world. The Emirates Palace is one such must-visit for those who love extravagance and opulence. This chic luxury hotel located on the banks of a white sandy beach boasts Swarovski crystal chandeliers, marbled fountains and pools, expansive spas, and more. This luxury retreat also serves very well for C-suite board meetings, what with their state-of-the-art conference rooms. There are plenty of palace suites here for rent, which have a dedicated full staff.
5. Kokomo Private Island, Fiji
Want to rent out an entire island, instead of a single room, for your luxury getaway? If yes, then you'll certainly love Kokomo Private Island in Fiji. This gorgeous island resort lets guests book either a single villa or the entire resort, based on their needs. Guests can book wonderful sunrise/sunset picnics on the beach, head out to the lush wooded parts for hiking, or indulge in cathartic spa treatments. The cocktails here are unforgettable and the food is all local.
6. Four Seasons Tented Camp Golden Triangle, Thailand
Straddling the boundary between Laos and Burma lies the Four Seasons Tented Camp Golden Triangle – an Asian luxury experience that you absolutely must experience. This wilderness-style luxury retreat has safari tent-type villas that you can stay in, as you experience the serenity of the forest. This is the perfect luxury adventure getaway and you'll have a dedicated itinerary planner who can create a bespoke stay that suits your family's diverse interests. There's an open-sided spa in the jungle, which allows you to experience nature at its most authentic.
7. Burj Al Arab Jumeirah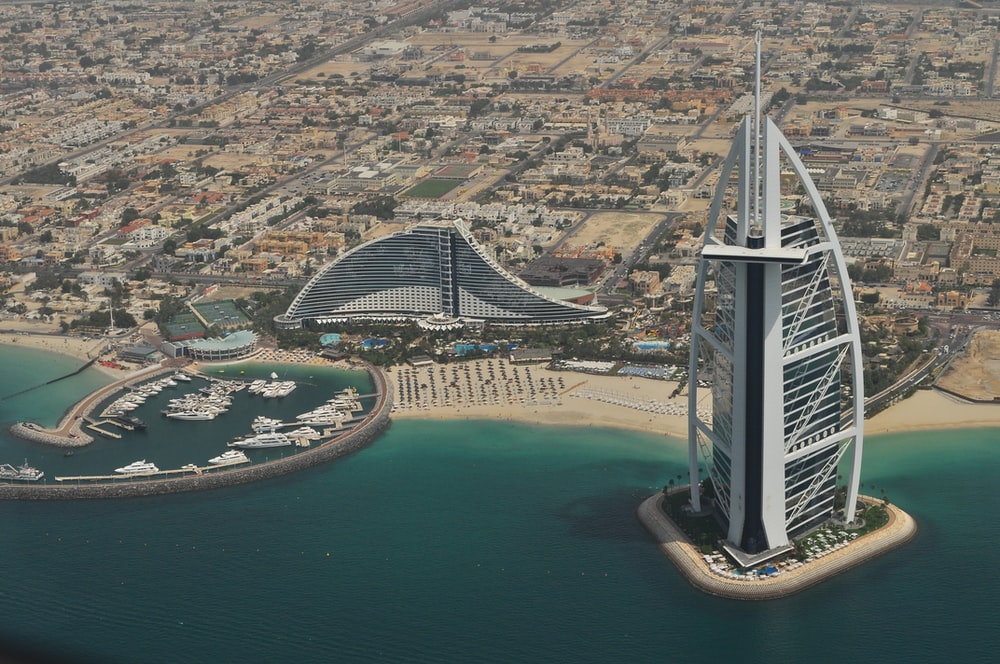 A 7-star hotel – the only one of its kind in the world – that celebrates grandeur, the Burj Al Arb Jumeirah is the perfect place to stay, whether you're in town for a business meeting or for a honeymoon, or for a family holiday. The hotel boasts nine world-renowned restaurants and a full-service spa with an incredible service list. You can also get luxury spa wraps from them on-demand. The opulence of the suites is worthy of the most demanding royalty and is absolutely perfect for celebrities, world leaders, and CEOs alike.
8. Rancho Valencia Resort & Spa, California
If your idea of a luxury holiday is to drive around in some of the world's most expensive and richly-fitted automobiles, then you cannot ignore Rancho Valencia Resort & Spa in California. Not only is this luxury resort scenic and peaceful and absolutely breathtaking; but it has a stellar selection of luxury automobiles to boot. You can easily rent out any of the high-end cars for a day or even your entire stay. The concierge is more than happy to book a tour of the local area and you can drive up to California's wine counties for an unforgettable vineyard experience.
9. Excellence Playa Mujeres, Mexico
Just a short drive from Mexico's Cancun airport is the luxury gated community-cum-resort, Excellence Playa Mujeres. This is an adults-only stay, which is the perfect place for the newly married or those looking to renew their vows. Each suite has a private lounge that opens up onto the beach. The multiple pools wind their way around the villas across the resort. Plus, you'll find hot tubs conveniently placed to enjoy the sunset with your beloved, wine in hand. Just ask the staff for soft luxury hotel towels and dive right in.
10. Tierra Atacama, Chile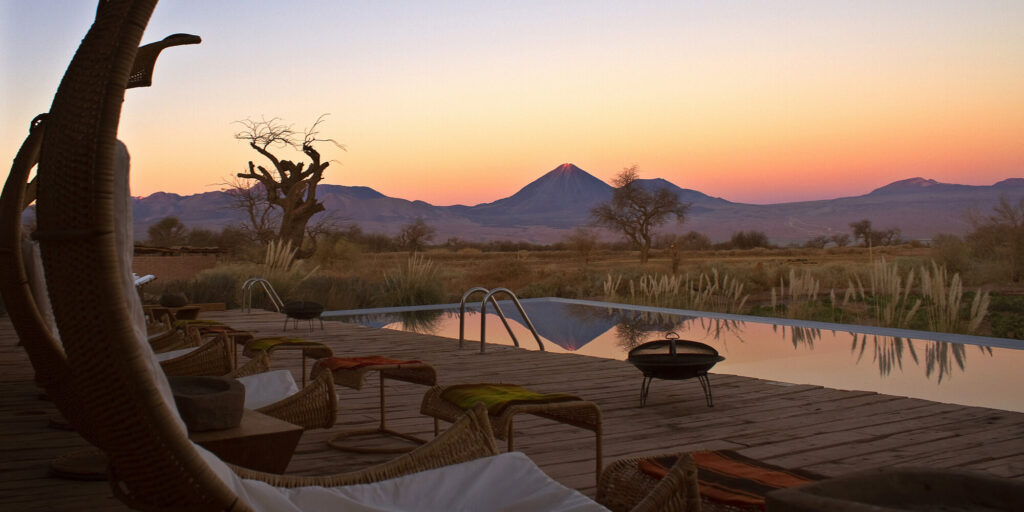 One of Chile's most luxurious hotels, the Tierra Atacama is a sight to behold. Offering magnificent views of the Atacama Desert, this magnificent stay is renowned for its traditional architecture and incredible hospitality. If you want to taste authentic Chilean food, this is where you can do so. There are terrace fire pits to enjoy the stars, while the pools make the perfect breakfast spot. The privacy and serenity offered here are par none.
11. The Westin Excelsior, Rome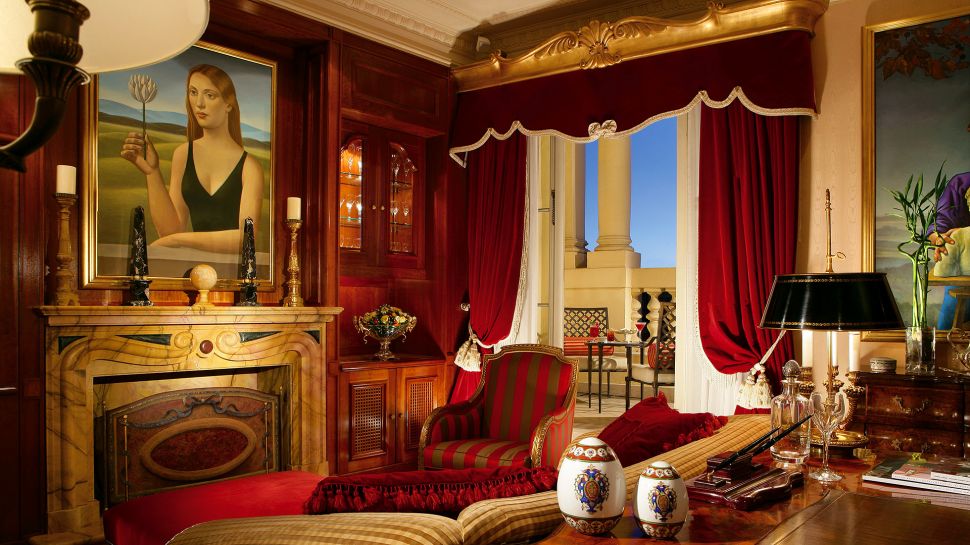 One of Rome's most celebrated opulent hotels, The Westin Excelsior is home to the Villa La Cupola Suite – a luxury haven that is Italy's largest and most opulent suite. The architecture is traditional Italian, with frescoed artwork mimicking Roman sensibilities. But for all cathedral-style décor, you'd be hard-pressed to find a luxury venue that is better-fitted with cutting-edge comfort amenities. It's just a short walk away from the Borghese Gardens and Gallery and the Spanish Steps.
12. The Plaza, New York City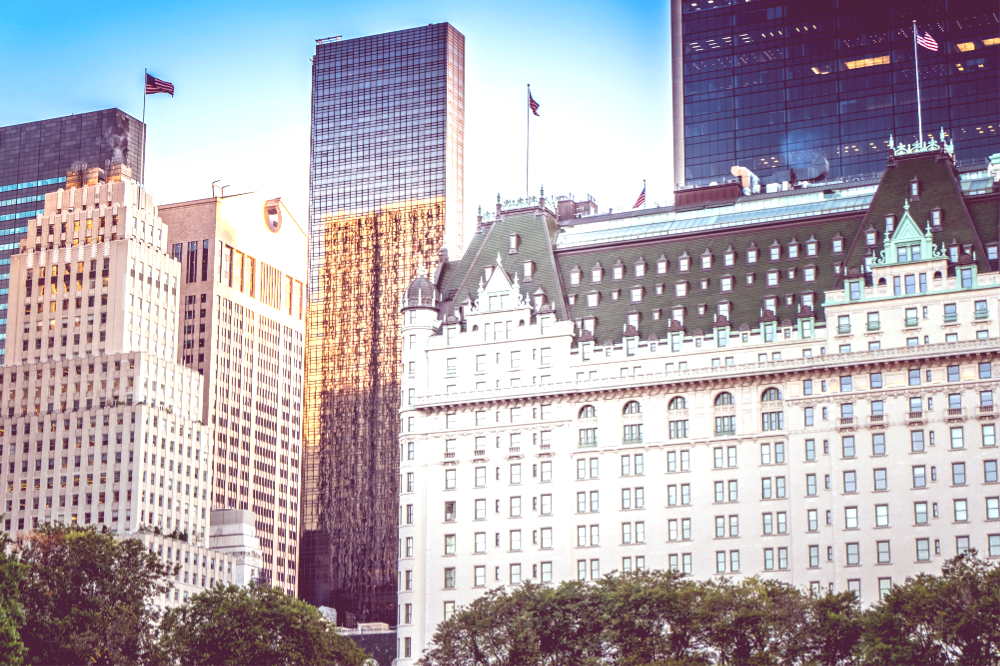 No list of the top luxury hotels in the world can be complete without mentioning The Plaza. Whether you want to rent out space for a wedding or stay there with your family over the summer, New York's grandest hotel has just about everything for everyone. Its old-world architecture earned it the tag of National Historic Landmark in 1969 and it's this façade and décor that keeps the top brass of the world returning to rent its opulent suites. Times Square, The MET and MOMA are just some of the most brilliant places a short walk away from here.
13. Jade Mountain Resort, St. Lucia
Another only-adults luxury resort on our list is St. Lucia's Jade Mountain Resort. This sprawling beachside resort has one of the most dramatic sceneries in the world. It's a romantic escape for new and seasoned couples. The cliff-side resort has rooms that open up onto the water. The exotic ambiance, incredible services, and immense privacy make this resort a class apart. Each room has an infinity pool, where you can lounge and get wonderful views of the island.
14. Umaid Bhawan Palace Jodhpur, Rajasthan
The iconic Umaid Bhawan Palace in Jodhpur, Rajasthan is another palace that's converted into a luxury hotel. Built for H.H Maharaja Umaid Singh Ji, this magnificent hotel is one of the most aesthetic in the world. Guests can expect to be served like royalty and indulge in the most delicious Indian cuisine and continental fares. Ayurvedic treatments, guided yoga sessions, and desert safaris are some of the ways in which you can enjoy your time here.
15. One Nature Nyaruswiga Serengeti, Tanzania
Want to go on an extravagant wildlife-themed vacation? Then the One Nature Nyaruswiga Serengeti in Tanzania is the place to stay at. Get to live within the bush, with all your needed luxury amenities right at your fingertips. You can watch out for the Big 5 while lounging on the veranda and later book a relaxing in-room spa treatment, before opening up a bottle of champagne to enjoy the glorious sunset. There's a beautiful astronomy deck where you can stargaze and learn about the constellations from staff.
16. Grand-Hôtel du Cap-Ferrat, France
France has a fair share of luxury hotels for the rich and famous. The Grand-Hôtel du Cap-Ferrat, a Four Seasons Hotel, is one of them. At one time, this luxury stay played host to bigwigs like Winston Churchill and Elizabeth Taylor. Offering beautiful views of Monaco and Nice, the state-of-the-art suites have a minimalistic beauty to them, which is both welcoming and impressive. The beach is a gorgeous place to have picnics and if you prefer more formal meals, the Club Dauphin restaurant is on property.
17. Marquis Los Cabos, Los Cabos
The Marquis Los Cabos is a gorgeously-appointed luxury resort that plays host to many beautifully created sculptures. The architecture takes inspiration from Los Cabos's natural beauty and wilderness, opening out onto the water. This resort is a secluded and romantic place, perfect for couples to get some quiet time. The spacious balconies offer panoramic views and the large minimalist suites offer an intimate air, perfect for your quiet holiday.
18. Amangiri, Utah
Another luxury hotel that uses its natural environment as both the backdrop and artistic inspiration, is Amangiri in Utah. The stone structure looks as if it rose right from the dusty desert, fully made. The suites here have massive windows that open out into the desert and offer spectacular views. There's a lagoon pool which is massive and breathtakingly beautiful. The spa offers a rich repertoire of services, which you won't be able to resist.
19. Lily Beach Resort & Spa, Maldives
A luxury resort on the water in the Maldives that you cannot ignore, is the Lily Beach Resort & Spa. Located on the Huvahendhoo island, this gorgeous resort lies in the embrace of stunning coral reefs. Scuba and snorkeling lovers will really enjoy this stay. Plus, it's the perfect place for a honeymoon, thanks to the over-the-water villas with glass floors, in-villa Jacuzzi tubs, and private balconies that open out into the ocean.
20. Ikos Dassia, Greece 
Finishing this list has to be one of the most beautiful luxury resorts located in one of the most gorgeous island nations in the world – Ikos Dassia in Corfu, Greece. This expansive and sprawling resort looks and feels very welcoming, as it gently opens out into the water on one side. On the opposite side, you have multiple pools with all the work, perfect for the entire family to either take a swim or enjoy the sun. There are 8 different award-winning restaurants on the property, where you can enjoy live entertainment. There is a kids' club here, perfect to keep the little ones engaged as you reconnect with your loved one.
Get ready for your upcoming luxury holiday
Don't these luxury hotels and resorts sound wonderful? Prepare for a fabulous holiday with the right items. When you visit these spectacular places, you're definitely going to need premium-quality luxury bathrobes, luxury spa slippers, and luxury spa towels to take along. You can buy affordable and best quality luxury terry cloth robes and luxury hotel bathrobes from Boca Terry, who are renowned for their premium luxury products.