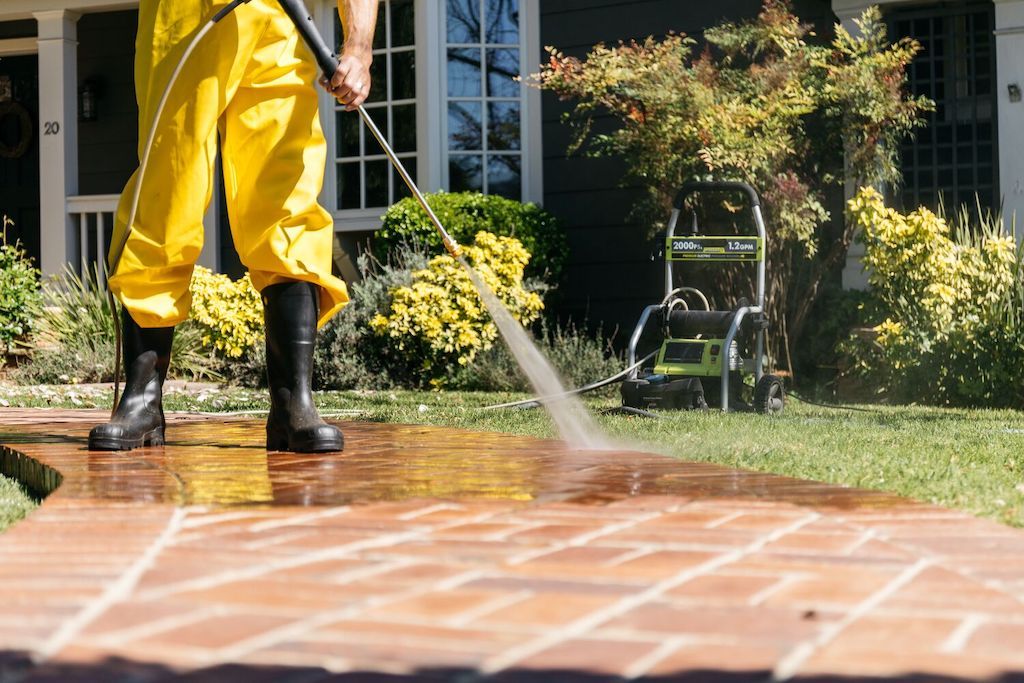 When you wash your clothes, how do you usually go about it? You separate the whites from the colors, make sure that the water is at the right temperature, and choose the right detergent. And if there are any tough stains, you would ideally pre-soak the clothes before washing them. If all these steps aren't followed correctly, you run the risk of ruining your clothes.
The same goes for cleaning your building too. If you want your home or business building to be cleaned to its original beauty, consider hiring professional pressure cleaning services from a power washing company like ProFi. A professional cleaner knows the right methods, cleaning agents, and tools to use in pressure cleaning. If you still aren't convinced, let us take you through some of the benefits of getting professional pressure cleaning for your business and home.
What exactly is pressure cleaning?
Pressure cleaning or pressure washing is the process of cleaning surfaces with the help of a high-power jet spray. It is the 'high-power' component of pressure washing that differentiates it from regular cleaning. The high-power jet spray of these pressure washers is known to produce 750-30,000 pound-force per square inch (!) For reference, a faucet is known to produce only 40-60 pound-force per square.
This high-power cleaning capacity makes it effective for cleaning dust, mud, grime, algae, moss, loose paint, and other residues. What's better is that it can also reach into tiny spaces to clean out any hiding dirt.
Pressure washers can be useful for cleaning –
Decks
Siding
Driveways
Patios
Roofs
Outdoor furniture
Fencing
Vehicles
Grills
Lawn mowers
Parking lots
Gutters
Sidewalks
Why pressure washing is important for your building
Now that you know what pressure washing entails, let's take a look at the benefits of getting your residential or commercial building professionally power washed.
Save your building from damage
Did you know that the build-up of dirt, grime, and moss over time can actually damage your building? If you don't clean this build-up, it will not only damage the concrete sealant, paint, and other coatings but also eat away at the materials underneath. If you don't wish to compromise the structure of your building, it's a good idea to get professional power washing done.
Save time and energy
With the busy lives we lead, it's difficult to take out the time to deep clean your exteriors. You would have to set up a ladder, carry a bucket and mop from place to place, and scrub away at the dirt collecting in places. Hiring a professional pressure washer will make this easier for you, saving you tons of time and energy too.
Cost-effective
As we've already stated, build-up of dirt and grime can cause a lot of damage to your building, which can lead to costly repairs. The beauty of power washing is that it stops the damage in its tracks, which means that you'll be saving money in the long run.
Safer cleaning
If you plan to clean your exteriors yourself, there's a lot you'll have to watch out for. You might have to climb a ladder, carry something heavy, or work in slippery areas, so any accident here could spell trouble for you. Besides this, dealing with dirt and grime could also impact your health and cause diseases, as these surfaces are usually a breeding ground for bacteria. When you hire a professional to get your building power washed, you can enjoy a safer cleaning experience.
Enhance the look of your building
You might've watched videos of how power washing drastically improves the appearance of surfaces, making them look as good as new. If you get your residential or commercial building power washed, you'll be surprised by the difference between the before and after of the space. It will instantly boost your building's curb appeal, which is especially important for businesses. When your building looks nicer visually, people will feel more inclined to walk in.
Power washing before home renovation
If you're planning home renovations like a fresh paint job, new sliding, or any other addition, it would be helpful to get pressure washing done before that. Painting a dirty surface won't give you the same results, and if there's already some leftover paint on the surface, you won't get a smooth finish. With pressure washing, you can remove any loose dirt or paint and get a primed surface to work with.
Increase the value of your home
Whether you're planning to sell your home or not, you should always be looking for ways to increase its value. Power washing is an effective and inexpensive way to accomplish that. Since it leaves your house looking as good as new, any prospective home buyers wouldn't suspect that its value might be lesser.
Get the right equipment
Most people don't have a power washer lying around in their house, ready for use. You might even consider renting one, but that can prove to be time-consuming and an unnecessary hassle. You would first have to learn how to use it and complete the task. Then there's also the hassle of returning it. Even then, you can't be sure that the cleaning will be done correctly. A professional will not only get the right equipment but make sure that the power washing is done using the correct methods.
Environment-friendly alternative
In most pressure washing services, only water and maybe some environment-friendly soaps are used to clean surfaces. This makes it an excellent alternative to harsh cleaning agents and practices that can be very harmful to the environment.
Conclusion
Professional pressure cleaning is a necessary part of keeping a building looking its best. Not only can it remove stains and remove grime, but it can help extend the life of a building by preventing moisture and water damage to hard surfaces.