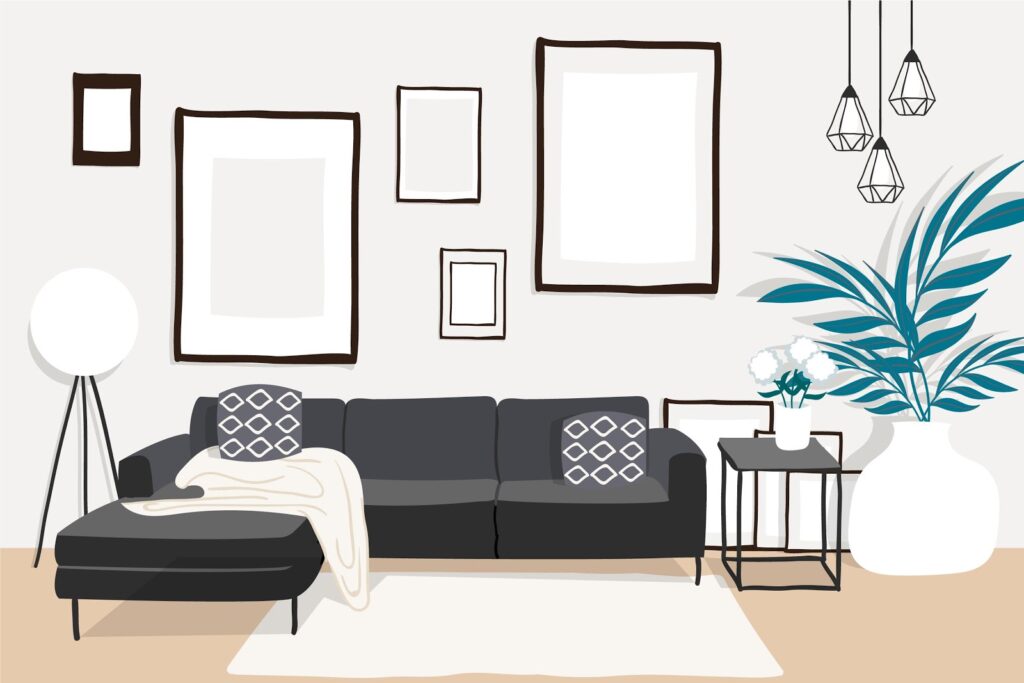 Modern architecture is all about using space in the most optimum way possible. Unlike its traditional counterparts, modern architecture is clean, simplistic, and highly functional. It focuses on the practicality and versatility of spaces.
The current busy lifestyle leaves little room for wasted spaces. Whether it's an independent farmhouse or an apartment in the city, homeowners look at using every inch of the space for a specific purpose. Therefore, each interior design element should aim at achieving comfort, convenience, and elegance.
Striking a balance between beauty and functionality isn't an easy undertaking. In this post, we have five interior design principles for every modern architect.
1. Focus on Practicality
When done right, interior design helps fulfill the purpose of every room. Before getting into the nitty-gritty, consider the lifestyle of its occupants. Factors like, the size of the family, their daily routines, habits, and preferences can give you a clue about how they will use the space.
For instance, a big family would prefer having plenty of open spaces for joint activities. So, you may have to plan areas like an open kitchen or a spacious living room.
Similarly, for families with elders, kids, or pets, safety is of prime concern. Here, you may need to plan a simple furniture arrangement to make the space clutter-free and easily accessible by a person using a walker or wheelchair. You may also want to install a safety rubber surfacing that's easy to clean and skid-proof.
Combine practicality with a hint of personalization. Simple touches like adding family heirlooms, antiques, and pictures can speak a lot about the personality and tastes of the residents.
2. Accentuate Architectural Elements
Emphasizing the industrial aesthetic of wood, iron, and concrete elements are at the core of modern interior design. Here are a few examples of how interior design can be used to complement and highlight the architectural elements.
An existing fireplace can be easily converted into a focal point of the room by refurbishing it and complementing it with decor elements.
Highlight the exposed brick walls to render a modern appeal to the area. Add modernist art pieces to attract attention to this area.
Use the large windows to allow natural light throughout the house. Combine this with an open floor plan it makes the space appear more roomy and welcoming.
Add a massive chandelier or pendant light to draw attention towards the high ceilings.
3. Remember: Less Is More
Minimalism is the new definition of good interior design. Plan the space in a way that space, lighting, and interior decor elements play equally-important roles.
Pare down the room furnishings to bare essentials. Keep focal points clutter-free to avoid unwanted distractions. For instance, a well-maintained fireplace is a focal element in itself. So, keep the mantel clutter-free or with minimum decor accessories to draw attention to the area.
Finally, the restrained color palette is intrinsic to minimalist homes. Stick with understated neutral hues, barely-there grays, beige, and pastels.
4. The Art of Layering
Layering adds depth and personality to a living space. The beauty of layering lies in adding a personal touch and keeping it clutter-free, thereby elevating the look of the room.
With layering, it's impossible to come up with a one-size-fits-all formula. Yet, we have a few quick ideas that will help you master this art of experimenting with textures, patterns, and shapes.
Include a variety of textures. For the floor, you can layer different types of rugs. On walls, layering can be achieved through lighting fixtures or geometrically contrasting frames.
Aim for balance (not symmetry!). The idea is to bring together multiple objects of various dimensions to work together in harmony. For instance, pair bulky pillows with spindly ones, adding an interesting variety to the decor.
Work with patterns. Throw patterned pillows on solid-colored sheets.
You can also use smaller pieces of furniture like a velvet upholstered bench for layering a classic wooden bed. Make sure that the entire ensemble retains the cozy feeling of a bedroom and looks complete.
Use an indoor plant to add a fresh element to your layered arrangement.
The only way to master layering is to experiment. Be your critic. Take a picture of the area and rearrange the elements accordingly. Looking at the layering arrangement on the screen can help you be more objective and take you a step closer to achieving the look you've been aiming at.
5. Strive for Balance
When designing large spaces, it's critical to aim for a sense of equilibrium. Take a step back and recall the purpose of the space. Next, check whether or not the visual weight of the decor elements is complementing each other.
As an architect, you need to strive for three types of balance in modern interior spaces –
Symmetrical – Formal spaces like an office or a study demand symmetrical or formal balance. Here, the room is evenly split into mirror images of each other, rendering the area a balanced and formal look.
Though it's easy to achieve this look, you need to add a few interesting elements, failing which the room could look dull and monotonous. Notice how the globe and the mirror and the pictures on the wall add an element of interest to this otherwise symmetrical room. 
Asymmetrical – This type of balance is more informal. You can use a variety of elements with different visual weights (patterns, colors, forms, and textures) to achieve an 'asymmetrically-balanced' look.
Architects use this form of balance in most modern homes and commercial spaces to add a unique appeal to spaces.
Radial – This is the most commonly used form of balance. All the elements are placed with respect to a central focal point. For instance, a sofa, a few chairs, and a coffee table are placed around the hearth which is the central element in the room.
Summing Up
At the core of all the interior design principles shared above are the needs and preferences of the end-user – the space occupant or your customer. Regardless of the changing customer preferences and interior decor trends, mastering these principles will help you build a comfortable and fabulous living space for your clients.
So, go ahead and pair this knowledge with practice and experimentation to create practical spaces and expand your customer base.