With billions of mobile games, portals, servers, and websites available online, It is so challenging to create a new brand and see the success without putting hard-work and investment. Fortunately, social media marketing could be hugely helpful in yielding profitable results. However, there is a big lump sum of investment, and proper strategy is needed to get the desired results along with the time. You cannot compete with the giant gaming giant such as IGN, Games Radar, and Game Star.
Every game genre has an audience, and every genre is available online; first person shooter, real-time strategy, multiplayer online battle arena, role-playing game, and Massively Multiplayer Online Role-Playing Games are some of the most famous genres of the current era. It is speculated that advanced level games would be launched in the near future because this industry is expanding with time.
People from diverse demographics are available online; it's all about just finding your target audience via proper marketing strategy.
Social Media for Exposure and Recognition
When a new mobile game or a gaming portal is launched, game lovers don't trust it easily. New game websites or mobile applications do not get exposure and impressions unless they are marketed to the right audience by using popular social media networks such as Facebook and Instagram. If you have a gaming server website, you can pretty much promote it by using Google Ads, aka Google AdWords, but you may have to come up with a massive budget for achieving some results.
Although running Google AdWords campaigns is really worth spending the money. However, in this article, we are more concerned about mobile online games and their promotion using social media platforms so, we'll only discuss them instead of Google's search, display, and mobile ads. Somethings that you need to consider before launching your social media marketing campaign for promoting online games are given below.
Ensure You're at the right platform:
Different social media platforms have a different kind of following, e.g., Snapchat ads can be suitable for the audience who love to take care of themselves. It's better to promote beauty products and games related to some similar niche, so it fits the target audience's interests. LinkedIn is for professionals, so it's mainly not a good idea to promote games there because it'll do nothing but to waste your effort, time, and money. Thus, the selection of the right platform is the first step towards branding your online game.
You need a platform that is diverse enough to absorb every niche and have users according to your target interest. For this purpose, you can use popular social media platforms such as Facebook, Instagram, and Pinterest.
To devise a social media marketing strategy for a grand launch, you can also use tools like SocialPeta, which is one of the biggest advertising intelligence platforms available at this time. The tool uses artificial intelligence to collect a massive amount of advertisement analytics from different platforms.
The database consists of the data of more than 600 million ads from 68 different advertising networks and 45 countries. With SocialPeta, you can not only get a detailed analysis of competition, ad creatives, and the trends of the industry, but you can also subscribe to your competitors or pioneers in the industry to follow their strategy or to get clues from it in developing your own.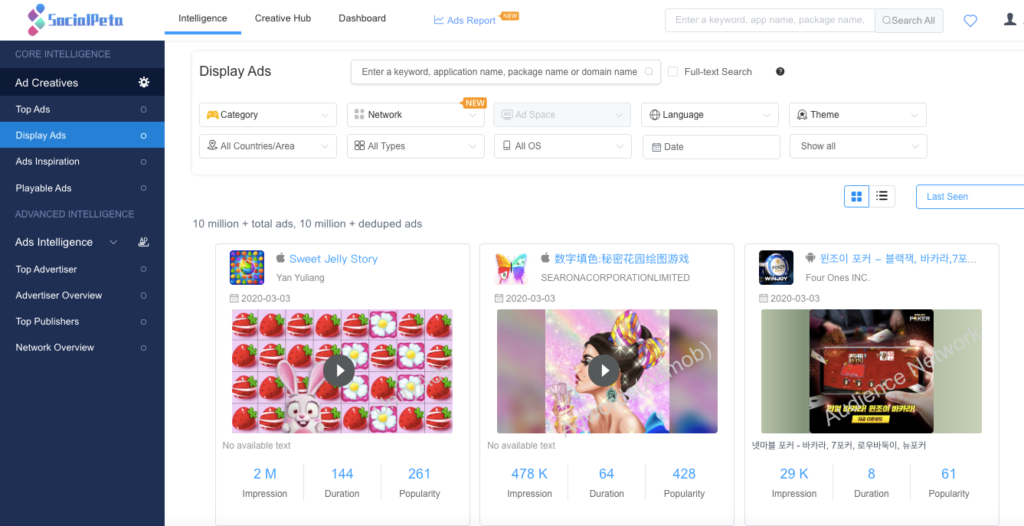 Advertising using Facebook ads:
Not to mention that Facebook is one of the most used social networks of the current time, there are over billions of users playing or downloading games online or via this network alone. You could definitely use this network to get some recognition and that's by spending less money because Facebook ad promotion is way less costly than Google Ads. You also get a fast response. If you run an experiment ad on Facebook, you will get to know the response time/download ratio for your online game or app instantly or in a few hours.
In other words, Facebook ads could be your compass and idea generator for creating an effective marketing strategy for your game brand. You would learn along the way of promotion. For example, if you spend only $10-$50 per day, your game application is shown to your desired audience all around the globe. Within your personal game page, you have access to the traffic statistics of your ad campaign. Facebook displays how users are engaging with your game page or game ad, what are the click-through rates, number of downloads, and total visitors driven to your advertisement.
The sparkling case study of game developer Zynga proves the value of Facebook ads; the developer used the strategy of Facebook's app event optimization not only to get downloads but also to provoke users for in-app-purchases for the game Wizard of Oz Slots game. The astounding outcome was a massive 4.5X higher return on ad spend, 2X conversion to the player and a 60% increase in app installs in comparison to their traditional advertisement strategy on Facebook. Thus, we can say that it's all about using the best methods and tools to get results of the desired quality.
Many modern-day marketers believe Facebook to be the best and most effective game promoting portal online after Instagram and AdWords.
Advertising on Instagram:
Instagram is another one of the best social networks used by millions every single day. Just like Facebook, you can promote your game advertisements on Instagram by spending some money. Being a company owned by Facebook, Instagram ads are also managed through the Facebook ads manager. You can increase your fan base and game audience through simple ads though.
The more preferred and professional way is to make the use of story ads because they get better results than simple ads. Interactive game story ads would spread like wildfire only if you have the skills to make the ones that could engage millions of users during the promotion. To put it short, Insta is the social platform of geeks and game lovers; you can build a pretty huge fan base within 24 hours if you spend time on creating an interactive game ad to capture the attention of your audience.
Using Instagram for promoting a game and building a fan base is fun because you do not need any initial investment to get some results. On Instagram, you can simply promote your game by reaching out to famous Instagram Influencers. Doing so would help you build some fan base for your game on Instagram, it would not happen overnight though.
Tip: You can take help from some tools such as BigSpy to get an idea of what your competitors are doing in the industry. With this tool, you can get a piece of detailed information about other advertisers in the industry. You can spy your competitors' ads from Facebook, Twitter, Instagram, Pinterest, Google, and Yahoo. To do so, you can get yourself registered with the tool and start searching for the keywords related to your online game.
The tool contains a lot of filters to give you the best possible results that you can use to create your ads, creatives and the strategy to deliver those ads. These filters work in a superb way to smoothen your marketing strategy and bringing it towards the right track by using examples from those already advertising on the platforms.
After setting up the filters for your query, you'll find some of the best and highly relevant results according to your entered keyword. Among the results, you can click on each ad to get information about the detailed analytical report of that ad.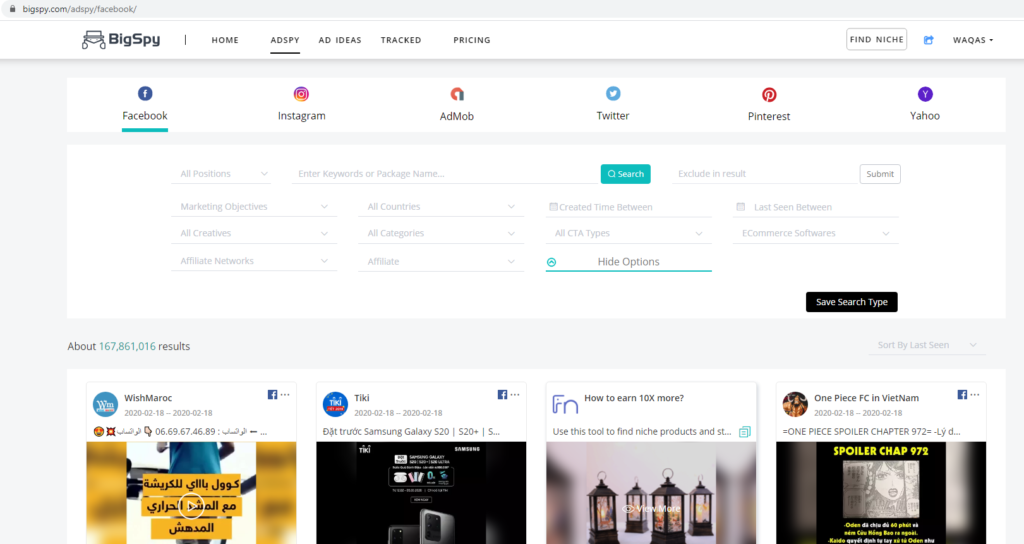 Effective Advertisement Yield Fast Results
A compelling advertisement would engage more visitors and help you get the recognition for your brand that you are looking for. Depending on the game genre you intend to promote on Social Media, you first need to build a video or a short trailer of the characters that are featured in your game. A report created by the advertisement intelligence tool -Social Peta, confirms that video ads bring in more engagement than those of text and image ads.
Some social media Ad campaigns might be very costly but they are worth it. You get a good bang for your money, which means you sometimes get up-to or more than 5X revenue/returns on your investment. This is one fact which we just explored in the Facebook ads' case study by Zynga; you get something in return when you invest your money, efforts in addition to ad creating skills. Here are some pointers on how to promote your game application smartly for getting more traffic.
Descriptive Trailer:
Just like television advertisements, you need to have a trailer, a small animated illustration, or video description on your game to explain what your game is all about. You can definitely write an excellent script for making the video part; you have got to come up with a way to make your game video advertisement very exciting and interesting.
Do not include a call to action button at the beginning of the video or trailer; it might turn off your users. The first few seconds of your video advertisement should be based on a story of gameplay, featuring all the major characters/components of the game. Use engaging words to explain the game to your viewers. Your trailer or video ad should be sweet and brief with a link to download the game.
Follow Through A Story Line:
When creating a game ad for promoting your online game website, blog, or application, you must have a storyline to put into ads. Make your storyline as creative as possible. There was a famous game P.T launched by Kojima Production; they used a teaser trailer to get an audience for this unusual thriller/psychological horror video game.
The company promoted the game by using different online networks and mediums, Social media being one of many. They used a smart strategy. They promoted the game only with a big poster of Norman Reeds (main game character). In other words, your marketing strategy will lead your ad campaign to success or failure; you have got to think wisely before you put your ads out.
Reach Out To The Influencers.
Another best, less-costly way to promote your game application online is by seeking help from the podcaster, publications, and influencers with a huge fan base. You can send letters to all big publications for requesting them to write a story about your game. Prepare good content and add valuable information before reaching out to relevant publications. You should consider collaborating with Facebook influencers to get more traffic to your game website or application.
For example, if you collaborate with a great influencer like YouTube Gaming connoisseur Felix Arvid Ulf Kjellberg (his network name is PewDiePie), you may end up getting millions of hits at the end of the day. However, you may have to have a team for making such deals; these promotion strategies generate quick results.
On social media, there are tons of influencers who are more than willing to promote your game applications for some payout. Influencers with higher fan base would charge you the most, you need to put some budget aside before you reach out to Social media influencers for your game promotion.
Pay Attention to The Results:
When you pay attention to the details of your results and modify the strategy accordingly, you will see a different level of results in the next campaigns. If we keep on using one single approach without looking into the areas of improvement, we can't get desired results.The only way to get a great outcome is by understanding the minor details too. All social media advertising networks provide detailed reports about the aftermath of your ads. It's up to you, how you use those analytics for making a better strategy for the next ad campaign.
We hope that this article has helped you in understanding the value of social media advertising for promoting online games. If you have any queries, please don't hesitate to ask in the comments section.